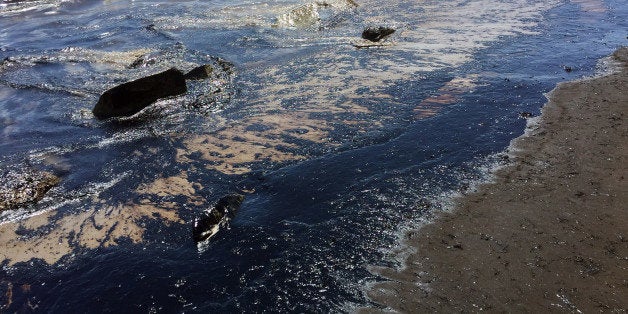 How sadly ironic. Just days after a government report identified the BP tragedy from five years ago as the main culprit for ongoing health problems and mass die-offs of thousands of dolphins, we saw oil spilling into the Pacific Ocean. Sadly, many families in Santa Barbara did not get to enjoy their beaches this Memorial Day.
It is absurd that we have learned nothing from the worst environmental disaster in U.S. history. It is absurd that five years after the BP Deepwater Horizon exploded, killing workers, smothering wildlife, and devastating Gulf Coast ecosystems and economies, our decision-makers are taking steps toward more drilling rather than less. It is absurd that the last five years has seen oil extraction returning to previous levels, with rigs drilling even deeper in the Gulf than before the tragedy took place.
Even as communities on the Gulf Coast continue to struggle from the aftermath of the BP disaster, those in Santa Barbara now begin their own recovery. Volunteers and cleanup crews in California spent their holiday pulling dying seabirds from oil-slicked surf. As hard as they work, their beautiful shores, and the animals that call them home may never be the same.
This is sad, but not new. We've had assurances from oil industry representatives for decades now that their wells, their ships, their trains and their pipelines are safe. They gave these assurances more than two decades ago, before the Exxon Valdez; and again five years ago, before the BP Deepwater Horizon; again just earlier this month, before the oil train explosion in North Dakota; and yes, before the spill in Santa Barbara. They will give us these assurances again and again. And there will be more accidents.
While most people don't believe these empty promises, their lack of veracity seems to be lost on our decision-makers. Senators and Members of Congress are using those same hollow assurances from the oil and gas industry to justify their efforts to open up the much of the Atlantic Ocean to similar risks and ensuing tragedies. The Obama administration recently approved the use of seismic airguns to hunt for offshore oil deposits. The deafening blasts from this equipment wreak havoc on ocean wildlife, especially marine mammals that use acoustics to communicate and navigate, like dolphins and endangered right whales. These animals are critical to the healthy functioning of coastal ecosystems, and are also vital to the region's tourist economy, attracting hundreds of thousands of whale watchers and sight-seers every year.
Perhaps worse, this seismic blasting is the first step in developing offshore drilling operations in these important waters. If that happens, it will only be a matter of time before oil starts washing up on the sands of North Carolina's Outer Banks, or Virginia Beach. I take my nieces and nephews to the New Jersey and Florida beaches every year. The day I have to explain to them that we can't go to the beach because their government turned its back on the oceans will be a sad day for me, to say the least.
It is a mistake for our country to cling to an oil economy that endangers our vital coastal ecosystems and jeopardizes the livelihoods of millions of people. While much of the rest of the world is looking to the future by investing in clean, renewable and sustainable energy sources like wind and solar, we are digging in our heels, even removing the few sensible protections already in place. Earlier this month, Senator Cassidy of Louisiana introduced a bill that would open up drilling off of Florida's west coast. This legislation is about cash for oil companies. The paltry amount of money that would make it back to average citizens, in the form of a few jobs or tax revenues, pales in comparison to the permanent degradation of the state's invaluable natural beauty and biodiversity.
The quest for oil is not going to end anytime soon, so we will repeatedly have to ask ourselves 'what do we value?' A spill on the East Coast would leave the region's fishing and tourism economies in a shambles. Expanding fossil fuel use will increase carbon emissions, further driving ocean warming and acidification that wreak havoc on nursery habitats, like coral reefs and oyster beds. Properly cared for, our oceans can provide long-term, sustainable value. They can help feed the world's growing population. They can provide a beautiful respite from the stresses of modern life.
But if we turn our backs on the oceans, some holiday weekend in the near future, any one of us may find ourselves on an oil-stained beach with our kids, nieces and nephews, or their kids, cleaning up a mess we never asked for. But we have good reason to hope this won't happen. More than sixty East Coast communities (representing more than a million people) have already passed resolutions saying they don't want oil drilling on their coasts, and that list grows daily. I am hopeful that our policy makers will begin to pay more attention to the growing number of voices that want our oceans protected, instead of appeasing the interests of wealthy oil and gas companies.
Calling all HuffPost superfans!
Sign up for membership to become a founding member and help shape HuffPost's next chapter