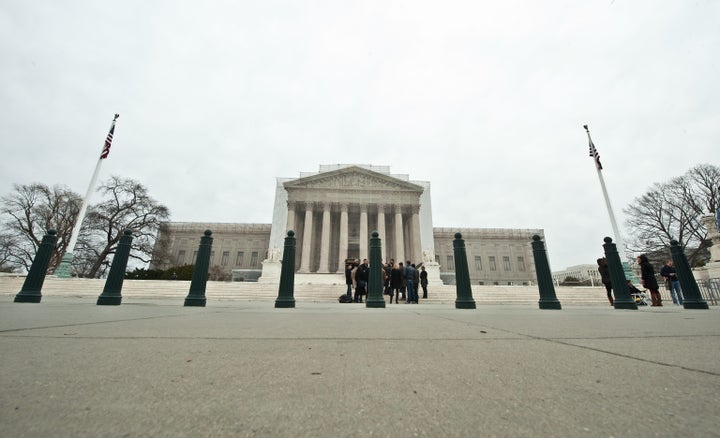 Civil rights hero Bayard Rustin once said, "God does not require us to achieve ... the good tasks that humanity must pursue. What God requires of us is that we not stop trying."

Known as a man with purpose and heart, Rustin, who was an openly gay black man born in the early 1900s, knew about segregation, injustice and discrimination early on. He could easily have stopped trying.

Instead, he became one of the first voices of outrage and is recognized as the key organizer of the first Freedom Rides and the 1963 March on Washington. Later in life it was clear he saw his fight against homophobia as inseparable from his fight against racism. As the Supreme Court hears oral arguments on two marriage equality cases this week -- Hollingsworth v. Perry, which challenges California's Proposition 8, and US v. Windsor, which challenges Section 3 of the Defense of Marriage Act (DOMA) -- we would do well to remember the example of Bayard Rustin.

The myth that African Americans and lesbian, gay, bisexual, and transgender (LGBT) people are two separate -- even hostile -- communities has been a recurring narrative in recent years, especially from religious conservatives. In 2011, for example, documents from the anti-gay National Organization for Marriage revealed its plan to "drive a wedge" between the LGBT movement and communities of color. Leaders like Bayard Rustin remind us that our movements have overlapped all along, especially through LGBT people of color.

And this historic week is no different.

Recently a task force of African American ministers I work with joined with a broad coalition of organizations in filing amicus briefs on the marriage equality cases being considered by the Supreme Court. We feel strongly that as African American faith leaders, it is our responsibility to fight back against hatred and discrimination in whatever form it takes. Laws that prevent same-sex couples from getting married -- or those that say some marriages can't be recognized by the federal government -- are discriminatory, plain and simple.

I will be standing on the steps of the Supreme Court this week to share that message with the justices and with our country.

Bishop Allyson Abrams, an African-American faith leader who is a member of our task force, wrote in a recent article that it is high time to repeal DOMA "because it hurts and humiliates those who know love and who practice showing it each and every day ... it alienates and afflicts those who love with their heart and are simply in need of their rights being extended to them." Her words remind me that these laws are bringing harm to real men and women in loving relationships.

As a woman of color, I am always frightened when I see a group being singled out for restricted rights. In this pivotal moment in our country's history, we must stand on the side of compassion and equality rather than on the side of oppression and discrimination. And while there may yet be a long road to full legal equality for LGBT people of all colors, as Bayard Rustin showed us, we cannot stop trying.
Popular in the Community