By Mara Acel-Green, LICSW
Go the F**k to Sleep, a book written in 2011 by Adam Mansbach, was an instant hit among parents, as was the recent blog post "How to Put a Toddler to Bed in 100 Easy Steps." Why? Perhaps because sleep is both critical to mental health and terribly undervalued by professionals and parents--until someone is not getting enough.
I once overheard a new mother say, "Now I know why sleep deprivation is listed as a torture technique by Amnesty International." Sleep affects metabolism, mood, and cognition. Sleep disruption also can mimic a number of the symptoms of depression. Ongoing sleep disturbance prevents people from resuming their prior mood states and, according to some psychiatrists, can impact the efficacy of anti-anxiety and anti-depressant medications.
The reality is that nearly all new parents are not getting enough sleep. And, one of the key—and perhaps most difficult—questions is how to change that.
Healthcare providers for pregnant women and new parents often overlook the critical question of why pregnant and postpartum women and their partners cannot sleep. When women report that they are not sleeping, the natural follow-up question professionals should ask is: "What is making it hard?" The reasons that people cannot sleep are varied, and it is essential to work with them to determine what is preventing them from sleeping, if it is impacting their mood, and figure out what, if anything, can be done to quickly rectify it.
Quickly rectifying the issue, however, is rarely easy. Early in the postpartum period, babies can eat as frequently as every 1.5 hours throughout the day and night. This schedule is enough to make any new parent feel overwhelmed.
As a therapist, I talk to new parents to help them generate creative ideas that might successfully help them get the sleep they need, even when their baby is not sleeping through the night. Different tactics work for different families. Parents in my practice have found an array of creative methods to promote successful sleep for themselves during this time.
One nursing mom pumps an extra bottle right after a feeding, and a support person gives the baby a bottle, or finger feeds (if that is more comfortable) the next feeding, while mom sleeps in another room with a sound machine to help block out noise. Another family decided to use formula from the beginning, as well as a combination of night nannies, family support, and taking turns, to promote the best sleep for everyone in the house. Another family had mom nurse the baby in one room while dad slept. Then mom gave the baby to dad for rocking and changing while mom slept.
We need to find ways for new moms and their partners to get as much sleep as possible, especially in the immediate postpartum period. Family, friends, postpartum doulas, night nannies, and community volunteers can provide families with desperately needed respite during the day or night, so families can dive into the seemingly unending routine of infant care.
It is equally important for women to talk about their challenges with sleep. From support groups, such as those offered by MotherWoman, to birth teams to midwives to pediatricians to therapists, new parents should seek both emotional and practical support around their need for more sleep. So, the next time someone tells you they are having trouble sleeping, ask them to tell you more and recommend that they talk to a professional to help them get the f**k to sleep.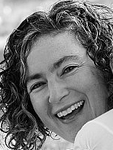 Mara Acel-Green, LICSW, is a psychotherapist in Belmont, MA. In addition to her private practice and adjunct faculty position at Northeastern University, Mara is the President of the Board of Directors of Healthy Mothers, Healthy Babies of Massachusetts.
Related