It's no secret that products in the furniture industry generally are sold as a shell to house technology. That said, a few companies actually have launched technology products as integral parts of their solutions. As technology becomes a more integral part of the way we work, our industry will need to further consider its stance on technology and how its integration helps the industry stay relevant in the rapidly evolving workplace.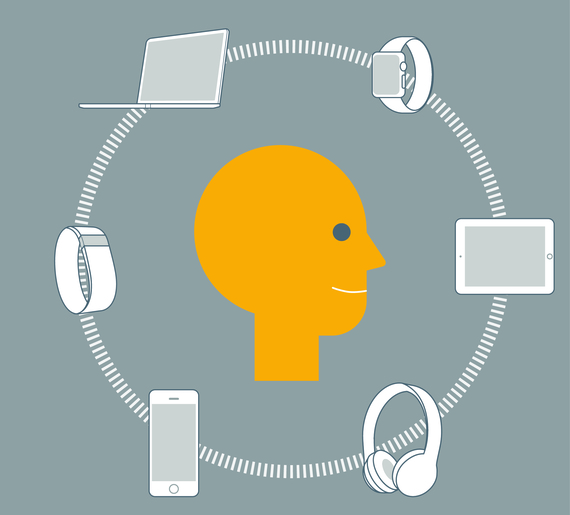 Haworth is one company that seems to be embracing technology as part of their core strategy with the launch of products like Bluescape in recent years. When asked what is driving its approach to technology integration in product development, Mike Bahr, Research Program Manager at Haworth says, "There is certainly a paradigm shift happening in our industry. The companies that are going to be successful are those that can shift and be nimble. We are thought of as a furniture company, but at heart we are broader than that: We are really offering products and a partnership to create effective work spaces. We have a history of working with designers outside of Haworth, and appreciate working with smart people to create new ideas. We have begun the same type of partnerships for some of our early technology. One example is our early partnerships exploring the ideas that lead to Bluescape."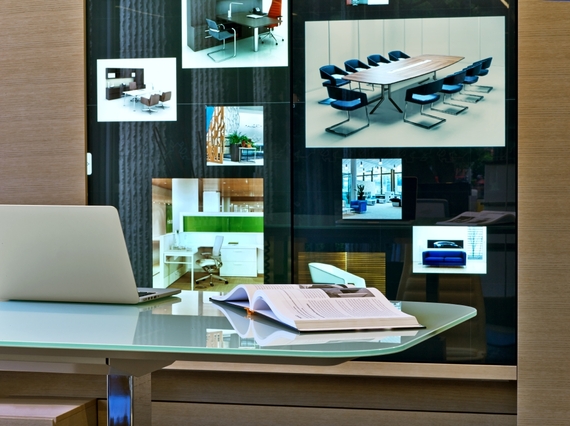 There are two major challenges that may historically have kept technology at bay:
1.Furniture product development cycles average around 18 months, while technology product development averages around 6 months. As workplace change happens at an increasingly rapid rate, manufacturers must find ways to speed up that development cycle.
2.Furniture historically has been expected to last 10-20 years, while today's technology is outmoded in a much quicker cycle. However, as the average length of a commercial lease begins to get shorter, manufacturers may need to look at new strategies, products and partnerships to ensure that as technology obsoletes itself, core furniture pieces stay relevant.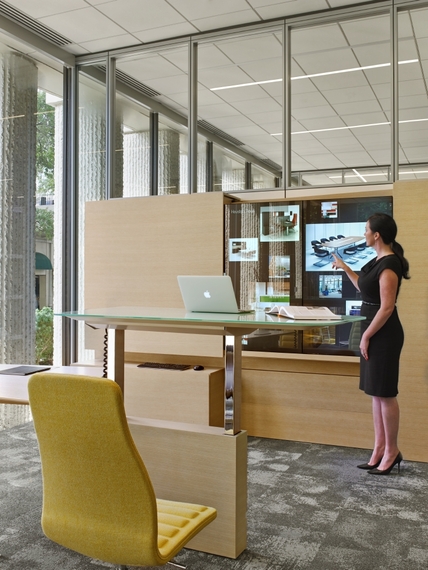 Some would argue that as technology enables mobile work, what we need from a furniture standpoint will become simpler. Think about this: the cubicle was designed around technology. Work had to happen there. We needed customized, static settings that met the needs of a variety of tasks in one place. As we look to the future of an increasingly mobile workforce, we are seeing a shift away from cubicles to open desking, café tables, and other flexible, multi-use spaces. With the concept of activity-based planning, instead of one space that needs to meet many workers, and many work tasks, we now have choice in customized types of spaces that allow workers to choose where and how they work best. The furniture used in those spaces becomes more of a functional object: a table and chair, a chair with a tablet, or other surface and seat. The word, "work" is shifting from a noun (a place) to a verb (something we do in a variety of places).
While Bahr did not agree that furniture needs are getting more simplified, he did agree that technology will need to become a part of our industry in a much more integrated way than ever before. "I like the use of the term agnostic because it relates back to the technology zealotry that some people have. I come into the [furniture] industry with 28 years of experience as an architect. I am comfortable integrating technology into the workplace. We are moving away from designing objects, and moving more toward how people interact with settings. We are thinking not only about functional needs, but how to connect people emotionally with the space. A piece of furniture should be a beautiful object by itself, but it also should help us work more effectively and have an emotive effect. The glue that holds those two things together may be technology."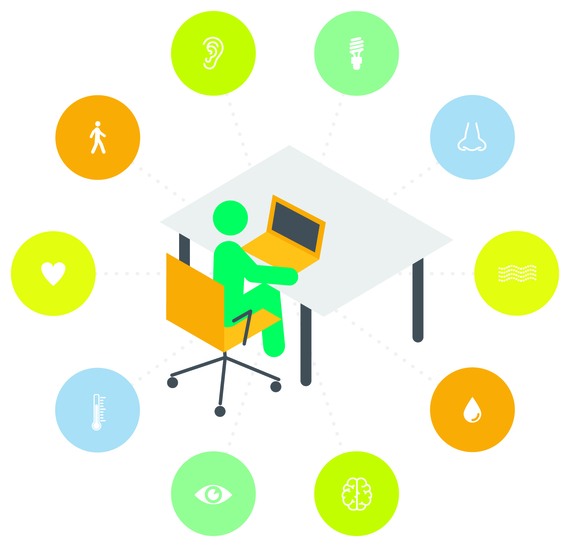 Before we can make radical new technology integrations, we first must understand what is needed. Bahr recently launched a white paper entitled, Enabling the Organic Workspace: Emerging Technologies that Focus on People, Not Just Space. This paper explores the use of sensors in the workplace to not just understand what is being used, but why? Haworth suggests that sensors embedded in the workspace seamlessly will gather an array of information on occupancy of the space, environmental conditions and personal attributes (physical, emotional and cognitive states). With this data, an integrated system will use that information to adapt autonomously the space, regulate environmental systems and inform employees and facilities managers of ways to achieve peak effectiveness for both the space and its occupants. Bahr adds, "We are currently exploring some of these ideas with others, including DELOS. It is a fascinating time. I believe that there are big pieces of intelligence that are missing, though. Occupancy reports may indicate that a room is busy, open or scheduled. The system may also report whether someone is sitting or standing, but what's missing is the reason why. I believe we will see more work on the 'why' in the near future."
This paper also represents a shift in how Haworth is thinking about product development in general. Bahr says, "From a technology standpoint, many have a tendency to love shiny gadgets and gizmos. That's part of the fascination. It is easy to forget that technology is there for a reason. We are looking at ways to introduce functional technology; beyond just a big screen or display wall. While these things can be cool, how do they actually help work processes?" Haworth is beginning to focus on collecting the data that gives insight into those reasons. "We intend to make the workplace someplace you WANT to go, not someplace that you HAVE to go. We want to make it magnetic."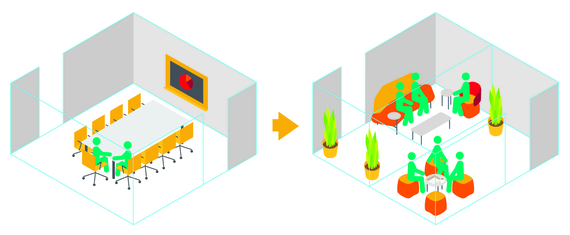 In the initial research, Bahr uncovered a big driver of current challenges: "It gets really interesting when we look at facility managers and how they are incentivized. If they are able to maintain temperature and energy use, they get a pat on the back. So much of corporate space is about achieving specific metrics for the space, but not for the people. The whole point of a building is that it is for the people. But how do we make people come first?" As the industry gathers more data about how to optimize space for the humans within it, perhaps technology will become an increasingly integral part of the total solution.
This article originally published in the Bellow.Press. It is republished here with permission.
About the author: Amanda Schneider is a trends researcher, blogger for the Huffington Post, and the founder of Contract Consulting Group , a consulting practice serving the Contract Interiors Industry focused on business strategy, market research, and marketing content development.
Support HuffPost
The Stakes Have Never Been Higher
Related
Popular in the Community