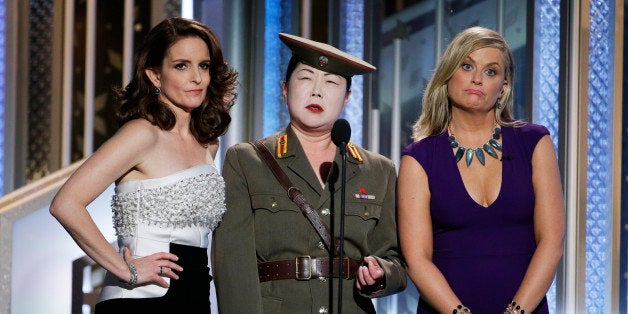 While the Golden Globes aren't normally famous for predicting Oscar wins, a look at Sunday's successes suggests they may in fact be a bellwether for something rather more profound.
If we accept that the award winners function -- at least in part -- as indicators of issues society currently has on its collective radar, it's interesting to analyze what they might mean in the context of a broader cultural conversation. Viewed through the lens of culture, some of the winning content and commentary on the night tapped into a couple of key cultural themes we predict will gain traction in 2015.
The first is a growing desire for what we're calling frank reality. This is a backlash against the micro-managed, overly-curated, glossy online selves that have become the norm. Instead, there's a groundswell of people seeking realness with all its flaws, in all its awkwardness and imperfection -- a quest for greater authenticity and genuineness, if you will. Importantly, this celebration of the real and the true is not to be confused with an attempt to hide behind the mundane (think normcore); rather, we're talking here about being true to yourself to a degree that's raw, gritty -- and fascinatingly personal.
At the Golden Globes, Transparent was hailed as just that -- an intensely open and honest account of Mort's transgender journey to Maura. Director Jill Soloway celebrated her own father -- "you told your truth" -- expressing the passionate hope that the show "will teach the audience about truth, authenticity and love." Jeffrey Tambor, who won for best actor in a TV comedy, commented that "this is big -- bigger than me" and dedicated the award to the transgender community.
The quest for and celebration of frank reality was apparent elsewhere. On the red carpet, Lena Dunham responded to questions about the reason for Girls' success by commenting on the show's role in recalibrating expectations around gender roles and femininity. Winner Gina Rodriguez, who apparently turned down a more stereotypical role to wait for the lead in Jane the Virgin, gave an emotionally resonant speech urging Latinas to be true to themselves, and praising "a culture that wants to see themselves as heroes," while Julianne Moore (who won for Still Alice) confirmed we no longer live in a time when "no one wants to see a movie about a middle-aged woman." Patricia Arquette's warts-and-all performance in Boyhood was also honored; her acceptance acknowledged today's step-change that permits interest in the story of "an underappreciated single mother."
The second cultural shift is related to the first -- an increasing impetus for speaking up. This not only means standing up for what you think is right, but also taking a risk in being provocative; having a point of view, being bold. Outspoken celebrities are increasingly leading vocal support for certain causes (think Lady Gaga, Emma Watson) -- and seeds of this cultural theme were apparent on Sunday night.
Hip-hop artist Common led the charge with his moving acceptance of the award for best song -- from Selma -- pointing to the ongoing struggle of "those fighting for justice right now," and referencing the tragic death of Michael Brown. The presence of Margaret Cho dressed as a supposed military official from North Korea was a recurring reminder of vocal celebrity protest against forced censorship of The Interview. And there were a few -- but nonetheless notable -- references to the need to defend freedom of expression in the wake of the tragedies in Paris; from HFPA president Theo Kingma's assertion that Hollywood is "united against anyone who would repress free speech," through Helen Mirren's conspicuously-worn pen, to Jared Leto and George Clooney's "Je suis Charlie."
We expect these cultural themes to gain traction through this year and predict we'll continue to see further examples of frank reality and speaking up. It will be interesting to see whether they gather enough momentum to become actual cultural shifts -- representing a real evolution in our collective values, signaling a change in how we make choices and evaluate the world around us. If so, the Golden Globes might just have a dual function as a crystal ball.
With contribution from Helen Firth, SVP, Added Value
Popular in the Community