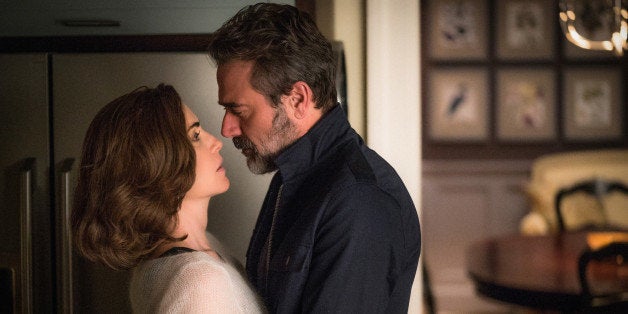 I am perpetually frustrated by television, given the rampant and garden-variety ways that women are denigrated, in ways both subtle and blatant. Some shows have come close to passing muster, or have passed muster for the first season or two, before falling back on the same-old, same-old plot lines that, in one way or another, put women "in their place."
I was complaining to a friend about how I was hungry for a show that didn't leave me wanting to hurl my computer (where I watch TV) through the window, and he recommended two shows, one of which was The Good Wife. Initially I was intrigued by the show, so much so that I binge-watched the first season and part of the second, before getting bored and irritated. Mind you, my change of heart was not a function of ingesting 25 or so episodes in the span of a week. I've done more in less time.
Here's why The Good Wife lost my favor:
While the main character, Alicia, is a badass lawyer, she is otherwise a passive individual. She is, truly, "the good wife." It's not all that tongue in cheek, as I had originally hoped, and her approach to life gets both old and annoying pretty quickly.
The adventure in Alicia's life consists of the sexual temptation of her co-worker, Will, and the occasional shots she knocks back at a bar, with her co-worker, Kalinda. Sex and alcohol. Fallback plot lines that lack creativity and ingenuity. Ho hum.

There is a disproportionate number of women wearing stiletto heels, another fallback in television -- yes, this woman is sexual, even though she has money and power. Because heaven knows that women must always be sexual, and woman with money and power who wear comfortable shoes are most certainly not sexual -- and therefore are perhaps questionable as women.

Kalinda, the most interesting character on the show -- smart as a whip, sassy, and patently uninterested in people-pleasing, is chronically in mini-skirts and knee-high boots, typically also with stiletto heels. Because, again, heaven forbid a woman hold her own without showing some leg and otherwise being compromised in her stance and stride.

While I have never worked at a law firm, it seems to me that the women's wardrobes here are often more appropriate for going to formal dinners than working at a law office. In other words, women are for show, to be dressed up like dolls. The front of the script writers' hand gives women intelligence, creativity, and gumption. The back of that hand slaps women viewers.

Oh how The Good Wife loves its female victims. Rape, as well as violent so-called "sex" ending in a woman's death, rear their heads repeatedly, and in one episode, rape is even referred to as an assertion of a character's manhood. In addition, there are numerous, gratuitously graphic images of dead women in numerous episodes. Because we all know that "death becomes her."

The heavy makeup on women, coupled with the clear attempts to eliminate any wrinkles on women's faces, and the super-plucked eyebrows, are downright annoying. Where are the shows where women's faces don't have to be altered, so as to be considered acceptable?
Sorry, The Good Wife, but you are a fail in my eyes.
Calling all HuffPost superfans!
Sign up for membership to become a founding member and help shape HuffPost's next chapter