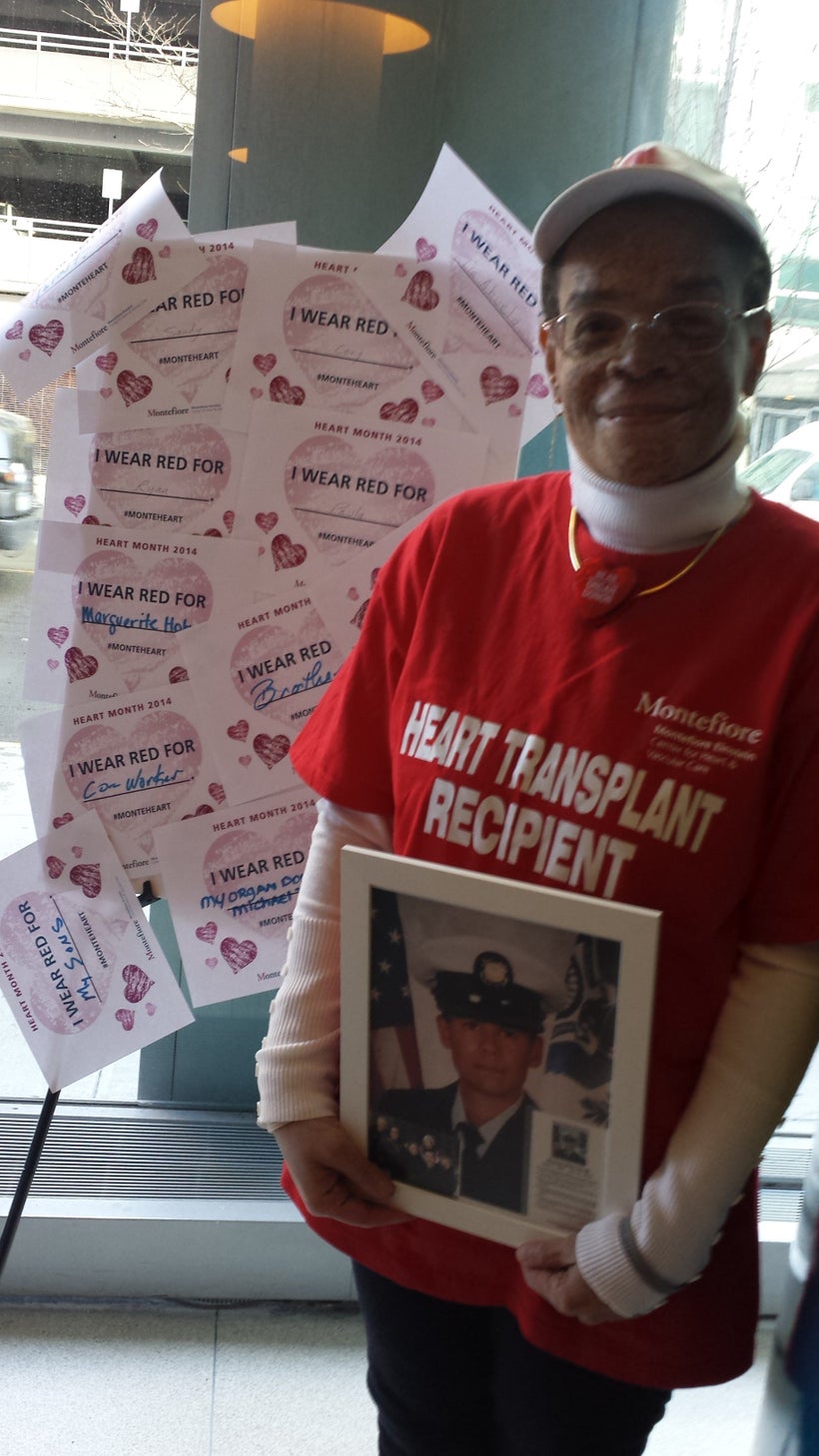 I am so very lucky to be alive and part of a very special exclusive community.You see this is not the kind of community you really want to be a part of unless you are dying and there's no alternative but necessary drastic action.I am a heart recipient and the year I received the gift of life only 163 hearts were transplanted in New York City.My heart started failing in 2006 after extensive testings and intervention I had to be sent to Montefiore Medical Centers Advanced Cardiac Care department.
At Montefiore I had the great joy to find a female cardiologist Dr.Shin who was very attentive thorough and a great listener.She ordered every test necessary through many disciplines and kept me in that hospital for 9 days of evaluation.When the nine days were up she came to me with the verdict.She said thoughtfully and with lots of explanation that I would eventually be needing a new heart as mine was in the middle stages of failing.I remember giving her a big hug and saying THANK YOU loud and clear.
It may sound crazy but that THANK YOU was a thanks of pure joy.I knew over the two years leading up to that diagnosis I felt like I was dying.I was having bouts of horrible illness,severe episodes of palputations, rapid weight loss among many other symptoms and I felt that many doctors in all kinds of disciplines prior to her diagnosis just weren't listening to me. So began the power of THANK YOU from the heart.
The road was rough and the story goes on until finally in July of 2010 I receive the gift of life that I would later find out on Oprahs' Show came from a 23 year old United States Coastguard serviceman E3 Fireman Michael Bovill. Michael passed on in route to his military base in a motorvehicle accident but shared his life saving organs with five recipients.His story is particularly beautiful because he saved five extremely different people all different races religions ages.Only proving that we all match inside.There's five more THANK YOUS.
Many in our special community don't have the honor to meet their families for many different reasons but I encourage recipients to always reach out to say a simple THANK YOU.More and more as I meet donor families in all the travels I do they want to know how their loved ones organs are doing with their recipients.Whenever we recipients have a conversation about reaching out there always seems to be someone struggling with this often trying to find the perfect words to say and with that struggle sometime taking years to write that letter.There are no perfect words to say except THANK YOU.Every other conversation is meaningless without those two words.
I was inspired to write this article by a young mother who shared her story with me.She told me her 13 year old son had committed suicide after an abusive situation and after completing the story I asked her if I was free to tell it as I spoke in various places.Not only did she give me permission but gave me his funeral prayer card which I carry with me in my wallet to this day.With tears streaming down her face no really pouring down her face she said he ended his life in a way he was able to donate his organs.In fact just prior to the act he had talked to her about donation but she never knew of his intentions. She did donate all his organs as he wished.Her only regret was not one person receiving those organs had contacted her over several years to say THANK YOU.
Knowing that this was not my first experience with recipients not writing THANK YOUS to donor families I tried explaining the dilemna some found themeselves in to her.The feelings of guilt of not really knowing what to say and even the feelings of rejection some had felt when donor families didn't want contact.She shut me down and closed the dialogue in a simple statement saying "If someone gave you a beautiful expensive Christmas gift would you wait six years to thank them there's no excuse not to say a simple thank you nothing more"
So once again I appeal to all my sisters and brothers in the transplant community and outside.Whenever someone does something for you take the time to say THANK YOU it may mean a whole lot more than you know and you in the community send a letter once a year unless they say they don't want it.You never know they may be just enjoying it before they contact you.Living in a place of gratitude makes the THANK YOUS so much more meaningful.DONATE LIFE
REAL LIFE. REAL NEWS. REAL VOICES.
Help us tell more of the stories that matter from voices that too often remain unheard.
This post was published on the now-closed HuffPost Contributor platform. Contributors control their own work and posted freely to our site. If you need to flag this entry as abusive,
send us an email
.