When did cats take over the internet? Dogs are cuter. Dogs can be trained. Dogs are literally called 'man's best friend!' So why are cats, the jerks of the domesticated animal family, the darlings of the world wide web? And don't think I'm a feline hater, I'm actually the proud co-parent of Fatty the tuxedo cat. But if I'm being real, I'd choose dogs over cats every day of the week.
And yet with one motivational poster, cats can melt my heart and make me yearn to rub their bellies. So as a very serious journalist, a la Bridget Jones' Diary (in the first movie), I decided to go directly to the source of cute-spiration to find the answers the world needed. But in all seriousness, I wanted to uncover the reasoning (if any) why this animal has dominated the internet for the better part of the 21st century.
Enter Cole and Marmalade two felines gunning to take over the cat game. Move over Lil Bub and start being grumpier Grumpy Cat because Cole and Marmalade are taking the popular cat world by storm. Who are Cole and Marmalade? They are the stars behind the self-titled YouTube channel. Think of it as the cat version of Kylie Jenner's extremely popular app, shedding light on the life so few can actually live.
Chris Poole, the human and the brains behind the channel, gave us unabashed access to the dream team - who enlightened us to the underlying altruistic message of the channel. Poole shared, "I try to keep a good balance, the fun videos are always more popular but I think it's important to advocate animal welfare issues like adoption, spay/neuter, community cats and so on... especially when we have such a large dedicated following online."
Poole has been capturing the essence of the feline species on camera since 2008 - however at a much grander scale at the Big Cat Rescue in Tampa, Fl. But after adopting half of the fearsome duo in 2012, Chris Poole switched his focus to film Cole the black cat, a star in the making. As a kitten, Cole went viral with the video, "10 Reasons to Adopt a Black Cat." A couple years later, Marmalade joined the Poole family and the dream team, as we know them now, was born. As you can imagine, sometimes it's difficult to capture Poole's planned vision as cats are notoriously independent thinkers, "easily doubling or tripling" the time it takes to capture the shot. Poole explained, "they don't take direction well, unless you have cat treats in your hand."
It's hard to log onto Facebook without being confronted by a kitten being adorably derpy. But why are cats the animal of an entire generation of the internet obsessed? According to Poole, "I think it's because even though we call them domestic cats, they really aren't. Cats just allow us to live with them and feed them and buy them new toys, [ultimately] they do what they want, when they want, how they want. And people on the internet explore that idea all the time with memes, videos, blog posts and funny GIFS... Plus they can be totally adorable at times, KITTENS! Kittens make everything better." And maybe it goes even a layer deeper than that. Maybe people see the best of humanity reflected in cats - it's escapism at its truest form. With the constant negativity surrounding us all, cats on the internet are a great way to leave the pressures of reality, if only for a couple of minutes. "Our videos and posts also help a lot of people around the world, we receive so many emails and messages from fans suffering from anxiety, depression, PTSD and other personal problems that say our videos help them get through their day and help calm them down when they need it," Poole suggested.
The legends that are Cole and Marmalade have branched into other media, with quite an impressive following on Twitter, Facebook and Instagram. Specifically, their Facebook page has over 1 million likes rivalling some of the biggest celebrities of our day, and nearly 5 times as many likes as Ex-Prime Minister Stephen Harper. Remarkably, the cats have translated their acting career into a successful modeling - re. meme - career.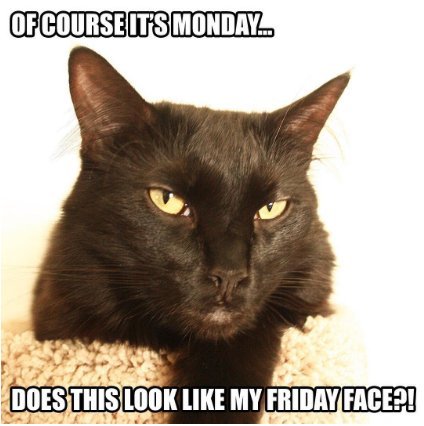 Via Cole and Marmalade's Instagram
Of course, at it's core Cole and Marmalade's channel is about educating the public about feline issues. "Spay and neuter' says Poole, "saves lives and stops the suffering." And don't forget to adopt not shop. Millions of animals are euthanized every year in animal shelters because, "people keep buying" Poole explains. A particularly heart-wrenching video was when Poole donned a gopro to capture 24 hours in a kitten nursery at the San Diego Humane Society. The tiny kitties were saved by the heroes of the shelter who care for thousands of orphaned kittens, giving new meaning to not all heroes wear capes.
In the end, there's no definitive answer why we love cats on the web, but let's all just agree to enjoy our furry friends, one YouTube video at a time.
Cole and Marm wanted me to deliver a message to you, their adoring fans, "Thanks fur following us, thanks fur watching, together we can make a difference! Meow." Meow indeed.
Calling all HuffPost superfans!
Sign up for membership to become a founding member and help shape HuffPost's next chapter