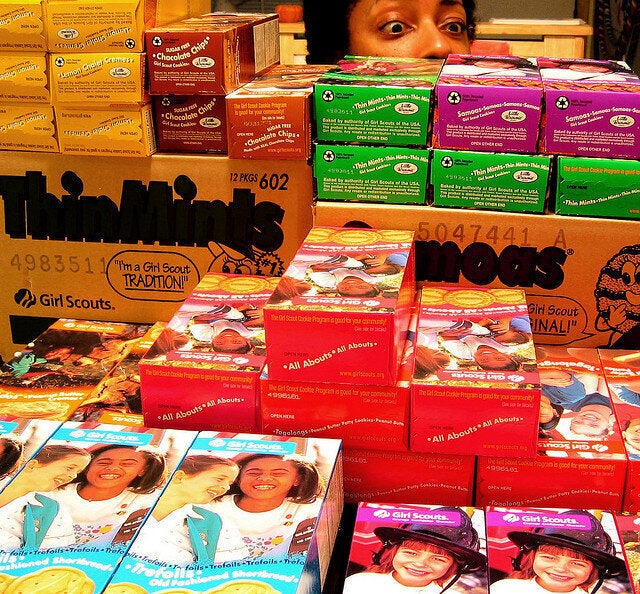 Ethel Jennings Newton invented Girl Scout cookies in 1934. She was a tall and elegant woman who believed her highest calling was to make the world a better place. She was also my grandmother.
Knowing my grandmother, whom we called "Angel," I can say this: Today, Ethel Jennings Newton would be ashamed of the destruction her inventiveness is causing in the lives of those powerless to stop it.
She would oppose the use of palm oil in Girl Scout cookies -- a degradation of the product, by the way, as they originally called for butter -- because the cultivation and export of palm oil is destroying rainforests in Southeast Asia and the lives of girls in those countries. She would abhor the fact that girls "overseas," as she would have put it, are made to suffer in poverty to benefit their American counterparts.
Ethel Jennings Newton was never powerless. She grew up poor and proud on the prairie in the Midwest, and attended the University of Chicago on scholarship at the beginning of the 20th century, when few women were accepted into higher education. Interested in expanding knowledge of the world, she pioneered a new method for teaching social studies. At the same time, knowing the privations of poverty, she was drawn to volunteer at Jane Addams' Hull House in Chicago as a social worker before such an occupation existed.
After leaving her job to volunteer for the Red Cross in France during World War I, she rose quickly to the highest rank of colonel. There, her young chauffeur, a young and charming private named Swift Newton, entertained her, admired her and -- though 7 years younger and a good 3-inches shorter -- eventually married her. It was he who gave her the name she bore until her death: "Angel." It is what we all called her. My mother Josephine is the second youngest of Angel's four daughters.
As Angel raised her family just outside of Philadelphia, another opportunity to make a positive difference caught her eye: the Girl Scouts. The Girl Scouts had a summer camp in the area called Indian Run, where both white and black Girl Scouts could attend. Angel cared deeply about the camp and had been instrumental in thwarting an attempt to segregate the girls. She got involved to help raise funds so the camp could stay afloat.
On February 4, 1994, my mother received a letter of invitation from the Girl Scouts of Greater Philadelphia. They were inviting each of the four Newton sisters to a celebration of the 60th anniversary of the first Girl Scout cookie sale. In the letter, which they also sent to the national Board of Directors, they described the genesis of Girl Scout cookies:
"It was the middle of the depression. The Philadelphia Girl Scouts owed over $7,000 on Camp Indian Run and had $3.36 in the bank. Ethel Jennings Newton, mother of four, matriarch of Daylesford, and Commissioner of the Council, was frustrated by her continual struggle against bankruptcy [for the camp]. She convinced the president of Keebler to bake a trefoil-shaped cookie which her 7,000 girls would sell door to door. This redoubtable woman and her Board made all the tough choices for this new enterprise including packaging, pricing, and creating a distribution system that works as well now as it did 60 years ago."
Today, the Girl Scouts say they don't have the power to convince their bakers to do better. Ethel Jennings Newton wouldn't buy this excuse.
Josephine Carothers lives and farms in Vermont, thinking globally, acting locally. She works applying a whole-systems view of the nexus of humans and their environment.
Support HuffPost
A No-B.S. Guide To Life
Related
Popular in the Community