The tragedy of the downed Malaysian Airlines plane in Ukraine, the latest Israeli-Palestinian conflagration, the tumult in Iraq and Syria are a few recent examples of how cold and festering conflicts can turn hot quickly, with deadly consequences. Fortunately, patient and careful diplomacy can have the opposite effects, gradually easing long-held enmity and mistrust and paving the way for better relations.
Over this past weekend, we saw the continued payoff from diplomacy. For six months, Iran and the P5+1 (U.S., UK, Russia, China, France, and Germany) have been holding formal negotiations over a comprehensive accord to guard against a nuclear Iran. This weekend, both sides (Iran and the international powers) agreed to continue talking for four months in an attempt to achieve a final deal.
Iran has already made considerable progress in rolling back and freezing its nuclear program under the "First Step" agreement signed in November 2013. The agreement commenced the implementation process in January 2014. For example, Iran has converted most of its dangerous nuclear material into forms that cannot be used in nuclear weapons; and allowed international inspectors access for monitoring and verification purposes. It is because of this access that the international community can verify that Iran has complied with the terms of the First Step agreement.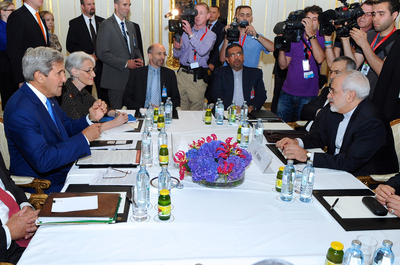 (U.S. Secretary of State John Kerry, Iranian Foreign Minister Mohammad Javad Zarif, and members of the P5+1 in Vienna, Austria on July 14, 2014)
One might ask what these talks have to do with me from my position as a state Senator in Columbus, Ohio. Certainly, it would be easier to leave foreign policy matters to the "experts" at the national level; however, Ohioans have a stake in this, too. I believe if these talks unravel, Iran has little incentive to roll back its nuclear program and the path to war becomes much clearer. The scenario is relatively straightforward: the talks break down, economic sanctions are ratcheted back up, Iran kicks out international inspectors and starts spinning its centrifuges, and the West feels it has no choice but to strike.
Hardliners in the United States may claim that the extension buys Iran time. That is simply not the case. Iran is farther away from having enough nuclear materials for a bomb than it was six months ago and it will remain so for at least the next four months. As the difficult details are being worked through, the last thing we need is for the naysayers to stop the clock before the game is up. That means the U.S. Congress should not pass additional and unnecessary sanctions or undermine the U.S. negotiating position by making unrealistic demands.
As a state legislator, I work to serve my constituents best interests. Eventual war with Iran is not one of them. Not now, not ever. As a member of the Public Safety, Local Government, and Veterans Affairs Committee, I have seen the toll the long wars in Iraq and Afghanistan have had on our young men and women. Given the current fiscal environment in Washington, our economy, in Ohio and across the country, cannot meet the challenges of a new American conflict in the Middle East.
We can all hope that it would not come to that. But, in addition to hoping, we can support the U.S. and multilateral negotiating efforts and trust that our government is firmly against a nuclear weapon for Iran. It has chosen to pursue diplomacy rather than war to achieve that goal and for that, we should be grateful.
Image credit: U.S. Department of State
REAL LIFE. REAL NEWS. REAL VOICES.
Help us tell more of the stories that matter from voices that too often remain unheard.