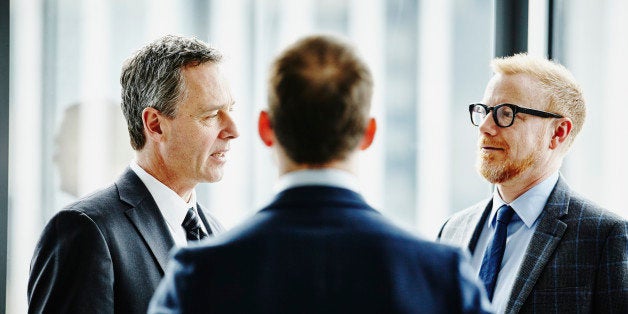 The importance of diversity in business isn't a new topic. Every year or so, a new study comes out condemning the lack of women and minorities in high-profile industries like technology, or in high-profile leadership roles across industries. There's plenty of research about how diversity boosts sales and revenue, creative thinking and innovation, and other key business performance metrics.
Still, year after year, it's the same old song and dance. The media says, "Shame on you, Big Business. You guys really need to do something about this." The public says, "That's terrible. It would be great if things could change." And business leaders say, "Yep, you're right. We're definitely going to work on that."
Yet, nothing really changes. What little progress has been made is embarrassingly and unacceptably slow, particularly in Silicon Valley.
Of course, the tech industry isn't the only place with a diversity problem. Both the marketing and advertising industries are also among those suffering from a lack of diverse faces. This means the people tasked with brand engagement--and those who create the technology to help them do it--don't look (or think) anything like the diverse groups of consumers they're supposed to be reaching.
The situation is getting more urgent. Diversity matters more than ever, and lip service isn't going to cut it much longer.
Diversity Is No Longer Optional

Why is diversity a big deal?
The easy answers would be to say that America is becoming more diverse, and pipelines are full of talented women and minorities who deserve equal representation in leadership roles and highly sought-after Silicon Valley jobs. Yet, there are now twice as many men as women with the same qualifications working in STEM fields, and top universities are producing black and Hispanic computer science and engineering graduates at twice the rate that leading tech companies are actually hiring them.
We could also make the case for how diverse teams are smarter and more creative, making them more likely to drive innovation and better understand the people they're innovating for. Research compiled by the Center for Talent Innovation shows that companies with diverse employees and leaders are 45 percent more likely to grow market share over the previous year and 70 percent more likely to capture a new market. And as the authors put it, "When a team has traits in common with the end user, the entire team better understands that user. A team with a member who shares a client's ethnicity is 152 percent likelier than another team to understand that client."
But all of these points are old news. The media has been playing this song for years, and all the compelling research and data hasn't made much of a difference.
So, what has changed? Why is business as usual suddenly getting tech companies into trouble and getting the attention of business leaders across industries?
In a nutshell: The topic is finally getting the attention of the right people--consumers.
Social Media, Millennials, and Public Trust

Historically, the lack of diversity has been a hot topic in business magazines and journals, the sort of publications that business professionals and leaders read. Under pressure from both workers and nonprofit organizations geared toward advancing women and minority groups, many companies have put mentoring programs and networking events in place for these underrepresented groups, and then called it a day. When put on the spot, they could at least point to this business strategy and say, "Hey, we're trying."
Meanwhile, everyday consumers are smart enough to know big business is still the domain of white men. But just how bad the diversity problem is, and what needs to happen for that to change, hasn't really been on their radars.
Enter the internet and social media.
Sure, most people spend the majority of their time online posting pictures, updating their statuses, arguing about politics, watching cat videos, and shopping. But they're also getting more real news than they have in the past.
Thanks to the internet, 76 percent of American adults believe they are now better informed about news, social issues, and other topics that matter to them, according to the Pew Research Center.
Fifty-five percent of global consumers are willing to pay more for products and services offered by companies that make a positive social impact, according to a Nielsen study. This is particularly true for Millennials, who make up companies' largest consumer base and their talent pipelines. When researchers from PwC surveyed Millennials about their attitudes toward work, they found that:
While millennials value diversity and tend to seek out employers with a strong record on equality and diversity, their expectations are not always met in practice. Fifty-five percent of respondents agreed with the statement that "organisations talk about diversity, but I don't feel opportunities are really equal for all."
Now that consumers care more about diversity, businesses have to care more--and put themselves on the hook to actually do something about it. Lip service is no longer enough. In fact, hypocritical claims can get companies into even hotter water in terms of consumer trust.
So while it's bad enough to be part of the problem, it's far worse to claim you're going to be part of the solution and then fail to deliver. Just ask Facebook.
CEO Mark Zuckerberg and other companies leaders have done plenty of talking about gender and racial diversity over the past few years. When Facebook released its first annual diversity report in 2014, Maxine Williams, global head of diversity for the social media powerhouse, said all the right things:
At Facebook, diversity is essential to achieving our mission. We need a team that understands and reflects many different communities, backgrounds, and cultures. Research also shows that diverse teams are better at solving complex problems and enjoy more dynamic workplaces. So at Facebook we're serious about building a workplace that reflects a broad range of experience, thought, geography, age, background, gender, sexual orientation, language, culture, and many other characteristics.
Yet, despite all the talk, Facebook's 2015 diversity report revealed women comprise 32 percent of employees and hold less than a quarter of leadership positions. Meanwhile, white and Asian employees make up 91 percent of Facebook's US staff. Only 4 percent are Hispanic and 2 percent are black.
These dismal numbers--and the fact they have changed very little since Facebook first started making lofty promises--has turned all the lip service into a source of public backlash and negative media attention from pretty much every high-profile publication.
The most recent EEO filing available shows Facebook hired an additional seven black people out of an overall headcount increase of 1,231 in 2013. At that time Facebook employed just 45 black staff out of a total US workforce of 4,263. Facebook's black female headcount increased by just one person over 2013 to 11, and the number of black men increased by six to 34. There were no black people in any executive or senior management positions. Over the same period the company's white employee headcount increased by 695. There were 125 white people holding executive and senior management positions at the firm.

Feeling a little embarrassed for Facebook? Yeah, me too.
But they're not the only ones feeling the pressure. With the increased public awareness around discriminatory hiring and other bad behavior in Silicon Valley, tech companies have no choice but to talk about diversity--to make promises and create a business strategy that will institute real change. After all, the media isn't the only one watching anymore. The public is paying attention now too. And we don't like liars very much.
Popular in the Community