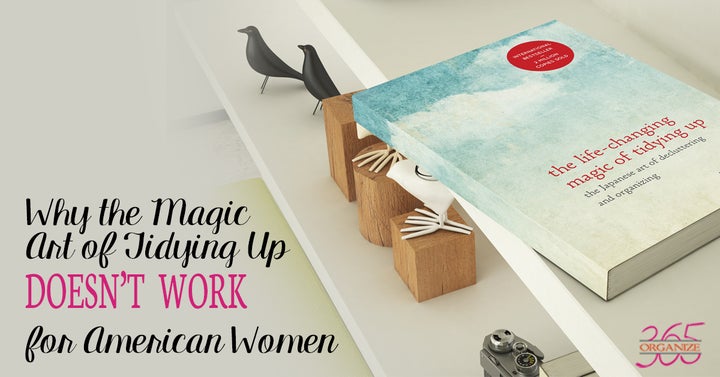 A review by professional organizer and productivity expert Lisa Woodruff.
To understand why "The Life-Changing Magic of Tidying Up" does not work for the majority of American women, we need to understand where the author's experience and world point of view comes from. The Author, Marie Kondo, is a millennial woman who wrote the book "The Life-Changing Magic of Tidying Up," before she had children.
A comparison of Japanese and American homes.
In Japan, the majority of people live in apartments and some live in what are considered houses which are slightly larger. The average size of a Japanese apartment is 1000 square feet and has four rooms, and a Japanese stand-alone house is 1300 square feet and has five rooms.
Japanese homes are highly-functional and their rooms have multiple uses. They don't have the luxury of having piles everywhere because that room has to function for multiple uses. It is very rare for a Japanese home to have a basement, garage or a yard.
The average American house is 2400 square feet, which is the size of my house. However, that does not count the 1100 square feet of finished space I have in my basement, another 200 square feet of unfinished basement storage, and my garage which is another 400 square feet. So my 2400 square foot house is actually 4100 square feet of storage space.
When comparing a Japanese house to an American house, you're comparing 4000+ square feet of storage space to the average 1000 to 1300 square feet of storage space in a Japanese home.
Marie has done all of her organizing in Japan so she has not met the American woman who has 4000+ square feet worth of space and fills every nook and cranny with all that I think is special and pretty and that I want to have.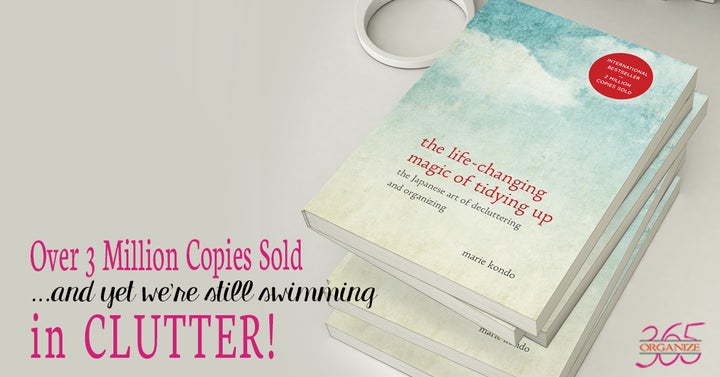 What works for Marie, but I have not seen as easily implementable for Americans, are the following five things.
1. Marie says you should tidy all at once and be done.
Immediately that rubbed me the wrong way, which is why I had such a hard time with her book. Having helped so many women organize their whole homes, I know how hard American women try to be organized, and the quantity of items they need to process. You can't just wave a magic wand, do it once and it's all done.
Once I realized I had three to four times the amount of clutter as a Japanese woman, it made sense that it would take so much longer.
I view organizing as more like peeling an onion and going through the process of living a cluttered life to a more organized and productive life. In this process, you are dealing with a lot of emotions, memories, and just changing your mindset on how an organized person lives.
2. Marie consistently brings up this idea of perfectionism, the perfect system, and that you can reach perfection.
I do not think that you can reach perfection. I'm not there. I don't want to live in a perfect minimalistic 100% efficient life.
3. Is the topic of paper organization.
This is the hot button that originally rubbed me the wrong way when reading Marie's book. The first time I read her book, I stopped reading after the one and a half pages about how to organize paper, which basically said to just get rid of all of it.
I about had heart failure.
So when I re-read the book last week and I read it all the way through, I realized that towards the end of the book she does tell you how to organize paper, a little bit. But she still sticks with the idea that almost all paper should be thrown away and that there are only three files that you should have.
Three envelopes or three files of paper, TOTAL.
Americans have rooms devoted to paper. We have so much paper that I quote organizing home paper separately from organizing the contents of a home.
Personally, I have gotten down to what I think is a very minimalistic amount of paper. But if I took it all and put it in one location, it would still fill 6 to 8 file drawers full of paper.
4. Marie glosses over photos and memories.
Her suggestion to go through your photos one by one and make decisions would take at least a year for most of the Americans that I know. It is definitely not something you can tidy all at once and be done in a day or two. It just doesn't happen like that. Furthermore, most Americans have a hard time deciding which photos are good to keep and which ones they can let go.
Don't believe me? What do you do with your school pictures after you put one in a family frame and hand them out to friends and family members? If you are like most Americans, you store the rest in the school envelope and "save" them. Who knows, we might "need" them. And they cost good money. See, we need help!
5. Marie explains how she empties her purse every single day.
Her wallet, train ticket, etc. all come out of her purse and are stored in different places in her home. Then she puts the purse in a bag and puts it up on the shelf of her closet.
So where can American women go from here?
I'm grateful that Marie has brought this whole idea of organizing and decluttering to the forefront of the media. It has opened up the discussion for people around the world to really take a look at the stuff that they have saved and think about the kind of a life that they want to live.
However, if you are an American who has read this book and you've made great progress in your master closet, but you haven't made much more progress than that, you're doing just fine. We have a lot more stuff to get through.
Find a professional organization resource in your country who is familiar with your needs to help you get organized.