Ocaso Music Festival is a new underground electronic music getaway on the iconic shores of Costa Rica. The fest will be held on January 4-7th, 2018 in Tamarindo Playa, Costa Rica. The pristine Pacific coastline will turn into a luxurious yet authentic festival experience with the world's most sought after House and Techno artists performing all weekend.
Sounds incredible, right?
I thought so too which is why I'm so excited to share this conversation I had with Ocaso Founder + CEO - Devin Ellis. Enjoy!
Taraleigh: What was your main inspiration for throwing a full blown festival in the heart of Costa Rica?
Devin: The inspiration for Ocaso began when I traveled to Acapulco Mexico in 2001 for an event called the ACA Soundfest. The beachfront venue sprawled across 30 miles south of Acapulco with some of the biggest names in techno and house like Carl Cox, Danny and Teneglia. The event had its complications with weather among other things but the idea and layout was absolutely hedonistic and ground-breaking, unlike anything I had ever experienced. I wanted to find a similar setting for my own destination festival. Removing people from the everyday stresses of life, and immersing them in an isolated setting produces a truly paradisaical experience full of freedom. In my first full night in Tamarindo a few years ago, I knew then Costa Rica was going to be home for Ocaso.
Taraleigh: Why did you choose Costa Rica?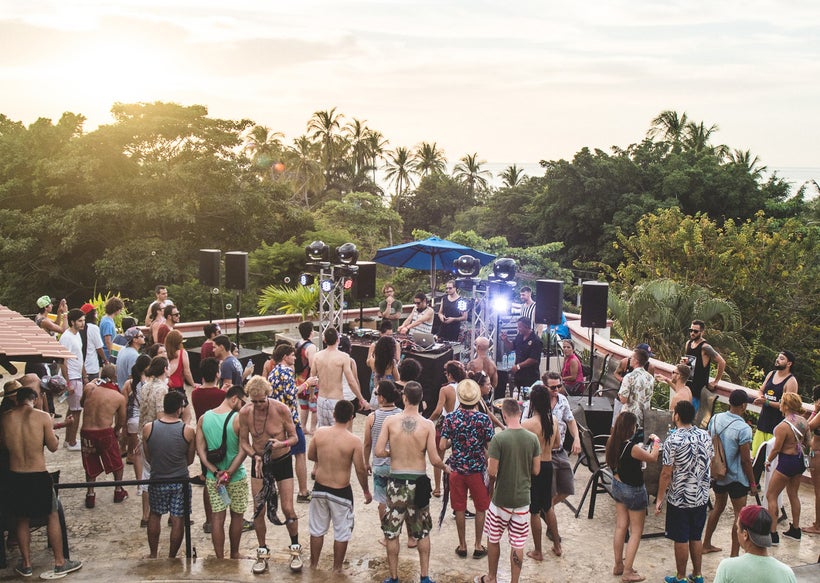 Devin: There are a few reasons we chose Costa Rica. The natural beauty and timing of the dry season were the first things that attracted us. Just when the weather starts to get worse in North America and Canada, Costa Rica is in the midst of perfect vacation weather. The existence of an organized government structure and the ability to operate a business freely without the influence of organized crime is also a huge part of it. Costa Rica has the longest running democratic government in Central and South America. The Costa Rican government has systems in place for almost everything regarding event permitting. They have a much more uniform set of rules than we do here in the US. After experiencing the energy of the Costa Rican people at our first event last January we all realized we made the right decision.
Taraleigh: Having spent a significant amount of time in Costa Rica, I know what you mean. Costa Rica is a very unique place. Besides the geographical location, what makes Ocaso different from other festivals?
Devin: There are two main differences between Ocaso and every other major festival in the world. Number one is that Ocaso is and will always be a single stage event. We feel that this is an integral part of the energy and unity that we are trying to create with our festival.
Number two is the music We keep dance music's underground roots embed into our culture which encourages artists to try new sounds and styles at Ocaso that they may feel uncomfortable attempting at other festivals. We create a creative space for complete artistic freedom where everyone can express themselves in any way they want whether through music, dancing, and art.
Taraleigh: Sounds like you're a huge music fan. Who's set are you the most excited to check out the most and why?
Devin: Wow that is a tough one. We hand-picked every artist on the lineup so we love them all, but I think I'm probably most excited to experience The Desert Hearts Crew and Claptone. From the response we are getting about both, the crowd is going to go absolutely insane.
Taraleigh: The moment my favorite band hits at a festival is the moment I go insane, so I get it. Everyone at Ocaso is in for a treat. What aspect of the festival is your favorite?
Devin: My favorite aspect of the festival is the music. To me, bringing good music to people is my mission. I love to witness the pure joy and excitement on people's faces when they discover quality music. We are grateful to have the opportunity to expose Costa Rica to some of the world's most talented artists. Ocaso's mission is to make Tamarindo into an international destination for house and techno music. Costa Rica and its music scene have so much to offer and we're excited to see it grow.
Taraleigh: It's amazing what positive change music can make on a place. Looking at Ocaso as a whole, what part you are looking forward to the most?
Devin: The energy hands down. The slight feeling of anxiousness mixed with the over excitement I experience producing this festival reminds me of my early days when electronic music events were still very new to me. You know, the feeling I used to get when I would turn that last street corner so I can finally hear the thump of the bass as the goosebumps start and the hair on the back of my next stands up. I literally almost feel sick to my stomach because the feeling is so new. I want everyone in the world to experience that at least one time in their life. It is what made me fall in love with the underground.
Taraleigh: I know that feeling so well. It's the reason I follow bands like Phish and Twiddle around the world. Just one taste of the good stuff keeps me going for months at a time after a show. If Big Bird from Sesame Street was a spokesbird for Ocaso, how would he describe the festival? Who would he be most excited to see?
Devin: Well Big Bird would really be looking forward to Ocaso, I can tell you that. He would describe it as a happy place where new friendship are built. Big Bird was always searching for his identity and Ocaso would be the perfect place for him to find himself. I bet he has some family in the jungle around Tamarindo. I know Kermit and Snuffleupagus both have family in the area. Big Bird was asked once and he said he identified himself most as a condor, but I don't like to use labels. I do know that Big Bird would love all the new friends he would make at Ocaso. I'm pretty sure he would be most excited to see Claptone because they have lots to talk about, the whole beak thing and all.
Taraleigh: I bet even Oscar the Grouch would have a good time at Ocaso. What's the biggest challenge you've come against organizing the festival?
Devin: The biggest challenge we have faced so far is creating an event with international appeal while keeping it affordable for people in Costa Rica. We notice that most destination festivals are so expensive, the locals often can't afford tickets. Ocaso will always be affordable for the people of Costa Rica. We offer single day tickets which allow people to experience a full day at Ocaso starting at around $30USD. I'm not aware of any major international music festival that offers access to the event for that low of a price. This is not the greatest decision for us to make financially, but we feel we owe it to the people.
Taraleigh: To me, that's a huge triumph. What do you feel was your biggest triumph?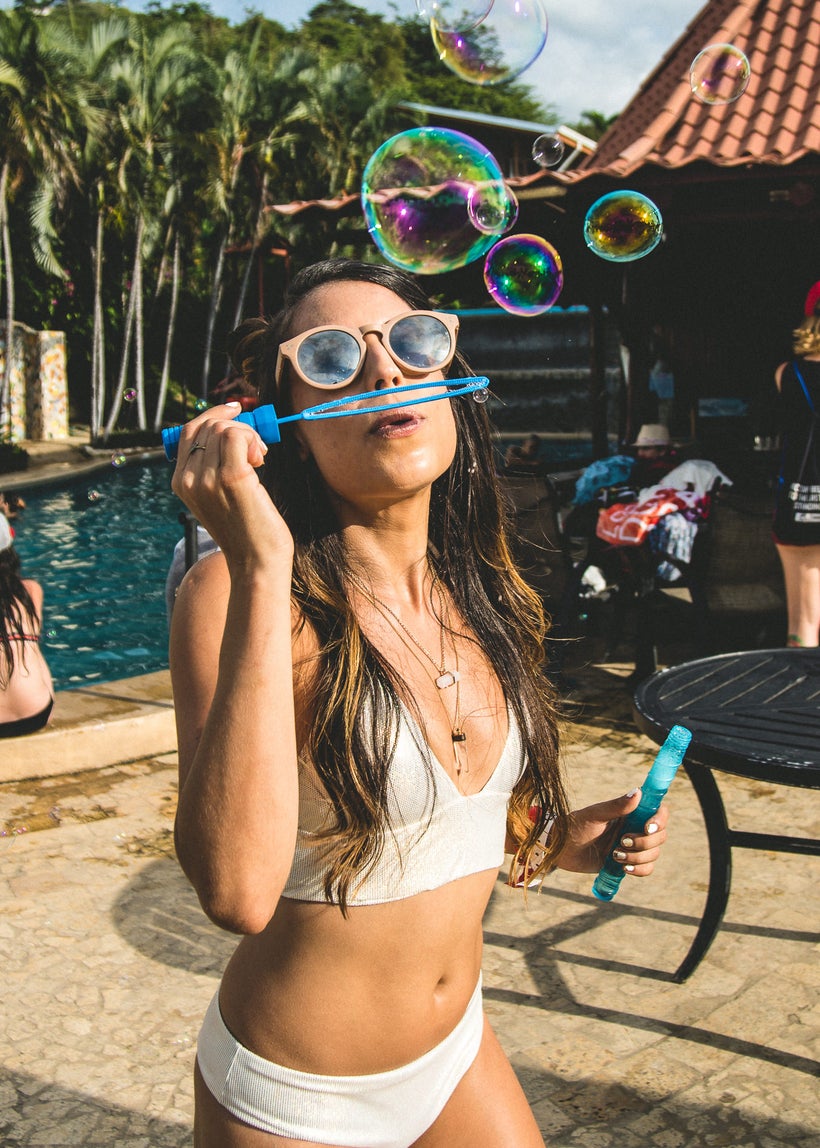 Devin: Our biggest triumph at this point has been the amazing support from the people of Costa Rica. So much positive energy comes from Costa Ricans and we are extremely happy that we've been welcomed so graciously. Our ability to provide people an unforgettable and unique experience every January in Tamarindo has also been a huge victory for us.
Taraleigh: If someone was on the fence about coming to the festival, what would you say to them to convince them to come?
Devin: I can only say that my partners and I have been involved in producing festivals for the past 20 years and we all agree that what happened last year at Ocaso was like nothing we had experienced before.
The unity that took place was something I can't even put into words. We also have the single most breathtaking venue for a music festival in the world....
Our production set up and sound system we have this year is breathtaking and nothing that Costa Rica has ever experienced.
Taraleigh: Ocaso is about so much more than the music (and the music's epic). The community aspect that you have been nurturing is very clearly working. Anything else you'd like to share?
Devin: I just want to invite everyone to come out to dance, enjoy life, and be completely free in the middle of the jungle. I promise, the friendships built, music discovered, and overall experience will be nothing short of life-changing.
Also, I want to give a big shout out to our wonderful artists playing this year. Come check out our amazing talent this year as some of the biggest legends in dance music along with over 30 local and regional Djs from all over Central and South America will be joining us in the adventure.
Taraleigh: Thank you Devin! You've officially convinced me to escape to cold of Vermont next winter and travel south to Costa Rica to attend your festival. See you next year.
The magic in me sees the magic in you,
If you're a live music fanatic, you'll go anywhere the music is playing for just one more taste of the good stuff. Is it possible to bring that live music magic home with you? It is, and I'll show you the way. Check THIS out.
Calling all HuffPost superfans!
Sign up for membership to become a founding member and help shape HuffPost's next chapter
This post was published on the now-closed HuffPost Contributor platform. Contributors control their own work and posted freely to our site. If you need to flag this entry as abusive,
send us an email
.