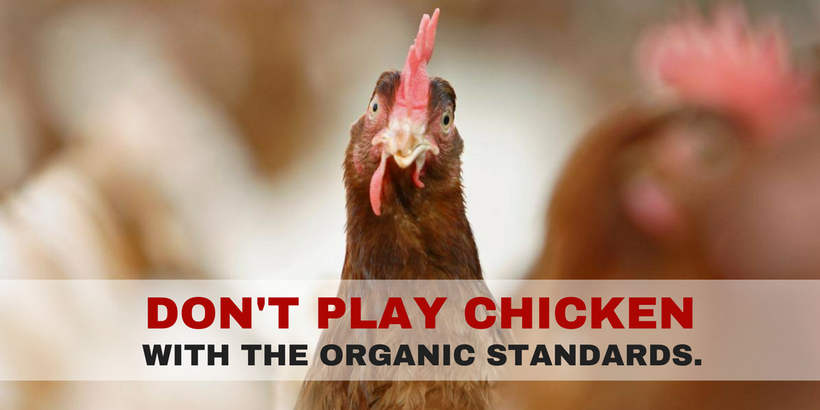 It's not something that you'd expect to hear—the Organic Trade Association (OTA) is suing the USDA. In fact, it's an extraordinary occasion that hasn't been witnessed before in the organic theater. But again these are extraordinary times. Most often the OTA works closely with and is an important resource for the National Organic Program, a division of USDA. They work hand in hand with the USDA's Market Access Program (MAP) to increase organic exports worldwide. Why then would OTA embark upon this seemingly adversarial act?
There was no other recourse to protect the entire organic sector and uphold the integrity of the organic seal.
What's the history of the organic animal welfare standards?
It's a bit of a dirty secret not flaunted by the industry. When the original regulations were promulgated in 2000, there were very few protections for animals written into the standard. To be fair, there were many things, like social justice, intended but not included in the original organic regulations.
As consumers happily went on their way purchasing organic meat, dairy and eggs, they assumed the animals would enjoy good humane living conditions. The regulations had a ways to catch up with that expectation.
After more than a decade of transparent deliberations, not a few consternations, and prodigious public comment, the National Organic Standards Board (NOSB) unanimously adopted a final detailed set of Animal Welfare recommendations in 2011. They defined and incorporated humane production practices including healthcare, outdoor access and livestock living conditions. Since that meeting, there have been economic analysis and years of public input, debate and deliberation.
The final rule was published on January 19, 2017, just a day before the new administration took office. It looked like we finally had our animal welfare standard and we could at last move on to other unfinished business.
On January 20th, when the White House issued a regulatory freeze on all new or pending regulations, we thought we were merely caught up in the transition milieu. Then USDA delayed the organic animal welfare rule again and on May 10th reopened the comment period delaying the effective date by an additional six months. At that point, we knew something bigger was afoot.
Where is the opposition coming from?
Even if you don't know the difference between free range and cage free, you can smell something foul is in the air. All of the opposition is coming from the egg sector. A few of the biggest and most powerful egg producers are producing "organic" eggs outside of the new standard, and they want to continue doing so.
These few producers have put up quite a squawk exerting extreme pressure on members of Congress who in turn have placed the burden of defeat on USDA.
It is quite likely that USDA never intends for this rule to see the light of day.
Why is this precedent dangerous for the organic progress?
The organic seal represents a meaningful differentiation from other agricultural practices. It is transparently vetted through a public process that was set forth by Congress in 2000. If these differences are able to be swept aside by the whims of one political sector, what will happen when other new regulations are introduced or considered? If someone wants to be organic but not abide by the regulations, should Congress or USDA step in and bow to their wishes?
This precedent could affect the future of all organic regulations.
The delay of the Animal Welfare Standards is a portentous moment for organic. The very integrity of the organic process is at stake. If this rule gets an untimely death, it could have long-term deleterious effects on the entire organic industry.
The OTA took the only action they could
They sued the USDA alleging:
• That USDA violated the Administrative Procedure Act because the repeated delays were issued without any public process.
• That USDA has violated the Administrative Procedure Act and abused its discretion by proposing action to indefinitely delay or kill the rule, in stark contrast to the established public process.
• That USDA has violated the Organic Foods Production Act and its consultation provisions enacted to apply in just these circumstances for industry and public stakeholders to revise, refine, and advance organic standards via a well-defined process.
• That the Trump Administration Executive Order freezing regulations should not apply to the voluntary industry-driven organic standards that allow for businesses to opt in or out.
The lawsuit also describes the extensive public process and overwhelming record used to develop the standards and details.
What you can do to support the effort
The OTA is standing up to protect organic integrity, advance animal welfare, and demand fundamental government fairness in organic standards setting. Read the press release for additional details about the lawsuit and supporting organizations, download the complaint, and use the communications kit talk to your customers, suppliers and friends.
When consumers purchase organic, they see the USDA label and hold firm to a certain belief that the product has been produced in a certain way. Free of pesticides, herbicides, antibiotics and when it comes to animals, raised in a humane manner.
After nearly 14 years of public debate and rigorous NOSB analysis, the Organic Animal Welfare Standard was released in January. If special interests in Washington obstruct the implementation of this final rule, essentially blocking the industry's ability to control its own standards, the very relevance of the organic seal is in grave danger.
Calling all HuffPost superfans!
Sign up for membership to become a founding member and help shape HuffPost's next chapter
This post was published on the now-closed HuffPost Contributor platform. Contributors control their own work and posted freely to our site. If you need to flag this entry as abusive,
send us an email
.