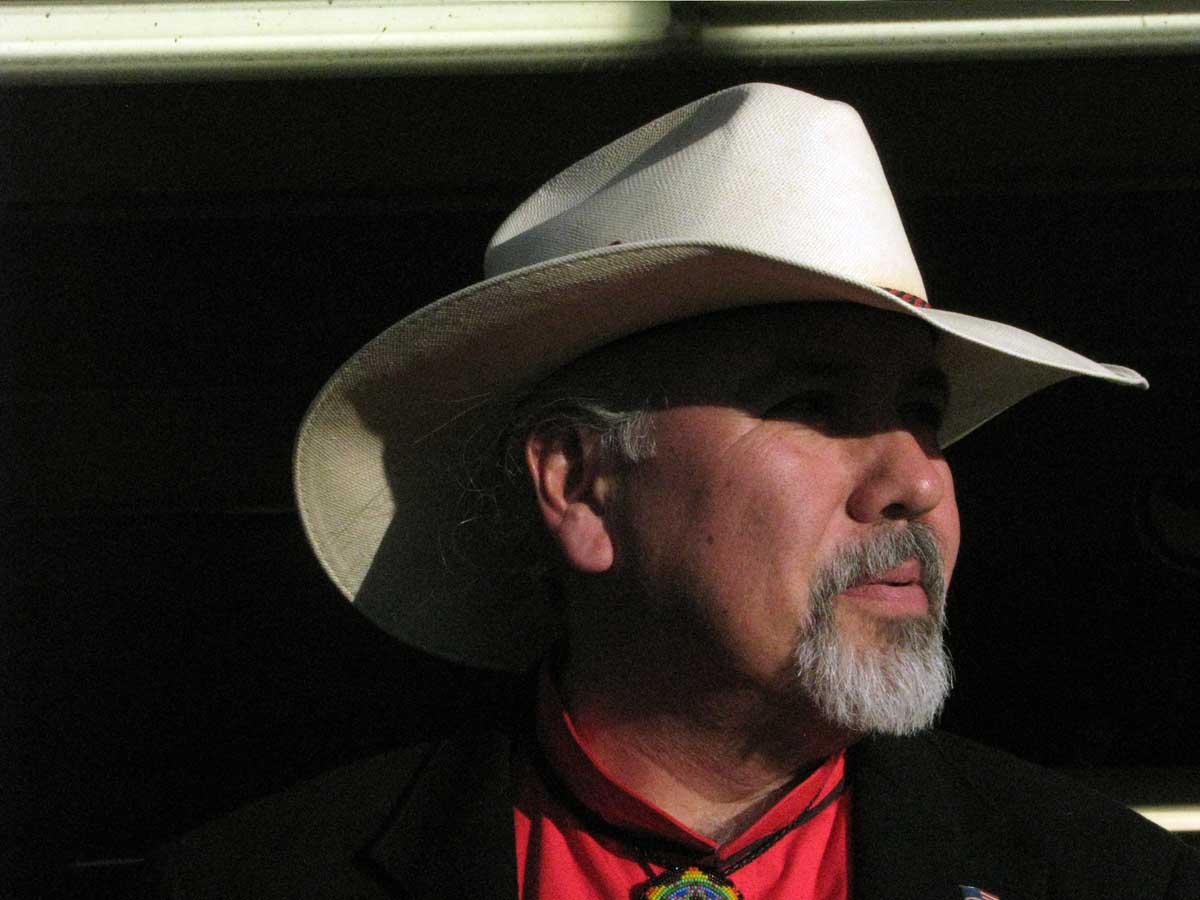 Photo: Emma Wilford/VOICES, Inc. & City High School
Originally published on Youthradio.org, the premier source for youth generated news throughout the globe.
It is fitting and proper that Dr. Carlos Gonzales offers a prayer at tonight's memorial for the victims, survivors and their families of the shooting that left Congresswoman Gabrielle Giffords in critical condition. Dr. Gonzales is an associate professor at the University of Arizona, College of Medicine. He is a medical doctor. He is also a Pascua Yaqui Indian who embraces his culture and is learning the ways of traditional healing.
Dr. Gonzales will aid in the healing of this community, this state and indeed this nation in the wake of such violence.
The reservation of the Pascua Yaqui Nation is located just outside of Tucson. They are in District Seven, the neighboring district of Representative Giffords.
In a state that passed the English Only law and the more recent Senate Bill 1070, Dr. Gonzales represents the diversity Rep. Giffords embraces. He comes from a tribe that, because of an international border which now crosses their aboriginal homelands, has citizens living in villages in Mexico. His people are also tri-lingual speaking English, Spanish and some still speak Yoeme, the traditional language of the Pascua Yaqui.
So tonight it comes down to words from an aboriginal man, from a race of people who have consistently helped this nation in times of strife. Arizona is home to the Navajo and Hopi Code Talkers who are credited with creating codes in their traditional languages which were never broken by the enemy during World War II. They helped save countless American lives.
Quite often the words and voice of the American Indian/Alaska Native is lost in America, their indigenous homeland, but tonight the country will hear from a man who clearly represents America and her rich diversity...
Words matter. Words can sometimes save lives. And when words are spoken in prayer, in a positive way, they can surely do more good than harm.
Dr. Gonzales spends his time teaching students and working with those who are in their residencies. As he told me he's training, "the next generation of family doctors," healers who will spend their lives helping their fellow human beings, and comforting them with words.
Patty Talahongva is a freelance journalist based in Arizona and former president of the Native American Journalists Association. She is also Hopi Indian from First Mesa, AZ. The Hopi have always known the world is round and thus all their prayers include prayers for people around the world.

Youth Radio/Youth Media International (YMI) is youth-driven converged media production company that delivers the best youth news, culture and undiscovered talent to a cross section of audiences. To read more youth news from around the globe and explore high quality audio and video features, visit Youthradio.org
Support HuffPost
The Stakes Have Never Been Higher
Popular in the Community