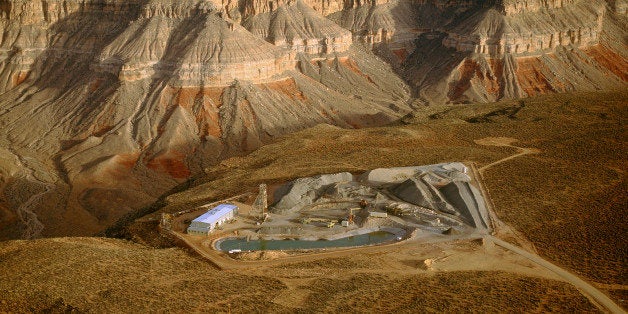 Throughout my career in the private sector and politics, I've seen people fight consensus and wage unwinnable battles. If there's one piece of advice I've given my friends and colleagues in this situation, it's to quit digging.
Sadly, I'm not sure the National Mining Association is willing or able to follow that advice.
The association's president recently wrote that the impact of uranium mining on Grand Canyon National Park is "virtually nonexistent." That's about as reassuring as BP saying that deep water oil drilling poses virtually no risk to the Gulf of Mexico.
The mining industry's statement counts on readers to be ignorant of the fact that federal and state agencies do not require wells to measure water pollution more than a thousand feet underground, where uranium mining threatens aquifers that feed springs deep within the Grand Canyon. No monitoring means contamination is undetected: out of sight, out of mind.
But that's changing as the U.S. Geological Survey pieces together samples taken from existing wells and places where groundwater flows downward into the Grand Canyon. These show that mining has already polluted 15 springs and five wells within the Grand Canyon's watershed with toxic levels of uranium.
The National Park Service reports that existing uranium mines, including some closed more than two decades ago, have fouled the regional aquifer in their vicinity with uranium levels considered unsafe to drink. Water from one sample has uranium concentrations 1,200 times the safe maximum.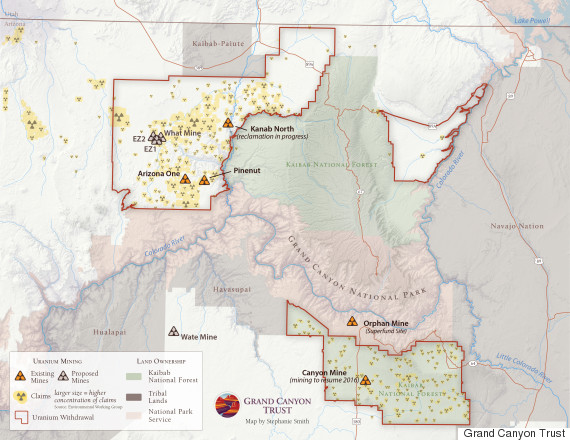 Map of Uranium claims and mines around the Grand Canyon
Evidence is mounting to suggest that the Grand Canyon's uranium spills have been ongoing -- and undetected -- for decades. We now know that contaminated water from the Orphan uranium mine on the canyon's south rim is poisoning a spring-fed creek deep below the rim where the damage cannot be repaired. On the surface, the mining company walked away from their mess and left the taxpayers with the $15 million clean-up bill. On the canyon's north rim, miners discovered more than two million gallons of highly contaminated groundwater filling the deep shaft of the Pinenut uranium mine when they re-opened it in 2009.
As I've said with regards to oil and gas development, one well contaminated or one person made sick is one too many. The same is true for uranium mining, making the situation around the Grand Canyon a disaster where we can least afford one.
In 2012, this sorry history led my friend and fellow Coloradan, Interior Secretary Ken Salazar, to impose a 20-year ban on new uranium mining in the watersheds that drain directly into the Grand Canyon. His action came in response to thousands of new mining claims filed in the preceding decade. Science and prudence also guided his decision, coupled with the knowledge that nearly $1 billion in annual economic activity is generated by this greatest of earth's geological treasures.
An unprecedented coalition of interests wrote over 300,000 comments in support for his action, led by the Havasupai Tribe, "people of the blue-green water," whose only source of water is threatened by a mine at the headwaters of Havasu Canyon.
According to the U.S. Geological Survey, the ban temporarily removed just 12 percent of northern Arizona's uranium resources from the clutches of the mining industry. You might think that they would accept protection of the Grand Canyon with some grace; but you would be wrong. Since the withdrawal, mining interests have mounted a relentless legal and public relations war on the mining ban, attempting to make it illegal for any future secretary of the interior to protect any area, no matter what the emergency. The same industry that has protected the wildly antiquated 1872 Mining Law from amendment for nearly a century and a half is determined that no place be closed off to them. If they can mine the Grand Canyon's watershed, what place is safe?
Need for Permanent Ban on Grand Canyon Uranium Mining
Arizona Congressman Raúl Grijalva, a Democrat from Arizona, recently introduced the Greater Grand Canyon Heritage National Monument Act aimed at making the 20-year ban permanent and protecting traditional cultural uses of lands around the canyon (summarized here). It was written in collaboration with Havasupai, Hualapai and Hopi leaders. The Navajo Nation, which banned all uranium mining on its land in 2005, joined in support along with Zuni, Paiute and Yavapai leaders.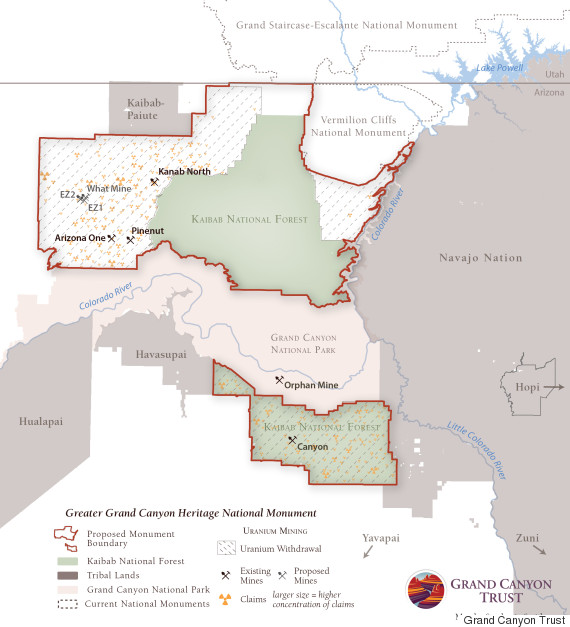 Greater Grand Canyon Heritage National Monument
The bill aims to protect 1.7 million acres of historical tribal homeland, including water sources and sacred sites.
Unfortunately, there's almost no chance that the legislation will gain approval in today's gridlocked Congress. But the 1906 Antiquities Act gives the president unilateral authority to set aside federal lands as protected national monuments to stop the looting of archaeological sites and for reasons of "historic or scientific interest."
I've long believed we will be judged by the nation we leave to future generations. After all, we don't inherit the earth from our parents -- we borrow it from our children. The president should act now to protect the Grand Canyon from irresponsible development around this national treasure.
The National Mining Association may not be willing to stop digging -- literally or figuratively -- but the president owes it to us all to help them.
Mark Udall, who represented Colorado as a Democrat in the Senate from 2009 to 2015 and in the U.S. House of Representatives from 1999 through 2009, is a member of the board of the Grand Canyon Trust.
Popular in the Community