If you've never traveled the approximately 100 miles of glorious American coastline between Alabama and Florida known variously as the "Emerald Coast" and, more colloquially, the "Redneck Riviera," then brother (or sister), you are in serious need of some beach schoolin'. There's not a place like it in the damned world, and you'd be a fool to miss out on her myriad (often bizarre) pleasures, sights, sounds, and food. Here's what makes the Florida Panhandle and LA (Lower Alabama) so spectacular.
The sand is as fine as powdered sugar
There is not -- and I will take a hard, fast, definitive stance on this issue -- a single place in these blessed United States that has better sand than the Emerald Coast. Not a one. It is paper white, fine, and as soft as the day is long. People who pay many millions for a house in the Hamptons are nuts, because the sand out there is crap: coarse, dark brown, and loaded with rocks and shells. Panhandle sand wins EVERY TIME.
It's an easy drive from pretty much anywhere in the South
If you hail from somewhere below the Mason-Dixon line between Beaumont, Texas and Pensacola, Florida, "going to the beach" implies that you're headed to the Gulf Coast. The only question is where you're staying, and if you'd be so kind as to bring me back some tomatoes. New Orleans is a wonderful place, but a mere three-hour drive east will get you to Gulf Shores and Orange Beach, a trifle when it comes to travel time, and quick enough for a weekend getaway without having to buy plane fare or spend half of your vacation in traffic.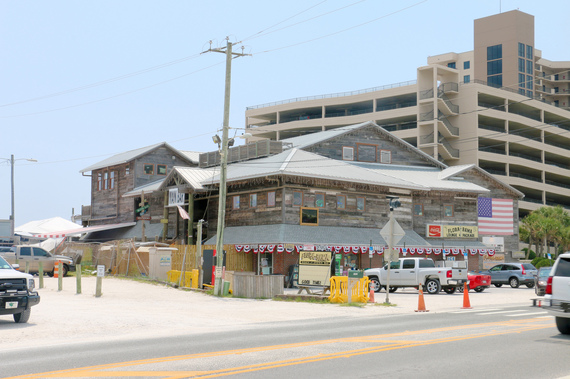 Credit: Flickr/Innisfree Hotels
You can drink in two states
Any discussion of the Redneck Riviera bears mention of the Flora-Bama, a sprawling ramshackle wooden bar and music venue straddling the state lines of, you guessed it, Florida and Alabama in the middle of Perdido Key. It is one of the weirdest, most wonderful bars to have ever existed. All you have to do is take a look at the clientele, a bizarre amalgam of spring breakers, bikers, vacationing blue bloods, country singers, snow birds enjoying their retirement, fighter jocks from the Naval Air Station in Pensacola, and every type of American redneck in between. Add to that the annual "Mullet Toss," in which participants literally throw dudes with Tennessee top hats, just kidding, dead mullet fish across the state line on the Fourth of July, and you have a true American classic.
You can hear the sweet sounds of almost every Southern accent
Considering the number of Southerners who descend upon the area, it's no surprise that the place is a bona-fide American linguistic honeypot. You'll find accents here ranging from Mobile drawl to Shreveport slang, Chalmatian, refined Uptown New Orleans, Tennessee twang, and all points in between, but rarely anything resembling the speech of Long Island, Chicago, or "The Bay." Soul-deep Southernness is basically pumped into the drinking water, and it's a glorious thing to behold.
Related