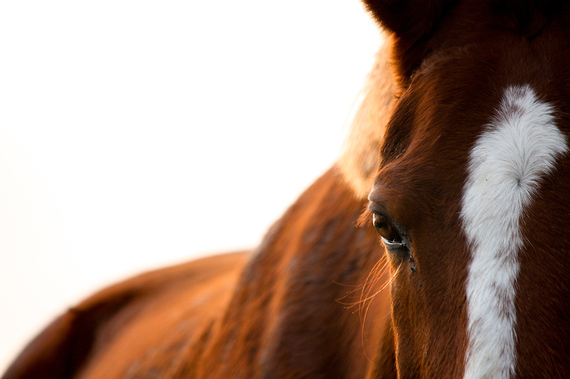 The Safeguard American Food Exports (SAFE) Act (S. 1214/H.R. 1942), before Congress now, would prohibit the slaughter of horses for human consumption in the U.S. It would also ban horses being exported by the US to be killed for human consumption.

Here are a few reasons why, horse lover or no, you should care.

1. THINK IT'S CRUEL TO SEND AN OLD DOG TO THE POUND? HAPPENS ALL THE TIME WITH HORSES. AND IT'S WORSE.

Around 150,000 horses are trucked to Mexico and Canada each year to be killed and their meat sold for human consumption. That is approximately 2,885 horses every WEEK. They include pregnant mares, foals and horses who are injured, or simply horses no one wants.

We are going to leave out the details of how they are transported and killed as it will either nauseate you or you will be thinking about it before you go to sleep tonight.
2. THERE IS MORE TO THE STORY BEHIND THOSE BIG BROWN SOULFUL EYES.

If you've never connected with a horse, or if you just want to be reminded of connecting with a horse, we recommend you watch the new documentary, Harry and Snowman. Based on a true story, Snowman, am Amish plow horse, was on a truck heading to slaughter when Dutch immigrant and rider Harry deLeyer bought him for $80.00 and saved his life. Snowman went on to become a show jumping champion and became known as "The Cinderella Horse."

It's not just a horse story. It's about giving an animal a second chance at life. It's about family. You are going to fall in love.

3. THE WILD ONES.

As reported by the the ASPCA, an advisory board to the U.S. Bureau of Land Management (BLM) recently proposed that the agency kill more than 45,000 of America's wild horses and burros, either by destroying them outright or selling them indiscriminately - which means selling them at auctions, where they will be bought en masse, then trucked abroad to be slaughtered.

The BLM has said it will not take up the proposal. For now. But as new administrations come in, the future of our wild horses is far from secure.

The SAFE act will secure their future.
4. WE ARE POISONING OUR NEIGHBORS.

Literally, no one is minding the store on what is in the horse meat we are sending abroad. The US is an integral part in a food chain that is virtually unregulated.

Horses are not raised for human consumption in this country. They are routinely given hundreds of drugs and other substances, both legal and illegal, over their lifetimes that can be toxic to humans if ingested.

Just one example, a common pain reliever routinely administered to all types of horses, Phenylbutazone, is known to cause potentially fatal human diseases. There is no known safe level for residues of these drugs in horse meat.

There is just no system in the U.S. to track medications and veterinary treatments given to the horses being slaughtered and sold to consumers. Basically no one knows. Which is one of the reasons why the European Union suspended horse meat imports from Mexico. And by the way, in case you think "Well that's Mexico," 87% of the horses slaughtered in Mexico for export to the EU came from the US.

5. THE SAFE ACT IS NOT A NEW IDEA. IT JUST NEEDS A FEW MORE FRIENDS.

Anti-horse-slaughter bills have been introduced in each Congress for the past decade. Despite widespread bipartisan support, not one of these bills has made it over the finish line. In those 10 years, approximately 1,000,000 horses have been sent over our borders to horrific deaths.

Vocal is important.

6. IT'S EASY TO DO SOMETHING.

The current session of the US Congress ends at the end of this year. Work is being done now, prior to the November election, and will continue into 2017.There is already strong support for the SAFE Act, from legislators on both sides, from non-governmental organizations and the public, but it needs more. Find out what you can do at the Humane Society of the United States and at Homes for Horses.
This music video, Take Me Home, is a beautiful homage to Snowman and to horses everywhere, with a call to action at the end. Please help support the efforts of The Humane Society, Homes or Horses, Safe Food Safe Horses and the ASPCA, Share the video on your social media to share the links.

When we're done with that, we'll take on another horrific practice that will have you asking "What is the matter with us that we let these things happen?"
Calling all HuffPost superfans!
Sign up for membership to become a founding member and help shape HuffPost's next chapter