Sustainable Development in the U.S.
For many Americans, terms such as "sustainable development", the "SDGs", and "Data Revolution" are either unknown or fall into the blurry category of global aid efforts. Unless you work in the international development field, most of these words and acronyms don't seem very applicable, especially here in the U.S. But - most of us are familiar with the water crisis in Flint, Michigan; food stamps and hunger programs across the country; concerns about lack of access to basic healthcare; or poor educational outcomes in many low-income areas. All of these issues are sustainable development challenges that affect people across the U.S. every day.
In September 2015, 193 member states, including the U.S. Government adopted the UN Sustainable Development Goals (SDGs), a set of 17 social, economic, and environmental goals for each country to address by 2030. To achieve the SDGs, we need to reframe sustainable development as something that doesn't only happen thousands of miles away in other countries. Sustainable development and the SDG framework apply to all Americans and the neighborhoods, cities, and states we live in.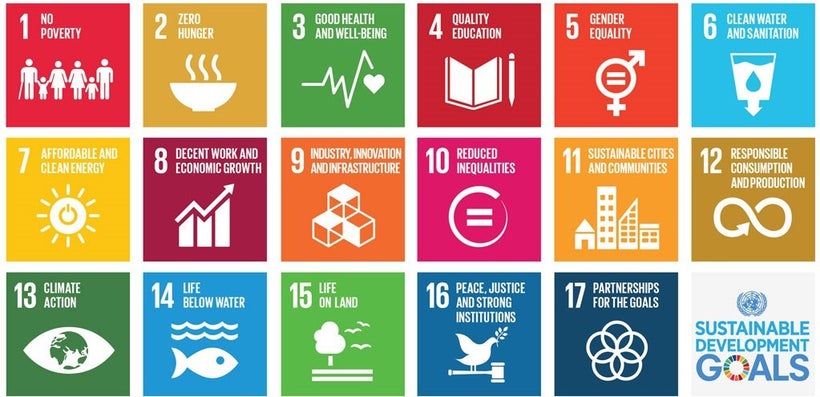 Why Data for Sustainable Development?
As countries around the world develop programs to achieve the SDGs, they are utilizing many kinds of national and local data. The Data Revolution - a global movement, defined by the UN, to apply data for social good - has provided a framework for countries to use in addressing these goals. Achieving the SDGs will require data-driven decision-making, evidence-based policies, and accountability for programs and investments. The U.S., like other countries, will need to improve data collection, management, and infrastructure to achieve the goals at home. For example, better environmental data is needed to ensure clean air and water; mapping the location of food pantries can help fight hunger; data on healthcare disparities can direct public health efforts; and education data can help improve schools and student performance.
Building the Roadmap for the U.S. SDG Data Revolution
One year after adopting the SDGs, in an addendum to its Open Government National Action Plan, the U.S. Government committed to develop an SDG Data Revolution Roadmap that "charts the future course of efforts to fill data gaps and build capacity to use data for decision-making and innovation to advance sustainable development." The U.S. Government has committed to develop the SDG Data Revolution Roadmap by June 2017, to serve as an outline of the government's commitments-to-action for the next two years. The Government will develop the Roadmap "through an open and inclusive process that engages the full range of citizen, non-governmental, and private sector stakeholders."
Announcing the Roundtable Report
Strengthening the U.S. SDG National Reporting Platform: The National Reporting Platform (NRP), developed by the Office of Management and Budget, has launched successfully as an open source platform for data related to the SDGs. With increased technical capacity and support for the NRP, as well as user feedback, the NRP can better provide relevant information on SDG indicators for advocates and practitioners nationwide.
Data for Action in the U.S.: The U.S. has a strong basis for applying data for action: Several national programs use national and local data to achieve goals aligned with the SDGs, and they are beginning to map them to the SDGs on a national and subnational level. This report recommends further work to align existing initiatives with the SDGs at all levels of government, to educate federal staffers about the SDGs, and to implement the SDG framework across the federal government.
Supporting Global Efforts: Global efforts to implement and monitor the SDGs are well under way, with significant U.S. leadership. This report recommends that the U.S. support country-led local programs and data collaboratives, continue participating in global partnerships and initiatives, and develop case studies to demonstrate how the SDGs can be achieved by harnessing the data revolution.
We hope this report it will lead to additional, in-depth convenings to help shape that Roadmap and develop concrete next steps in the months ahead. For more information, please contact Laura Manley at laura@odenterprise.org.
The Center for Open Data Enterprise (OpenDataEnterprise.org) is a nonprofit organization based in Washington, DC, whose mission is to maximize the value of open government data as a public resource, by focusing on data users. Over the past several years, the Center has worked with over a dozen federal agencies to develop best-practice recommendations to help them meet the needs of their agencies and data users. The Center has also worked with numerous governments abroad and international NGOs to utilize government data for sustainable development and to achieve the SDGs.
The Global Partnership for Sustainable Development Data (Data4SDGs.org) is a growing network of more than 200 data champions working around the world to harness the data revolution for sustainable development, including governments, companies, civil society groups, international organizations, academic institutions, foundations, statistics agencies and data communities.
Calling all HuffPost superfans!
Sign up for membership to become a founding member and help shape HuffPost's next chapter
This post was published on the now-closed HuffPost Contributor platform. Contributors control their own work and posted freely to our site. If you need to flag this entry as abusive,
send us an email
.