Sure, CMJ officially stands for College Music Journal, and at times the festival itself can feel, well, a lot like a college party: crowded, sticky, hot and full of a lot of bands that sound like your sister's-boyfriend's-bother's experimental synth-pop trio that uses upside-down buckets instead of drums and whose vocals sound like crying children. And then, when you're about to leave, exhausted and with beer on your shoes, there will be one act taking the stage who is so dynamic you'll be lured into staying through the night. Rinse, repeat.
But last week in NYC, amidst the 15-minute sets of guitar fuzz and vocals sometimes indecipherable from keyboard wahs, at times, the "CM" could have stood for Country Music.
While traditionally a home for indie rock (and now likely more so for electronica and low-fi) it was acts hailing from the Southern states that took the crown and the crowd.
Take Robert Ellis, a lithe Houston virtuoso who harkens back to the days of Merle Haggard, Kris Kristofferson and Townes van Zandt, the days when country and folk didn't have to be hyphenated to sit together in one sentence. Ellis played several shows this year, including sets at the Paste and New West showcases at the Living Room. His voice is clean and band booming; and you get the feeling that he incited a lot of "I didn't think I like country, but... " conversations at the night's end. That's because at its root, the genre was about personal lyrics, catchy but not cloying melodies, and pure Americana -- not Carrie Underwood. Ellis captures this essence in a way that's little heard lately, mixing both boot-stompers and introspective, carefully crafted songs on his recent release, Photographs, without ever being too nostalgic -- his sheer musical talent and tendency to pull from references like Paul Simon (he played Simon's "Still Crazy After All These Years," a show staple, in NYC) push him out of the past with roots in the ground.
Across town, Nikki Lane, a Nashvillian, played "Gone, Gone, Gone," a Nancy Sinatra boots-are-made-for-waking moment for the iPod generation. With a rasp that defies her youth, Lane makes music for not for a woman scorned, but one set to do the scorning. Unabashedly parading her Americana style around a city that sometimes calls itself "an island off the coast of Europe" might take some confidence, and she's got loads.
Other southern breakouts were Alabama's (former Drive-by-Trucker) Jason Isbell and the 400 Unit; Houston's Buxton, an indie folk collective whose album Mumford and Sons probably have hidden under their pilows; and the band Alabama Shakes, whose soulful shows were some of the most fun of the festival.
Then there's another Nashvillian, Pujol, who describes his music as "Southern Gothic Rock." Really, it's southern garage. The thing about Pujol is that he creates this sound without being completely '90s revivalist --so much so, that Jack White took notice and produced a recent single. Signed to Nebraska's Saddle Creek, Pujol is a swirl of Tennessee swagger with No Age boom and Ramones grit -- low-fi but high-energy, equally parts the sidewalk and the porch.
Saturday night summed it up best, with perhaps the festival's most unscripted moment: Ellis and his band took to a windowed corner of Williamsburg dive Lucky Dog to play a long set of country music classics, announced only hours before on Twitter. All covers, no originals. Just Waylon Jennings, Townes Van Zandt, David Allen Coe, Merle Haggard, Jim Ed Brown. While only one or two people danced at Ellis' prompting, the crowd still stayed and swayed, even asking for more after over two hours of music.
Later in the night, during a 15-minute set down the street, a big group left after two songs. Follow the slideshow below to the hear the bands mentioned in this blog, and a couple other non-Southern CMJ standouts.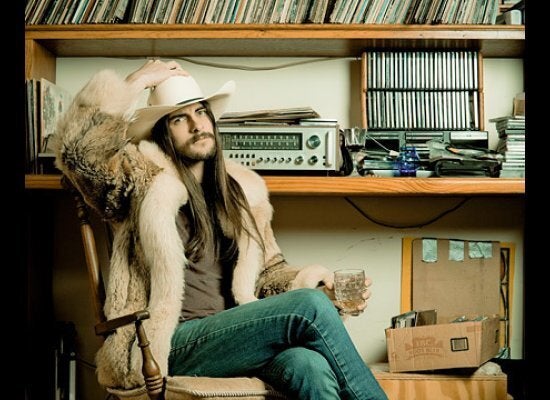 CMJ Goes South
Related
Popular in the Community