 With President Obama's blessing, TransCanada has been laying pipe for the 485-mile southern (OK-TX) leg of Keystone XL in the face of persistent nonviolent direct action by determined landowners and Tar Sands Blockade.
Look at the map below. If the southern leg of TransCanada's pipeline is allowed to be completed, the fuse to the tar sands "carbon bomb" will be lit.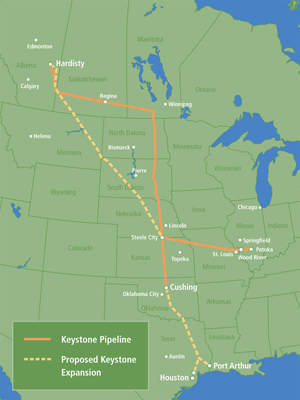 Connecting the southern leg of Keystone XL to the already built Keystone I (the orange line on the map) would open the floodgates to tar sands exploitation by allowing toxic tar sands slurry to flow south from Alberta's minefields to Texas Gulf Coast refineries, threatening everything in its path.
As critical as it is that Obama deny TransCanada a cross-border permit to build the northern leg, preventing the "carbon bomb" fuse from being lit requires stopping Keystone XL's southern leg. Maps don't lie. Right now, ground zero for this fight is in Texas and Oklahoma.
It is time to demand that President Obama reverse course and use his presidential powers to immediately halt construction of Keystone XL in Texas and Oklahoma, before it's too late.
Popular in the Community