For BRIDES, by Jamie Cuccinelli.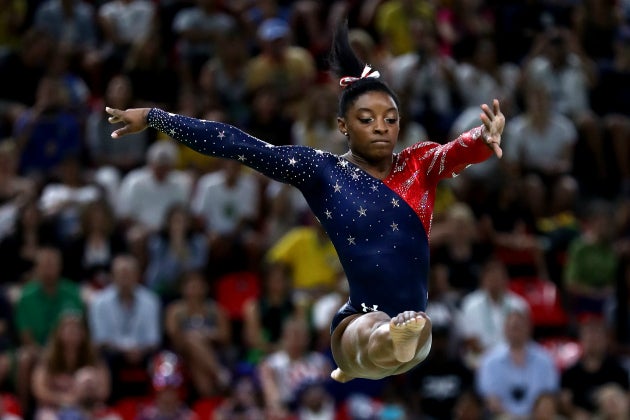 Weddings are just like the gymnastics portion of the Olympics, right? After months — no, years — of training, planning, sweat, and tears, you get to slip on a sparkly, epically-embellished ensemble for the moment when all eyes are on you. Okay, so we're totally kidding. We know wedding planning is nowhere near as hard as what these Olympic gymnasts do. (Although we'd like to see them deal with your future mother-in-law when she asks for another 10 invites to dole out to her friends...) But there is one thing brides-to-be and the U.S. Olympics gymnastics team has in common: The price of their big day outfit.
As it turns out, the leotards worn by the U.S. gymnasts at the Olympics cost just as much as your wedding dress, with the competition suits toting a hefty $1,200 price tag. But who could blame the team — or brides-to-be! — for stretching their budgets. Whether one is stepping onto the balance beam in Rio de Janeiro with the world watching or down the aisle with their loved ones gazing, looking your best is obviously a must. But just how could the itty bitty bits of fabric gymnasts like Simone Biles and Nastia Liukin don for their Olympic performances cost the same as your big voluminous ball gown with its endless yards of tulle? Well, the same big day dress detail that drives up the price of a wedding dress also adds to the cost of the gymnasts' leotards — bling!
After their first trip to the bridal salon, most brides learn that the sparklier the wedding dress, the bigger the price tag. And the same goes for the gymnastics leotards of the Olympics. According to the New York Times, this year's competition costumes are covered in almost 5,000 Swarovski crystals — that's four times glitzier than those worn by the 2012 U.S. Olympics team, which explains the $1,200 price tag. "It's difficult for me to imagine how we could get more crystals on," said Kelly McKeown, an executive at GK Elite, the design company behind Team USA's looks. "We may have hit peak crystal."
But all that glitz and glam definitely serves a purpose. "You definitely want to feel confident in the way you look," 2008 gold medalist Nastia Liukin told People magazine. "Because when you're on the balance beam, confidence is the most important thing."
And the same goes for that walk down the aisle! See? Wedding are just like the Olympics, after all!