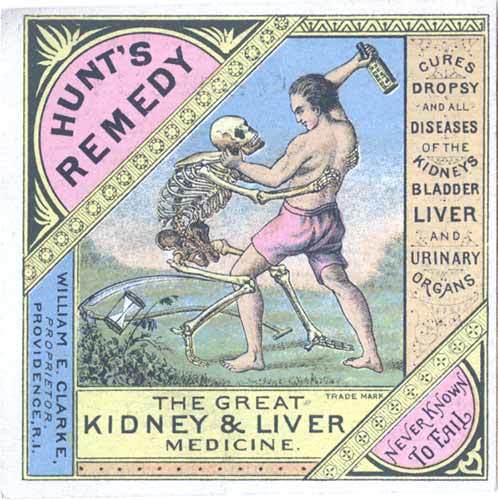 In 1962, the most important breakthrough in modern medicine took place. It was not a drug, not a device, not a procedure. It did not immediately save a single life, or cure a single person of disease. But it profoundly changed medicine worldwide, and led to the rapid progress in all of medicine that we have come to take for granted.
This medical miracle was a law, passed in the U.S. Congress, called the Kefauver-Harris Drug Act. It required that drugs sold in the U.S. be proven safe and effective, in high-quality randomized experiments. This law was introduced by Senator Estes Kefauver of Tennessee, largely in response to the thalidomide disaster, when a widely used drug was found to produce disastrous birth defects.
From the moment the Act was passed, medical research changed utterly. The number of randomized experiments shot up. There are still errors and debates and misplaced enthusiasm, but the progress that has made in every area of medicine is undeniable. Today, it is unthinkable in medicine that any drug would be widely sold if it has not been proven to work. Even though Kefauver-Harris itself only applies to the U.S., all advanced countries now have similar laws requiring rigorous evidence of safety and effectiveness of medicines.
One of the ways the Kefauver-Harris Act made its impact was through reviews and publications of research on the evidence supporting the safety and efficacy of medicines. It's no good having a law requiring strong evidence if only experts know what the evidence is. Many federal programs have sprung up over the years to review the evidence of what works and communicate it to front-line practitioners.
In education, we are belatedly going through our own evidence revolution. Since 2002, the function of communicating the findings of rigorous research in education has mostly been fulfilled by the What Works Clearinghouse (WWC), a website maintained by the U.S. Department of Education's Institute of Education Sciences (IES). The existence of the WWC has been enormously beneficial. In addition to reviewing the evidence base for educational programs, the WWC's standards set norms for research. No funder and no researcher wants to invest resources in a study they know the WWC will not accept.
In 2015, education finally had what may be its own Kefauver-Harris moment. This was the passage by the U.S. Congress of the Every Student Succeeds Act (ESSA), which contains specific definitions of strong, moderate, and promising levels of evidence. For certain purposes, especially for school improvement funding for very low-achieving schools, schools must use programs that meet ESSA evidence standards. For others, schools or districts can receive bonus points on grant applications if they use proven programs.
ESSA raises the stakes for evidence in education, and therefore should have raised the stakes for the WWC. If the government itself now requires or incentivizes the use of proven programs, then shouldn't the government provide information on what individual programs meet those standards?
Yet several months after ESSA was passed, IES announced that the WWC would not be revised to align itself with ESSA evidence standards. This puts educators, and the government itself, in a bind. What if ESSA and WWC conflict? The ESSA standards are in law, so they must prevail over the WWC. Yet the WWC has a website, and ESSA does not. If WWC standards and ESSA standards were identical, or nearly so, this would not be a problem. But in fact they are very far apart.
Anticipating this situation, my colleagues and I at Johns Hopkins University created a new website, www.evidenceforessa.org. It launched in February, 2017, including elementary and secondary reading and math. We are now adding other subjects and grade levels.
In creating our website, we draw from the WWC every day, and in particular use a new Individual Study Database (ISD) that contains information on all of the evaluations the WWC has ever accepted.
The ISD is a useful tool for us, but it has made it relatively easy to ask and answer questions about the WWC itself, and the answers are troubling. We've found that almost half of the WWC outcomes rated "positive" or "potentially positive" are not even statistically significant. We have found that measures made by researchers or developers produce effect sizes more than three times those that are independent, yet they are fully accepted by the WWC.
As reported in a recent blog, we've discovered that the WWC is very, very slow to add new studies to its main "Find What Works" site. The WWC science topic is not seeking or accepting new studies ("This area is currently inactive and not conducting reviews"). Character education, dropout prevention, and English Language Learners are also inactive. How does this make any sense?
Over the next couple of months, starting in January, I will be releasing a series of blogs sharing what we have been finding out about the WWC. My hope in this is that we can help create a dialogue that will lead the WWC to reconsider many of its core policies and practices. I'm doing this not to compete or conflict with the WWC, but to improve it. If evidence is to have a major role in education policy, government has to help educators and policy makers make good choices. That is what the WWC should be doing, and I still believe it is possible.
The WWC matters, or should matter, because it expresses government's commitment to evidence, and evidence-based reform. But it can only be a force for good if it is right, timely, accessible, comprehensible, and aligned with other government initiatives. I hope my upcoming blogs will be read in the spirit in which they were written, with hopes of helping the WWC do a better job of communicating evidence to educators eager to help young people succeed in our schools.
This blog was developed with support from the Laura and John Arnold Foundation. The views expressed here do not necessarily reflect those of the Foundation.
Related
Popular in the Community