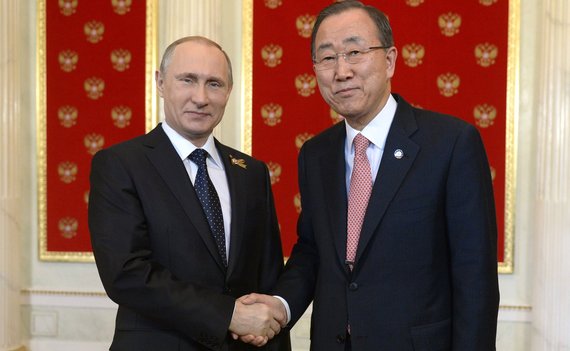 Image: Some analysts believe a U.N. secretary general from Eastern Europe would stand up to aggressors better than the outgoing Ban Ki-moon. Author: Kremlin.ru
Over the last few days, world leaders have been flocking to New York to take part in the 71st meeting of the United Nations General Assembly, where crises such as the Syrian conflict and the surge in European refugees are dominating the public agenda.
The leaders have also been discussing another momentous topic in the backrooms of the U.N. headquarters: who will succeed Ban Ki-moon when he leaves the organization's secretary-general post at the end of the year.
The 71st General Assembly session began on September 9, and runs through the end of the month. 
In his farewell address to the assembly this week, Ban took the uncharacteristically confrontational approach of blistering world leaders he believes have either precipitated or perpetuated some of the world's great crises.
He didn't name those leaders, but he might as well have -- because he listed the crises they have been complicit in: Ukraine, Syria, Iraq, Afghanistan, Yemen, Libya, South Sudan and North Korea.
He failed to mention that many leaders think his own laid-back style exacerbated the crises. He has simply been too hands-off, his detractors have maintained. He has failed to step in forcefully on too many crises, they contend.
The next secretary general, some pundits say, should be from an area that has produced leaders who have stood up to aggression in the past quarter century: Eastern Europe.
Those who make this argument ask: Where was Ban during the Georgia crisis, the Ukraine crisis, and the Syria crisis?
Russia has either spawned or worsened some of them in an attempt to rebuild itself into a global political and military power, many international political analysts say.
A lot of them believe that Russia could be a threat to stability in the years to come, and that the best secretary general to deal with the threat is someone who knows the Russians well: an Eastern European.
Those supporting an Eastern European for the post also note that the United Nations has never chosen a secretary general from the region -- a slight that needs to be rectified.
A key question is which Eastern European would make the best secretary general.
Two who were in the race early on have dropped out after the Security Council gave them little support in the preliminary rounds of voting for the candidates: Croatia's Vesna Pusic and Montenegro's Igor Luksic.
Eastern Europeans still account for about half of the remaining candidates, however.
Russia's favorite is Vuk Jeremic.
That's understandable. He's from Serbia, Russia's lone strategic ally in the Balkans.
Jeremic's hostility to NATO is well documented, and so is his opposition to Western military forces helping rebels defeat the late Libyan dictator Mummer Gaddafi's troops in the first Battle of Benghazi in 2011.
The Wall Street Journal stunned many Americans with a recent endorsement of Jeremic's candidacy.
But any of the five permanent members of the U.N. Security Council -- the United States, Russia, China, Britain and France -- can veto a candidate, and Washington would likely scuttle Jeremic's chances.
Slovak Foreign Minister Miroslav Lajcak has gained a reputation as a diplomat who can handle complex issues deftly, but he is on the wrong side of two issues, the West believes.
He has consistently supported Prime Minister Robert Fico's opposition to Slovakia accepting Syrian refugees.
Slovaks "have not been exposed to Muslims, and they are frightened" by them, Lajcak said.
In addition, Lajcak has supported Fico's position that the European Union should ease sanctions it slapped on Russia for annexing Crimea and sending troops to eastern Ukraine to help prevent Ukrainian forces from defeating the separatists there.
Lajcak's Syrian-refugee and Russia-sanctions positions make him a darling of Moscow but a secretary-general candidate Washington would likely veto.
The West has welcomed the secretary-general candidacy of Moldova's Natalia Gherman, who is pro-European Union and pro-NATO, but she's made little headway in the preliminary rounds of the secretary-general voting.
That's too bad, because the former acting prime minister has spoken with conviction on the need for a deeper relationship between Eastern Europe and its Western partners.
She has also been vocal about the need to strengthen NATO to prevent Russia from trying to regain its dominance over Eastern Europe and to threaten European security in general. 
In the doubtful event that she achieves a higher ranking in the next round of the secretary-general balloting, her pro-EU and pro-NATO positions might lead to a Russian veto.
A candidate whom both the United States and Russia might support is Irina Bokova, a former member of the Bulgarian parliament who also was the country's acting foreign minister.
Although she is one of the most pro-Western of the Eastern European secretary-general candidates, official Russian media coverage has indicated that Moscow might find her acceptable.
I hope that's true, because she has worked hard to empower women and to promote democracy, human rights, and freedom of expression.
And she has U.N. experience, running one of its largest and most important of the organization's operations, UNESCO, the United Nations Educational, Scientific and Cultural Organization.
In my opinion, those credentials make her Eastern Europe's strongest secretary-general candidate.
One of her most important contributions was playing key roles in helping Bulgaria transition from communism to democracy.
A NATO fellow, she was also an early advocate of Bulgaria joining the EU and NATO.
And as director general of UNESCO, she took strong stands on Crimea and the Donbass region remaining in Ukraine.
One measure of her devotion to empowering women is that under her leadership UNESCO has continued to enhance its reputation for appointing women to top positions.
Ironically, another Bulgarian may pose the biggest challenge to Bokova's secretary-general chances.
News reports have indicated that Kristalina Georgieva, the vice president of the European Commission, may seek the secretary general's post.
She just engineered a special 108-million-euro European Commission grant to the Bulgarian government to buy equipment to protect Bulgaria's borders -- a move that helped her secure Prime Minister Boyko Borisov's support for her U.N. ambitions.
If she becomes a secretary-general candidate, the academic and former World Bank administrator, who has never worked as a diplomat, will find a well of opposition from those uncomfortable with her cozy relationship with Hungarian Prime Minister Viktor Orban, however.
Last week Orban publicly praised her and announced that Hungary would support her nomination.
If might have been better for her if Orban hadn't endorsed her. Many Western leaders despise him as the most anti-democratic, hate-filled and racist leader in Europe today.
The fifth round of the Security Council's voting for secretary-general candidates will take place Monday.
With more than three months until the end of 2016, it won't be the last round.
This year's campaign has been more open and transparent than any before, but I'm still concerned.
In my judgment there's been too little public scrutiny of the strengths and shortcomings of the candidates. I'd like to see more probing from journalists and civil society.
A strong U.N. secretary general -- one who calls out aggression and demands that the global community stand up to it -- can play a leading role in making the world a better and more peaceful place.
One who wrings their hands over aggression without doing anything will only embolden the aggressors.
Armine Sahakyan is a human rights activist based in Armenia. A columnist with the Kyiv Post and a blogger with The Huffington Post, she writes on human rights and democracy in Russia and the former Soviet Union.
Calling all HuffPost superfans!
Sign up for membership to become a founding member and help shape HuffPost's next chapter