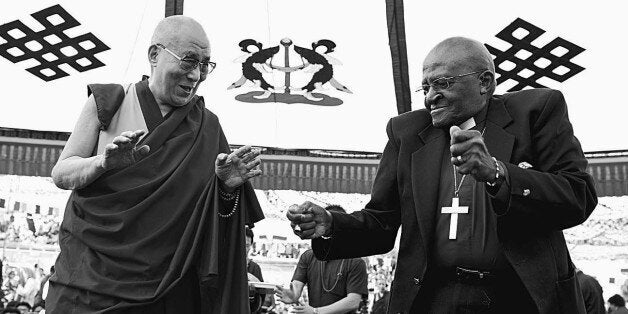 In April 2015, His Holiness the Dalai Lama and Archbishop Desmond Tutu met in Dharamsala for a historic conversation about joy. The Book of Joy (on sale now) chronicles the week-long discussion. On the final day, co-author Douglas Abrams asked the two great spiritual giants about the importance of joy in the world today.
"Archbishop, Your Holiness, what an incredible joy and privilege it has been to join you in this conversation to prepare The Book of Joy. Today is just for a few final questions. One we received was, 'Why do you think it is important to write The Book of Joy now, and what do you hope it will do for readers around the world?'"
"You obviously hope," the Archbishop said, speaking of himself in the second person, as he often did, "that you could be an agent for helping God's children enter into their heritage so they can have greater fulfillment and can become all that they are meant to be. And you hope that they will realize that it will happen most of all if they are generous, if they are compassionate, if they are caring."It is when without thinking about it you help someone who is less well off, when you are kind to someone else and do those things that raise others up, you end up being joyful."
The day before, at the Tibetan Children's Village, the Archbishop had answered one of the children's questions by saying, "If we think we want to get joy for ourselves, we realize that it's very shortsighted, short-lived. Joy is the reward, really, of seeking to give joy to others. When you show compassion, when you show caring, when you show love to others, do things for others, in a wonderful way you have a deep joy that you can get in no other way. You can't buy it with money. You can be the richest person on Earth, but if you care only about yourself, I can bet my bottom dollar you will not be happy and joyful. But when you are caring, compassionate, more concerned about the welfare of others than about your own, wonderfully, wonderfully, you suddenly feel a warm glow in your heart, because you have, in fact, wiped the tears from the eyes of another.
"Why now?" he continued, addressing the second part of the question. "I think that there is so much that is hurting. You almost want not to read the newspapers or watch television when, if you are going to watch television, you will see the beheading of someone's child. When you see the number of refugees, mothers running away from one source of violence and pulling children behind them. Even when you live comfortably it clutches at your heartstrings. It's very . . . it's very distressing. Particularly when we think that during the time of our struggle against apartheid, our people were refugees and exiled and were welcomed in African countries that were a great deal less well off than South Africa is. You have to be quite careless not to be sad. We look like we are hell-bent on competing to show who will be the most exquisitely cruel. I think God wants us to be joyful at every time, but right now, I think God is crying quite a lot."
The Archbishop was gesturing to the Dalai Lama. "It's your turn now."
"This is our last session, so perhaps I will state it this way. I am one human being born in Amdo province in northeast Tibet in a very, very small village in 1935. So, at that time, the Sino-Japanese conflict was about to start. Soon after the Second World War began. Then the Korean War. Then the Vietnam War. Because of these wars, there was immense violence. At those times the human mind, or at least those who were responsible for going to war, believed that using force was the best method for solving disagreement."During the Second World War, for example, when a nation declared war on another, the citizens of the country proudly joined the war effort without the slightest question. But since the Vietnam War our way of thinking has changed. More and more people now publicly oppose war; we saw this opposition to war in Kosovo, in Iraq. Many people were against these wars and, from Australia to America, people openly protested against these wars. This is truly a hopeful sign."I think as long as we human beings remain here, there will always be some limited violence, as there is with all animals. But serious violence, mass killing, war, this we can eliminate if we have the proper vision and method. I think, certainly, it is possible to achieve a world without such sorrow."
At the Tibetan Children's Village, in response to the question of whether joy can be the ultimate source of world peace, the Dalai Lama had responded, "I think so. I think firstly people should have a clear understanding of joyfulness. You see, you might get a temporary joy in killing your enemy or bullying someone. You may get some kind of temporary satisfaction. But the true joyfulness comes from helping others. This way you get much more satisfaction. So that kind of thinking about joyfulness is really an important factor in building a happy society, peaceful society. In order to create peaceful family, first the individual person himself or herself should create inner peace, joyfulness. Then share with other family members. In that way, one family, ten families, a hundred families. That way, we can change and bring happier community, happier society, then happier humanity. Seven billion human beings, we all have same desire, same right to achieve happy life."
Learn more about The Book of Joy at bookofjoy.org and on social media with hashtag #sharethejoy
Related
Popular in the Community