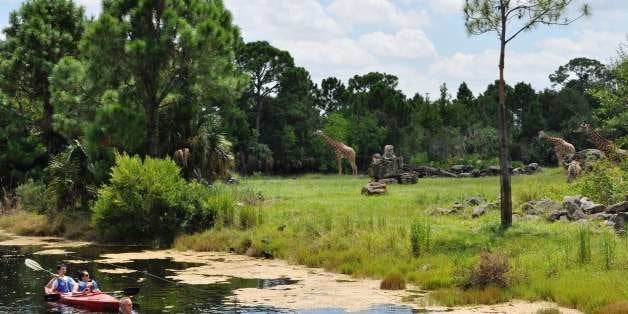 Tens of millions of Americans live in urban areas that might be described as concrete jungles, largely devoid of nonhuman life. Sure, there's probably a nicely manicured oak tree on the street corner and your apartment building may be overrun by roaches, but when was the last time you truly connected with nature? Let me guess: your childhood?
There's nothing wrong with city living. Who doesn't crave the hustle and bustle, packed with culture, cuisine, concerts and endless options for everything and anything under the sun? After all, we are a social species. But this fast-paced lifestyle robs us of a fundamental aspect of our humanity: an existence amongst animals.
That's probably why at the heart of every great community is a zoo or aquarium. These facilities (the vast majority of which are nonprofit or receive municipal funding) offer people of all ages and walks of life the opportunity to connect with incredible animals they would otherwise never have the chance to see. Further, these institutions strive to save the world's remaining wild areas (and their animals) for future generations.
These aren't generic anecdotes drummed up by a PR firm; it's something I witness every day as a zoo professional. It's why we decided to work with #GivingTuesday to create "Giving ZooDay" with the mission to spread awareness of the value zoos and aquariums provide their communities.
When I began my job as communications manager at Brevard Zoo in Melbourne, Fla., I made a vow to escape my cushy air-conditioned cubicle at least once a day and explore the Zoo, if only for a few minutes at a time. It serves as a reminder of why I do what I do.
With a couple of exceptions, I've made good on that promise. As I stroll past our animal exhibits, I am always in the company of patrons, but it is the children I enjoy observing the most. I delight in their awe as I watch their faces light up and their jaws drop to the ground. Naturally, the kids ask lots of questions: "What does it eat?" "How long do they live?" "Can I touch it?"
With any luck, these sparks of wonder and curiosity become wildfires that fuel a lifelong passion for wildlife and conservation. That's what happened to me and it's what happened to my coworkers.
"I grew up visiting zoos and aquariums," says conservation coordinator Jonny Baker. "And I was a keeper for five years before I moved into the conservation department. So I went from admiring these animals to caring for them to trying to save them in the wild."
Our Zoo isn't just about conservation; it's about education, too. We've reached hundreds of thousands of schoolchildren with programs such as Zoo School and Zoo Explorers, getting them outdoors through high-quality curriculum that complies with state standards.
Success stories like ours aren't uncommon at facilities accredited by the Association of Zoos and Aquariums (AZA), but there's potential to make our impact even greater. That's why we're collaborating with ten other zoos on the Giving ZooDay effort on December 1. We'll be asking our friends and patrons to support our institutions through financial contributions or volunteerism.
"Superficially, the value of zoos and aquariums is pretty clear: they're nice places for family time and field trips," said Cheri Purnell, the Zoo's director of membership programs. "But a lot of people don't know what goes on behind the scenes in terms of conservation and how passionately we care for our animals.
"Since we're a nonprofit organization, we can't survive on admissions and concessions alone. And we couldn't operate without our 400+ volunteers, who save us about a million dollars in salary each year. If you value your local zoo or aquarium for any reason, give in any way you can."
When you give to an AZA-accredited facility, you're investing in the future of our planet. Let's keep the spark alive.
This post is part of a series produced by The Huffington Post and the 92nd Street Y, founders of #GivingTuesday, a global day of giving that will take place this year on December 1. These stories highlight the work of organizations and people around the world who are committed to giving back and doing good this #GivingTuesday.
REAL LIFE. REAL NEWS. REAL VOICES.
Help us tell more of the stories that matter from voices that too often remain unheard.