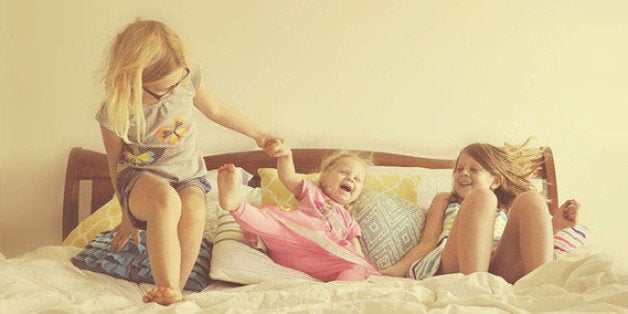 As a parent of three girls, I get some run of the mill questions and comments:
"Are you going to try for a boy?"
"Wait until their teenagers!" *insert crazy laugh*
"Are you going to try for a boy?"
"That's a lot of weddings! Cha-ching!"
"Are you going to try for boy?"
And, "Why did you wait so long for your third?"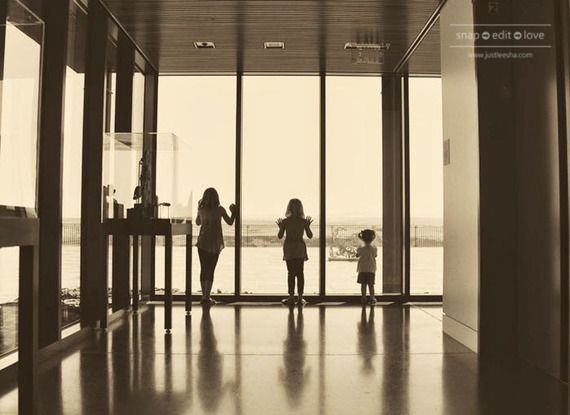 There are two years between my older girls.
Then are seven years between my oldest and youngest.
And being were all not math geniuses up in here (me, oh me!!!), that makes five years between my middle and youngest.
Let's just say my second child is a real doozy. She is a ball of energy that has tested my patience, made me cry and truly brought out my creative side. For example:
When she started taking her diaper off at a very young age, I had to actually start duct taping it on.
When she climbed out of her crib way before I was prepared, I had to install a crib tent. A.K.A. a full-on crib prison contraption.
When she kept removing clothes at bedtime, I took those full body suit PJ's, cut the feet off, turned them backwards and zipped her up. She never escaped from those. This has been one of my greatest outsmarting a child accomplishments to date.
Then she dropped taking naps not long after turning 2.
She has always ran from place to place. Not walked. Ran!
She is a climber. She has climbed everything in our house that is even remotely scalable. And because of that, she is a faller.
The worst example of this is when a fall at 1 1/2 resulted in a fingertip loss and a very frantic trip to the ER.
She is so rough when she plays, most of her clothes become hole-ridden and ruined.
She has no fear, and as a result, she scares me to death.
While these traits make parents like me weak in the knees and a victim of sleepless nights, they also have a very positive side. She is the most determined, tough little girl I know. She doesn't take crap from anyone. She loves hard, plays hard, tries new things, doesn't give up and leaves me amazed at what she can accomplish.
She learned to ride a bike with no training wheels at age 3.
She performs stunts that terrify me.
She keeps up with kids twice her size.
She isn't scared to try. Which is something I envy and hope she holds on to for the rest of her life.
So, to answer your question, why did we wait five years? We waited because our second one kept us so busy.
Her ambition is what I know is going to make her life incredible.
I just hope I can keep up.