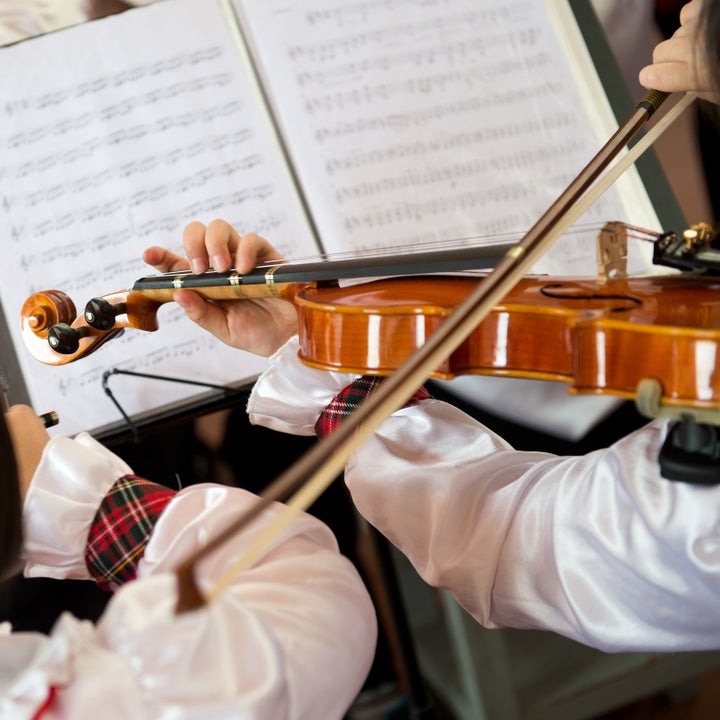 Do you find yourself hiring a lot of musicians for your house parties?
Are you sick and tired of having live musicians accompany your day to day life?
You're not? Of course not, because, aside from buskers in the subway or the band your friend dragged you to see last weekend, you don't encounter a lot of live musicians, especially live musicians performing music you chose and whose sole purpose is to make your day special and exactly as you want it. Your wedding is a special day, maybe the most special day in your life, and there is nothing more ceremonious or celebratory than live music.
We live in a D.I.Y. world, and I love that. We live in a digital world, and I love that, too. But let's not pretend that your iPod and your buddy who is "good with technology" is the best course of action when it comes to you or your beloved walking down the aisle.
There are people, people like me, who have spent their entire lives studying and performing music. I hold a degree from Manhattan School of Music, as do many of my band members while others hold degrees in music from Berklee College of Music, the New School University and NYU. We have been given awards and grants, we've done world tours, we are fancy-pants musicians, but more than anything we relish the opportunity to play for people who want to hear us. We sink our teeth into figuring out the best processional for you and curating the best dance party set list to keep your guests on their feet all night long.
We just want to do what we do best, and we're happy to do it for your wedding day.
Aside from it being infinitely more elegant to have live music for your ceremony, we are living people with eyes and ears who can adapt when the flower girl gets distracted and messes up the timing of your processional and who can add a tasteful "grand pause" for your officiant to say, "Please Rise," just before you or your betrothed make your way down the aisle.

We know more music than you do (it is our job) so when you tell me you're having a rustic, farm-to-table barn wedding I'm not going to force you into Pachelbel's Canon in D or anything else that would be on a "Music For Your Wedding" CD from Party City, I'm going to hook you up with the tastiest acoustic guitar and violin duets with that roots-y vibe you're going for. Similarly, there is no underestimating the atmosphere that a live jazz or bluegrass ensemble creates for your cocktail hour.
I promise you, it is a much better investment than M&Ms with your faces on them.
When it comes to your reception, it's really a no-brainer. Want to know what starts a party? The six or more musicians that are already having a party on stage. Real people who you can make eye contact with when you're singing along to every word of "Whip It," who are making eye contact with each other so they can communicate where the music should be going, and who have equally ridiculous dance moves as you or your friends.
In the case of MIXTAPE, we are all really good friends, not just hired guns told to play together. Some of us have known each other for more than 10 years, and some of us are in other bands together. We are all so happy to be getting paid to play together and that is clear as day when we rock your reception.
A live band of a high caliber has the flexibility to perform nearly every genre you want to hear. For MIXTAPE, that means everything from indie rock, classic rock, Motown, new wave, punk, folk, grunge, pop, soul, and even hip-hop (we do Outkast, MIA and the Roots).
If you think you're better off with a DJ because bands are limited in what they can do, you're just looking at the wrong bands. Keep in mind, you're not going to need more than fifteen songs per hour of the band's performance, any band with a sizeable repertoire should be able to give you enough songs you love, and remember, if you're missing a particular song or genre, your band will need to take set breaks and you can have them play those specific songs for your breaks so you literally get every song you want.
This generation is rewriting the rule books on weddings and I think it's great. There are a lot of things in "traditional weddings" that we don't need, and there are a lot of modern additions to weddings that are great.
Live music is a tradition of celebrations since music and celebrations started. Your parents like live music, your friends like live music. Let us play some Rolling Stones and everyone wins.
You have one chance to dance with your spouse for the first time as a married couple. Do you want it to be to the same recording that was played on the radio for the past 20 years or do you want it to be a completely unique performance, just for you two?
Related