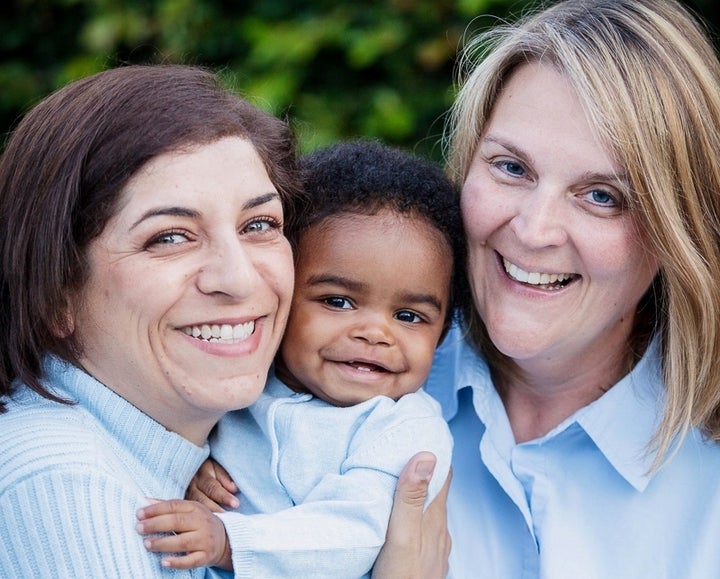 To mark National Adoption Month, five RaiseAChild families are celebrated in the weekly "Let Love Define Family®" series for Huffington Post Queer Voices. In this fifth of five special series installments, RaiseAChild contributing writer, Eric Criswell, learns about the internal battles that most parents experience when deciding to be advocates.
It has been almost eight months since Lola Shahdadi and Lynne Witmer became what they always dreamed about: a family with their adopted daughter, Ella. As time passes, they reflect on the impact it has had on their lives, and hopefully on the lives of others.
Lynne states it simply: "Our lives have become a musical. Everything we do is a song or a dance. That is just how life is right now, and everything we have in our house seems to talk or play music."
"Everything is different, but it is all a good different," Lola adds. "Every aspect or your life changes when you become a family."
They do know that theirs was not a typical path for the foster adopt system. They started their journey with both preparation and trepidation.
"We had both reached the decision that we wanted to be moms, and we talked a lot about what parenting would look like for us," Lola admits. "I think our planning really helped us from being too shocked when we did become a family."
Like a lot of people, they explored various options for starting their family. But after getting a number of their questions answered by RaiseAChild, the two decided on the path of foster-to-adopt.
They began the process, but initially became discouraged. Lola explains, "It can be scary and traumatic. One of the classes we had to take even had 'trauma' in its name, and we took a break from the program."
Lynne adds, "We just needed a moment to decide if this is something we really wanted to do."
The two did some soul-searching and realized they both wanted to build a family and make a difference for a child by providing the love they knew they had to give. With continued encouragement from RaiseAChild and support from their social worker at their chosen foster and adoption agency, Penny Lane Centers, they decided to resume their journey to get certified for foster adoption. Lola explains, "Our Penny Lane social worker was with us every step of the way to ease our fears."
One thing they learned, and try to impress on others, is that you have a voice in the life and family you are building. They decided they would be very clear on what they wanted and what their terms were.
"It can all be very overwhelming," Lynne said. "But when you realize you have a voice and that this is your life that is going to change forever, you make decisions from a better place that will serve everyone's needs."
Lola continues, "I am not going to lie. It is hard, especially when you have to say no to someone. When we got our first call for a possible child placement, we didn't feel it was a good fit for us. We were wrecked emotionally for a long time."
Though they knew the right fit may never come, it was not long till they got the call about a new born girl named Ella. "When we first got the call about Ella, it just felt right from the beginning. We did all we could to become Ella's mothers."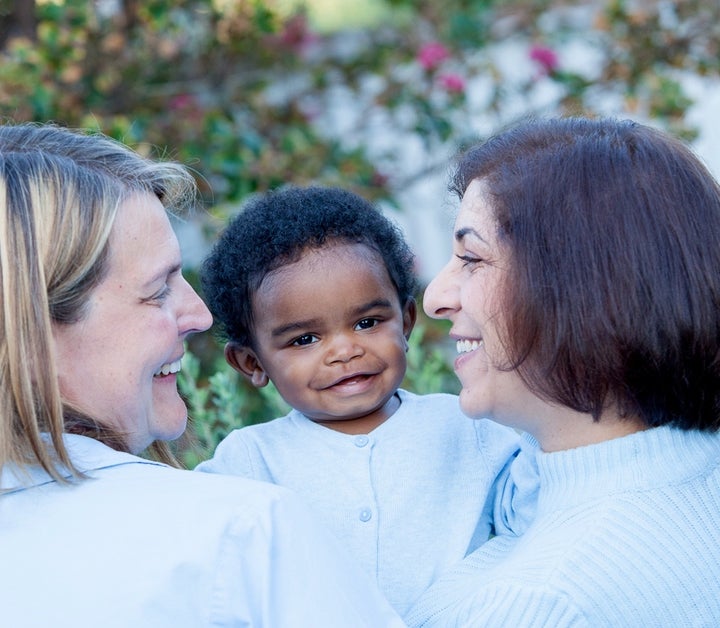 Lynne explains, "From the moment we said yes to Ella, everything just seemed to start to fall into place."
Not only did the couple find their parental instincts when Ella was placed in their home, their daughter also helped the women find a passion and a voice that they didn't know they had. At first, Lynne and Lola volunteered to speak at a few RaiseAChild and Penny Lane Centers events to share their family building experiences with prospective foster and adoptive parents. A few months ago, the women agreed that their family would volunteer again in a photo shoot for RaiseAChild's National Adoption Month Campaign. Currently, images of Lola and Ella can be found flying high on streetlight banners over Long Beach and Los Angeles as part of the RaiseAChild National Adoption Month campaign across Southern California.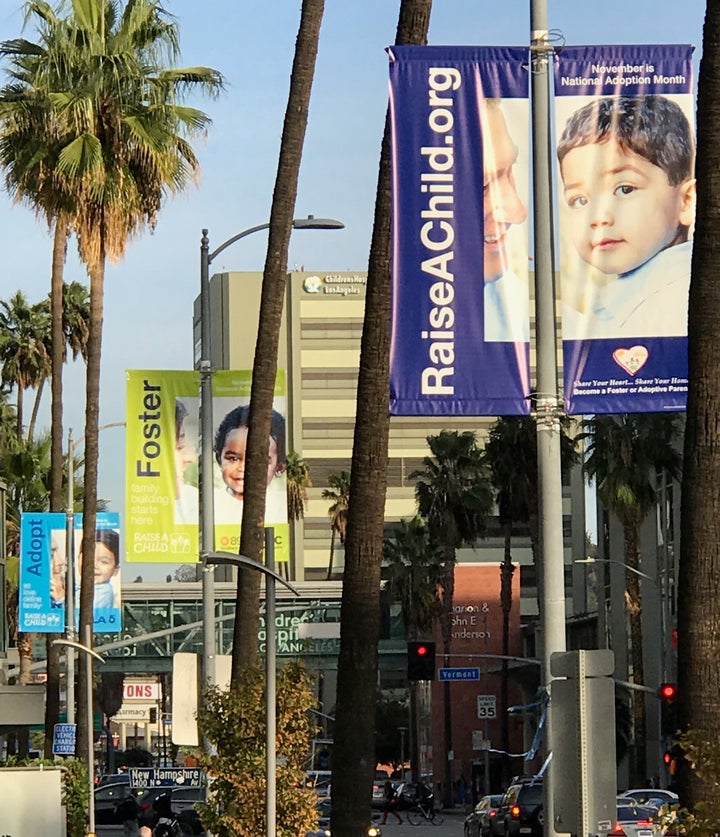 "Of course, we agreed to participate in the campaign right away," said Lynne. "But afterwards, Lola and I talked in depth about logical concerns and risks of what this exposure might mean to our daughter and our family."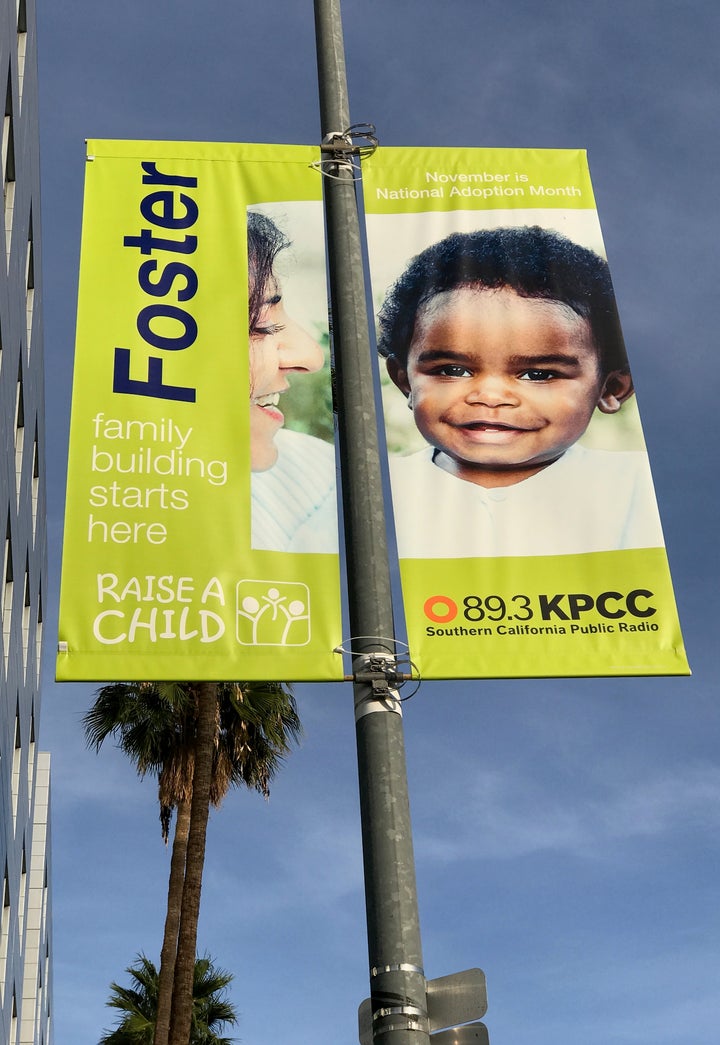 "Especially now, these are not times to sit back and unplug," Lola expressed passionately. "Each of us has a choice to hide and live in fear, or to speak out for what is right. In the case of children in the foster system, the statistics are staggering. Fact is that there are more foster children than foster parents in Los Angeles and across our country. So, if even one parent is inspired to foster or adopt from seeing our image or hearing our story, that means one or more children that will have a better life. That alone is a considerable outcome."
"Yes, advocating is most important to us because of the children," Lynne admits. "In addition, we also advocate for the benefit of our LGBT community. Numerous studies have proven that LGBT people make great parents. But, only Lola and I know how having Ella has improved our relationship and our lives. So for us, advocating is less about 'hey, look at us,' and more about 'hey, imagine what is possible for you.'"
RaiseAChild thanks Tiffany Fierro, Olivia Hope, Giovanna Montoya, and Christen Schaefer of the Cinema Arts Program of Providence High School, Burbank, CA for volunteering to film, edit, and produce this inspiring RaiseAChild "Let Love Define Family®" video.
Have you thought about building a family through fostering or adoption? RaiseAChild is the nationwide leader in the recruitment and support of LGBT and all prospective parents interested in building families through fostering and adoption to meet the needs of the 415,000 children in the foster care system of the United States. RaiseAChild recruits, educates and nurtures supportive relationships equally with all prospective foster and adoptive parents while partnering with agencies to improve the process of advancing foster children to safe, loving and permanent homes. Take the Next Step to Parenthood at www.RaiseAChild.org or call us at (323) 417-1440.
If you live in Southern California, RSVP now to attend free 2016 RaiseAChild Parenting Info Sessions:
• Saturday, Dec 3 at 11:00 a.m. Pitzer College in Claremont
• Monday, Dec 5 at 6:30 p.m. All Saints Church in Pasadena
• Tuesday, Dec 6 at 6:30 p.m. University of Redlands in Redlands
REAL LIFE. REAL NEWS. REAL VOICES.
Help us tell more of the stories that matter from voices that too often remain unheard.