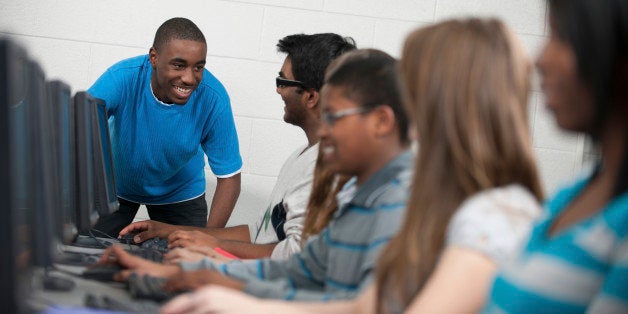 As a 2012 graduate and the former student body president of Morehouse College, I am forever grateful for the ways in which an institution built to expand opportunities nearly 150 years ago has significantly shaped the kind of leader and professional I am today.
I am not alone in my affection for historically black colleges and universities (HBCUs), as across the country, HBCU students and alumni have been voicing (and tweeting) their pride throughout the month as part of the Thurgood Marshall College Fund's "I Love My HBCU" campaign.
These illustrious organizations continue to play a significant role in fostering the next generation of leaders, and we see their impact everywhere, whether it's the Rhodes Scholarship or cancer research. We also see their work at CGI University, which every year brings together college students from around the world to launch tangible plans to address some of the biggest challenges of their time.
This April, students from several HBCUs are bringing their big ideas to the Bay Area for CGI U 2016, which will convene some of the world's top student leaders. Learn what three of these rising stars are working on--and how HBCUs are putting them on the path to become social entrepreneurs.
Kristin Jones, Howard University
An Emerging Architect for Gender Equality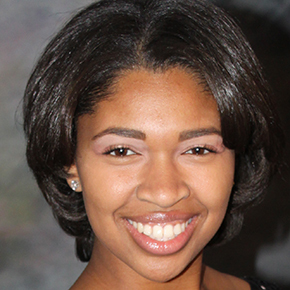 Kristin Jones is the 21-year-old co-founder of Women SPEAK, a young women's empowerment initiative that has quickly gained steam nationwide. In 2015, Women SPEAK leveraged CGI U to host a successful leadership summit for high school girls and launch several chapters on college campuses around the country.
The initiative's focuses on gender equity and justice are personal for Jones--she is majoring in architecture, a field where women are sorely underrepresented.
"Women SPEAK is the brain child of me and a few friends from high school who kept in touch after graduation," said Kristin. "During our first year of college, we reflected on the injustices we'd faced as women preparing for entry into our respective male-dominated fields. We understood that women need to have a sense of purpose and the strength to excel due to all the adversity that they might encounter."
Howard's rich history of producing pioneers--including writer Zora Neale Hurston and Charlotte E. Ray, the first female African-American lawyer--inspires Jones and other students to become entrepreneurial themselves.
"Following in the footsteps of some of the most notable entrepreneurs gives us the network and resources to find our passion," she said. "In class we are taught about the many ways that the people before us were able to promote change and make a difference. So outside of class I've adopted the same mentality of recognizing problems and figuring out logical and innovative ways to solve them."
Jean-Marie Nshimiyimana, Johnson C. Smith University
A Proponent of Expanding Tech Access in Burundi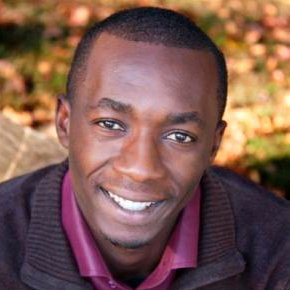 In addition to educating African-Americans for generations, HBCUs are also providing opportunities to the African Diaspora through efforts such as Morehouse's Rugari Scholarship Program. Likewise at Johnson C. Smith University (JCSU), Burundi native Jean-Marie Nshimiyimana represents one the growing numbers of Africans planning to use their HBCU education to strengthen their home countries.
"Growing up, I did not have the luxury of using a computer and online resources until I came to the US for college," said Jean-Marie. Now that he's a computer science major, he is making a CGI U commitment to give Burundian children an earlier start than he had by establishing computer labs comprised of low-cost Raspberry Pis in two rural schools.
While Jean-Marie is ambitious, he also recognizes when he needs help. He appreciates the hands-on support that he receives from Johnson C. Smith's faculty.
"As a student, it's always good to have dreams. But to successfully put them into application, you need someone to talk to, someone to mentor and guide you," he said. "When I present an idea, professors at JCSU help me gain clarity on its feasibility and its alignment with my goals. I appreciate that they don't limit their help to academic projects, but also to my CGI U commitment and other projects in the real world."

Kofi Amoah, Fisk University
An Advocate for Diversity in Computer Programming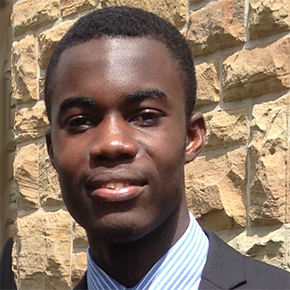 Kofi Amoah, 21, has had a passion for science for as long as he can remember. Today, the junior is performing bioinformatics research at Fisk and nearby Vanderbilt universities in hopes of one day answering the world's great biomedical questions. But he wishes that more African-American students also had the chance to fall in love with formulas.
"About a year ago, I was wondering how my life would have taken a different path had I ignored computer science just because I didn't have prior experience in programming," he said. "I realized there is probably a large number of other students around the world who could have pursued a career in technology, but are not doing so due to lack of early exposure to the field."
To address the disparity, Kofi and his classmate at Fisk are making a CGI U commitment to introduce computer programming this year to underrepresented minority middle school and high school students in Nashville.
Kofi said that although Fisk is a small school, it is big on encouraging social entrepreneurship.
"Students who have innovative ideas and are willing to work hard and materialize these ideas obtain tremendous support from faculty and administration," said Kofi. "Fisk has its own I-Pitch Entrepreneurship Contest and this year provided funding for us to participate in CGI U. I believe that such examples empower more students with the confidence and backing needed to take on the big problems our planet is faced with."
I Love My HBCU Month continues throughout March. Afterward, Kristin, Jean-Marie, and Kofi will join more than 1,000 college students from around the world for CGI U 2016 from April 1-3 on the campus of UC Berkeley. Follow us on Facebook and on Twitter at @CGIU.
Calling all HuffPost superfans!
Sign up for membership to become a founding member and help shape HuffPost's next chapter