As an adoptive mom, I don't celebrate Mother's Day much differently than a biological mom. But there is an added layer of reflection on that day when I think about my son's birth mother. I wonder what she is doing and how she is feeling. And I always say a private prayer of gratitude to her for making the hard choice to allow another woman to raise her son when she knew she couldn't take care of him.
One adoptive mother in San Antonio, Texas, has a special yearly tradition to honor the birth mothers of her two adopted children. She buys the two women Mother's Day cards and writes them each a personal note, despite having no way to ever contact them.
Jill Robbins, who writes as Ripped Jeans and Bifocals, wrote a Facebook post in late April about her Mother's Day tradition. Robbins has three children and two of them ― 7-year-old Kyle and 6-year-old Zack ― are adopted from China, and she says "there's no such thing as an 'open Chinese adoption.'"
"I write my sons' birth mothers (yes, there are two different birth moms) a card every year," she writes. "I've done this every year that we've had them. I write little snippets of what they've done and accomplished every year, what their challenges and accomplishments have been."
Robbins told HuffPost she started the tradition in 2013, on her first Mother's Day as an adoptive mom. She saw a card specifically for a birth mother and wanted to buy it, so she did. Writing in the card made her feel better, so she put it in a shoebox where she keeps other sentimental mementos.
In addition to writing about milestones like first bikes and starting school, and giving medical updates on her kids' special needs, she wishes the birth mothers "peace" and "tells them she's thinking of them."
"It's sort of cathartic for me," she said.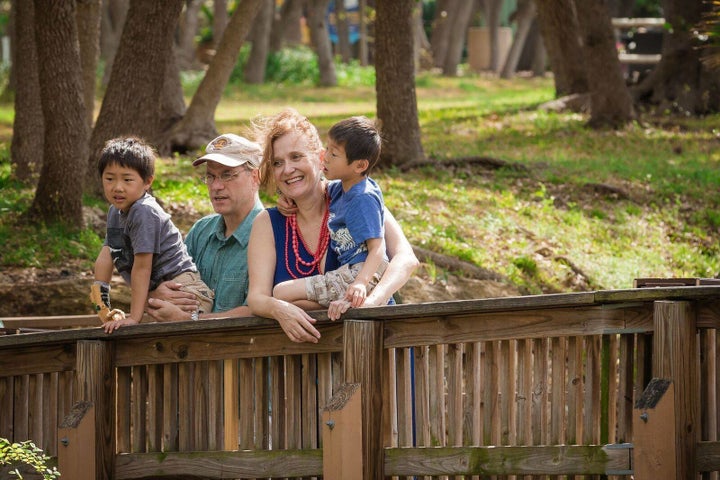 Despite having no way to get in touch with the women who gave birth to her adopted children, Robbins has continued the tradition each year.
"I have a pretty happy life," she wrote. "I don't want for much, but if I could have one wish I would want my boys' birth mothers to know the babies they carried are safe and loved. Cherished. Thriving. Part of a family."
She ends her post with a call for understanding and support toward all moms on Mother's Day.
"You might know someone who is a mom through adoption. You might know someone who has made an adoption plan ... AKA given up their child for adoption. Hug all those mamas. Hug them tight," she writes. "No matter how you slice it, mamas do hard things."
Related