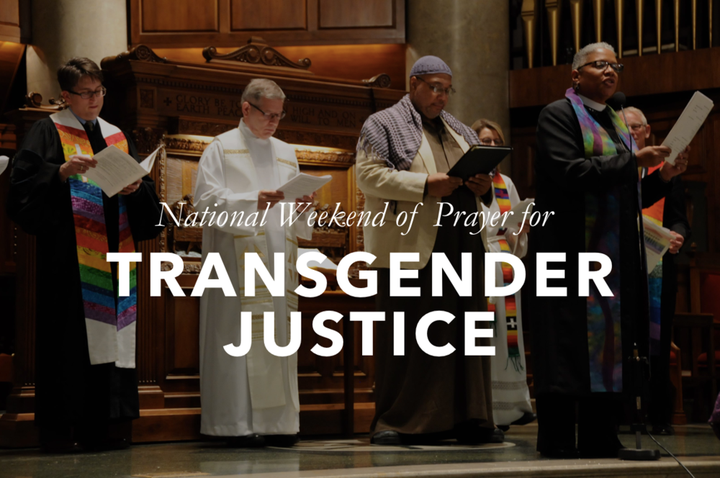 The weekend of March 24-26, 2017 has been established as a National Weekend of Prayer for Transgender Justice. There are many reasons this commemoration is needed right now. The March 22 murder of Alphonza Watson in Baltimore brought to 8 the number of transwomen of color who have been killed since the start of the year, on pace to set another tragic record after 27 transgender people were murdered in 2016. The Trump administration's rollback of protections for transgender and gender nonconforming students has increased the anxiety for many, and dramatically decreased their likelihood of getting the diplomas and degrees more easily accessible to cisgender peers. And a bright orange bus bearing banners that reinforce static, binary, and long disproven theories of biological determinism is now touring the US's east coast, in a blatant effort to divide communities and provoke heated, even violent responses.
As a Catholic and a lesbian, I am compelled to pour every ounce of my spiritual and physical energy and privilege into this weekend. And here's why.
The social justice teachings of my faith demand that institutional and civic barriers that make life more difficult for some people are unjust and must be dismantled. As transgender people and their family members whom I am privileged to meet through my work, as well as those I whom I know in my own community, tell me parts of their stories, I am overwhelmed by the significant challenges they face doing things that those of us who are cisgender do on autopilot. From basic conversations in casual encounters to purchasing items needed to function in our society to getting medical needs addressed or being able to find and maintain employment, there are numerous obstacles to living an authentic life. The psychological, spiritual, and even physical toll of constantly confronting such obstacles is exhausting, and often, debilitating. I feel especially responsible for confronting those barriers raised by my own Church, from Papal pronouncements that "gender theory" is anti-family and a threat to children to Catholic health care providers' failure to deliver appropriate health care, whether that be refusals to use the person's correct name or pronouns to denial of gender confirmation surgeries.
The struggle of transgender/gender non-conforming people is my struggle. I came out as a lesbian in the late 1970s. At the time, people like me were almost entirely invisible. When we were seen or spoken of, it was with derision, disdain, or disgust. We had virtually no legal protections, and were considered to be sick, sinful, and criminal. We were targets of violence, even murder, by those in the social, political, and religious mainstream. I know what it's like to have hateful words hurled at me while walking on a public street, and to be beaten by people who feel I represent something they consider a perversion of normalcy. Over the last 40 years, I've seen many of these marginalizing beliefs fall away, and now have the privilege of living openly in a state-sanctioned marriage to my female spouse, of being an adoptive mother, and of rarely fearing for my safety or that of my family. These changes were achieved through the advocacy, prayer, study, and risks of countless people, including many who do not identify as lesbian. It's my turn to make the same efforts to improve conditions for the transgender community, as well as for others experiencing similar marginalization.
I need to thank transgender people for expanding my cognitive and spiritual life. Like many, I grew up in an era where gender and biology were considered identical, binary, and fixed. It has been humbling and exhilarating to learn just how ignorant I was. This awareness has opened me to possibilities I could never have imagined, and has deepened my awe of the true meaning of a limitless Divine Imagination. How far beyond human thought is the Creator! I believe this openness has made me a better minister, a better person. It has given me a humility in dealing with people to know that, no matter how passionately I believe something, there's a good chance that my knowledge is, at best, incomplete.
My feeble prayers and efforts to increase justice are amplified when joined with those of others. I am but a single person and what I can accomplish is small. However, when my work and prayers are joined with those of millions of other justice-seekers from the Muslim, Jewish, Buddhist, Christian, and other faith traditions, as well as those whose moral compulsion does not rise from religious faith, our shared commitment has the real potential to result in a better world.
For these reasons, I pray, I work, I recommit myself to study, conversation, and reflection about the needs and gifts of transgender people. I ask you to join me.
Popular in the Community