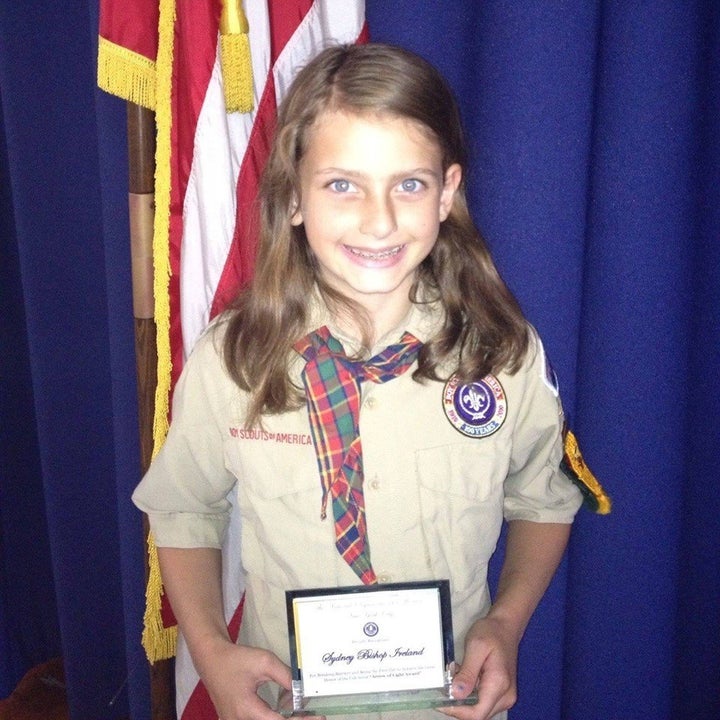 The determined New York teen is leading a growing online campaign ― which so far has been supported by thousands of people, including current and former scouts ― to allow all children, regardless of gender, to join the Boy Scouts of America (BSA).
The BSA, which was founded in 1910, have long cited a century-old charter that they say prohibits girls from joining. "The Boy Scouts have a charter that was created in 1916 before women were allowed to vote in 1920, so they're just a little behind," Ireland told The Huffington Post. "Really, their only argument is the charter," she believes.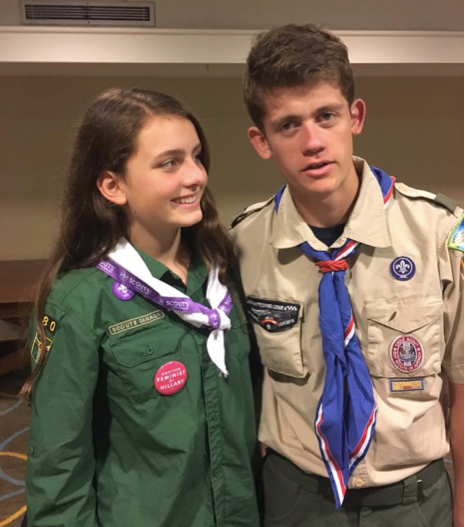 "They're evolving but they're not evolving rapidly," she added of the 106-year-old organization, which last summer overturned a ban on openly-gay adult leaders.
Because she's an unofficial BSA member, she's allowed to attend their events and complete activities, her scout father said. Yet she doesn't receive the same recognition as boys, like her brother, who recently earned the BSA's highest ranking of Eagle Scout.
"Last year I went ice climbing with the Scouts. I've been scuba diving and I've been on several camping trips," she said. "I just haven't been recognized with merit badges or anything.
She's earned the top Chief Scout's Award from Canada's co-ed Venture program and was presented with a signed letter by Prime Minister Justin Trudeau. With the Boys Scout's Cub Scouts program, she's unofficially earned the group's highest award of the Arrow of Light.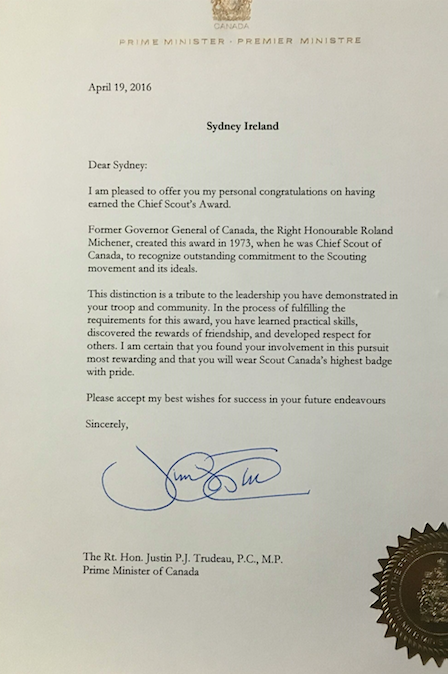 But Sydney's not satisfied. She maintains that it's about choice and the BSA's Eagle rank is her preferred rank when it comes to honorees' lifelong recognition and benefits.
Effie Delimarkos, the BSA's Director of Communications, described the Summit Award in a statement to HuffPost as "similar to achieving the Eagle Scout rank in Scouting," though the BSA's official website, Scouting.org, describes the Eagle Scout ranking as being "perhaps without equal" around the world.
"If the Venturing program is so similar why can't they be the same program if they're the same award?" Sydney asked.
"It seems like it may be a kids' issue but this is where the future leaders come from," Sydney's father, Gary Ireland, told HuffPost of the Eagle rank.
"If the Venturing program is so similar why can't they be the same program?""
More than 5,000 signatures supporting her Change.org petition agree. Last month, a former Eagle Scout mailed her the Eagle Scout badge he earned in 1978.
"I have been so impressed and inspired by your efforts to bring young women like yourself into the Boy Scouts," his attached letter read. He called his gifted badge "a token of my support and esteem" and asked that she "keep fighting the good fight."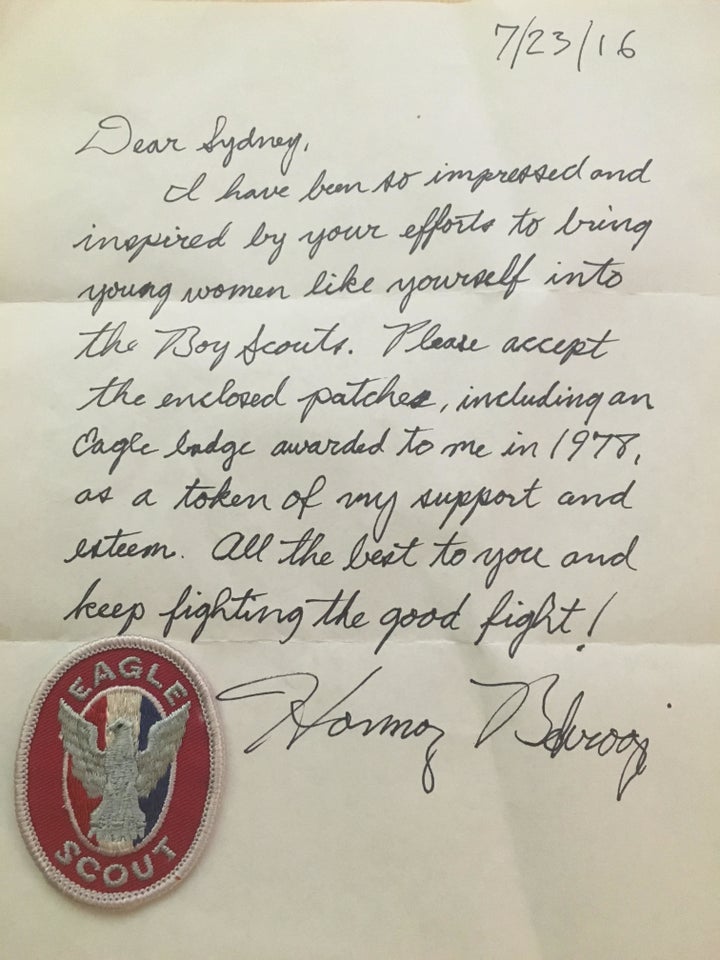 The co-founder of Scouts for Equality, a non-profit whose efforts led to the BSA ending its ban on gay and bisexual adults, called Sydney's efforts "commendable."
"We really believe that the values of scouting are truly universal values and so that's been our position from day one," co-founder Zach Wahls told HuffPost. "We certainly think that Sydney's behavior is commendable and that she deserves a fair hearing."
Sydney's father stressed the significance of Scouts for Equality's support.
"They, more than any other organization, know the value of diversity in scouting and the opportunities that they're included in," he said.
Ireland added that should the BSA allow it, he'd be willing to oversee a pilot co-ed troop. It would be similar to the troop Sydney is part of now, but she'd be formally recognized and able to achieve the Eagle rank.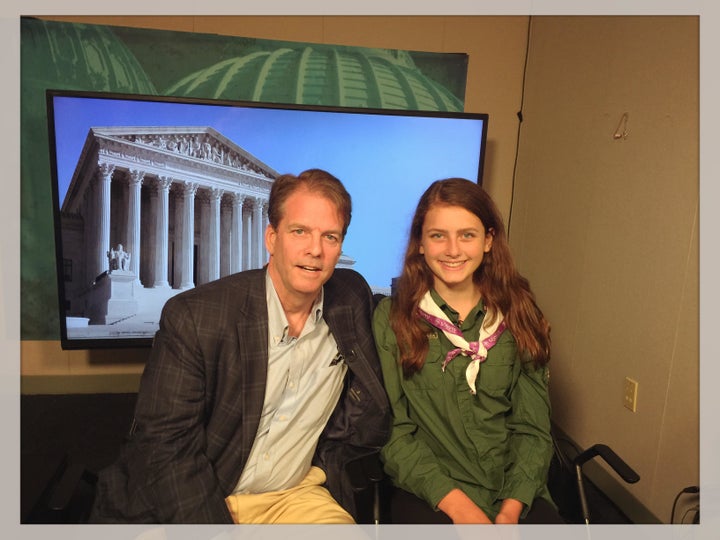 "We're not arguing that if a troop wants to stay segregated they can. We're just asking that if there are troops [open to welcoming girls] that they be permitted to do so," he said.
In Sydney's opinion, she believes that many troops wouldn't have a problem with welcoming girls.
"They're all very supportive in the troops and they include me in all the activities. I'm part of the scouts as much as they are but I'm not officially recognized," she said.
Before You Go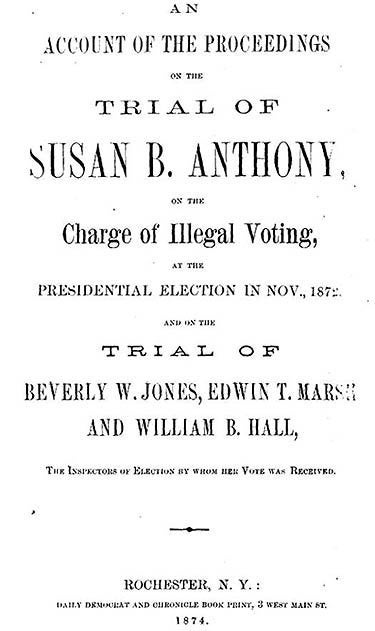 Historic Images Of Women Voting