After artist and educator Kasey Jones gave birth to her second child, she struggled emotionally and physically in her transition back into the workforce.
To help other moms feel less alone, the interdisciplinary artist explored the many challenges she faced in a photo series she calls "Working Mother Suit."
"In the wee hours of the morning as I would pump, sleep deprived, preparing to teach to over 100 students, I felt alone," Jones told The Huffington Post.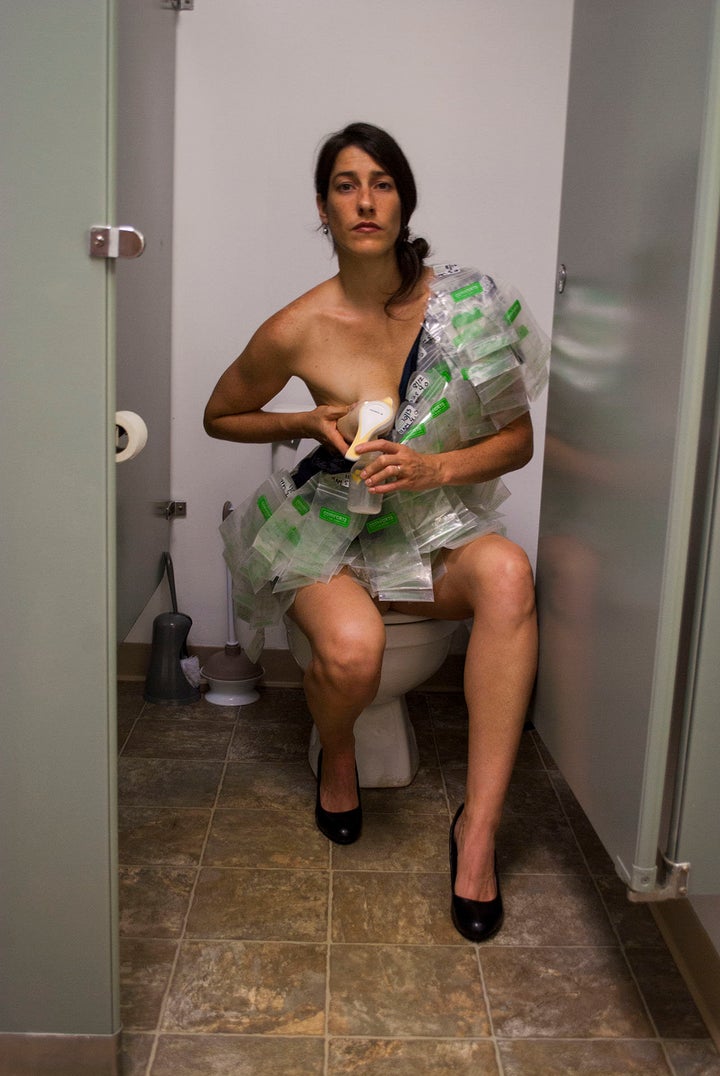 The series features photos of Jones in an office environment wearing a "suit" made of over 150 breast milk storage bags.
Jones said she created "Working Mother Suit" to raise awareness of the "harsh realities" of being a new mom in the workforce. "Our system does not support new mothers or families during this transitional phase," she said, noting that the postpartum return to work can be taxing on a mom's physical and mental health. Breastfeeding was one particularly challenging aspect for the artist.
"When you breastfeed, you are food on demand," Jones explained. "You are up all night producing milk and feeding your baby. You wake up earlier than your shift starts to pump so that baby has enough food while you are gone. You go to work sleep deprived, not 100 percent, you work, you pump, you work, you pump. Then you come home and do it all over again."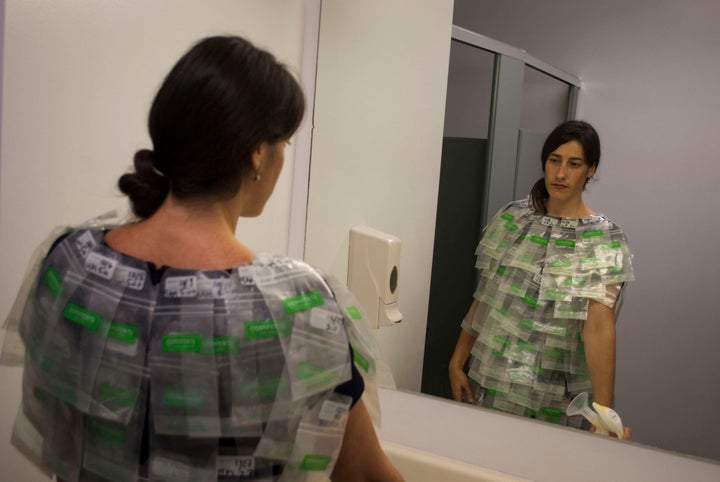 On top of the challenges that come with the act of nursing and pumping, there may be additional workplace issues for breastfeeding moms, the artist said.
"When you ask for a clean and comfortable place to pump, you often get looks of annoyance and judgment," she said. "You are also expected to combine your breaks, lunch, and pump time all into the same fraction of time. You are not given adequate time which can cause stress and anxiety to 'perform' within the 15-30 minutes you've been allotted."
The artist pointed to the obstacles many working moms must overcome in their careers, from the gender pay gap and lack of paid maternity leave, to sleep deprivation from caring for a baby, to judgment from co-workers for needing "special treatment" like pumping breaks and feeling penalized for taking time off.
Jones, whose two daughters are 17 months old and six, works as a visual arts teacher and volleyball coach at a small junior college in southeast Ohio. When she had her first child, she was managing an after-school program at a rural elementary school and went back to work part-time three months after giving birth. With her second child, she had to return to work full-time for a commissioned sculpture project when her baby was only 4 weeks old.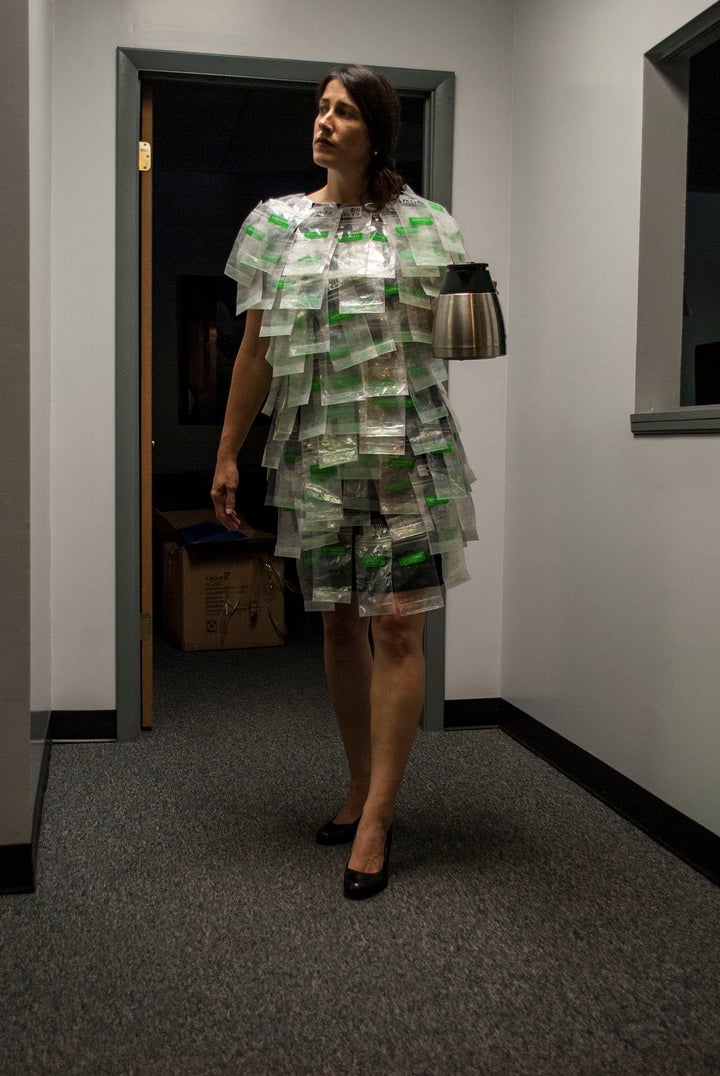 It was after she returned to work that second time that she felt inspired to create "Working Mother Suit." Jones told HuffPost she wanted to help unite working mothers and create a symbol of advocacy for their cause.
"The more conversation we have about the harsh realities of working and caring for an infant and the lack of support we actually receive, the more something will change," she said, adding that she believes our society needs to value self-care and wellness as much as it values money.
"How we treat mothers and women in our society reflects what we value the most and what we value the least.""
The fact that the U.S. lags behind other developed countries when it comes to paid maternity leave is particularly disturbing to Jones. "How we treat mothers and women in our society reflects what we value the most and what we value the least," she said. "We do not value the role of women. We do not value the role of the mother."
Ultimately, Jones wants her series to honor the hard work that pumping moms put into nourishing their children while also earning an income ― particularly because so many women feel they have to stop nursing after returning to work.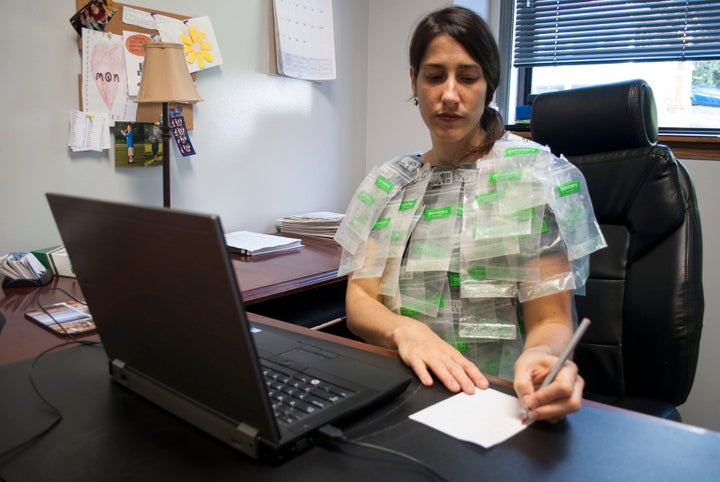 "Breastfeeding is work and this laborious task is often diminished by those who have never experienced it," she said. "I hope that when people look at these images they realize how much we do as mothers. We are the pillars of society. We should be honored and supported more."
Jones is also calling for better legislation and workplace policies around the issue of maternal support, and she believes actual working mothers should be able to help set these standards.
Said Jones, "It's evident that our current situation is taking a toll on the health of mothers and their children. Our society needs to recognize this and take the necessary steps to ensure a safe and supportive environment for American families."
Keep scrolling and visit Jones' Instagram to see more of her "Working Mother Suit" series.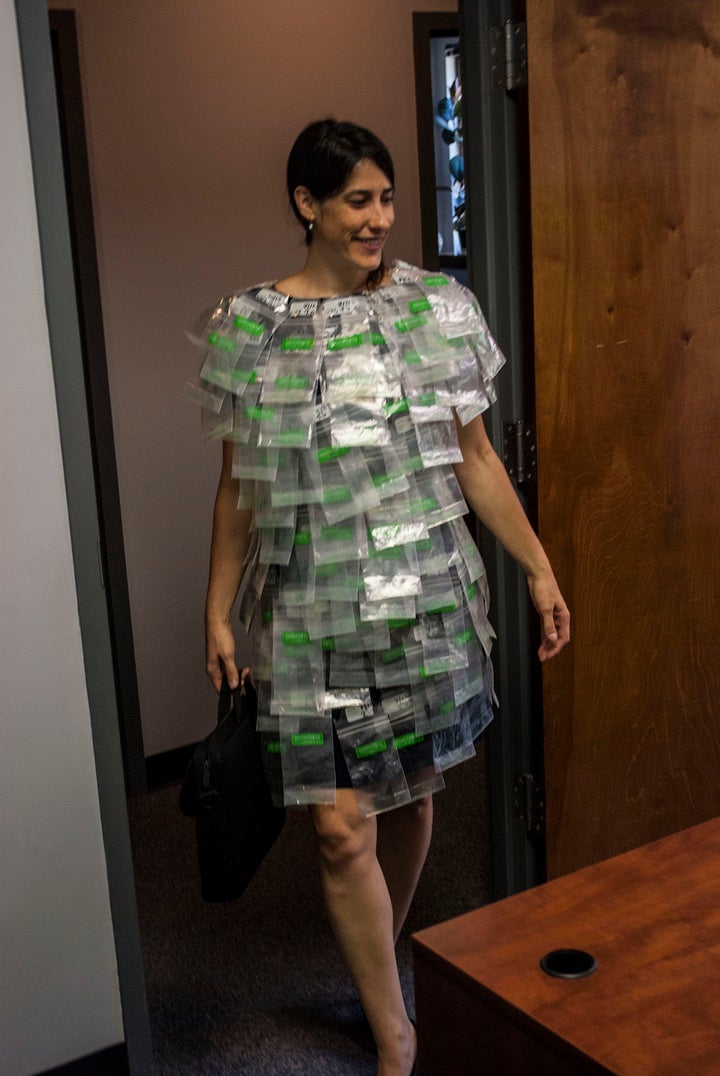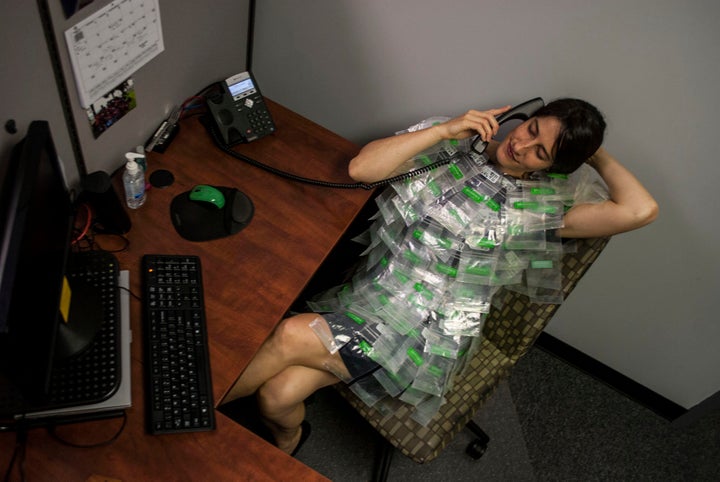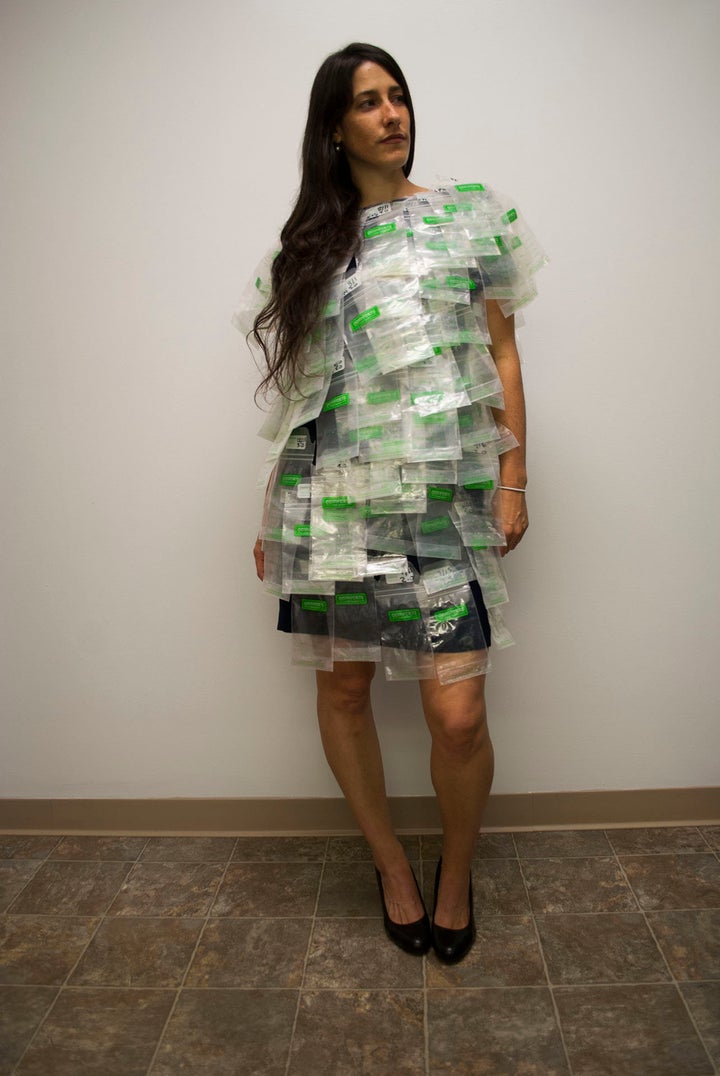 Related
Before You Go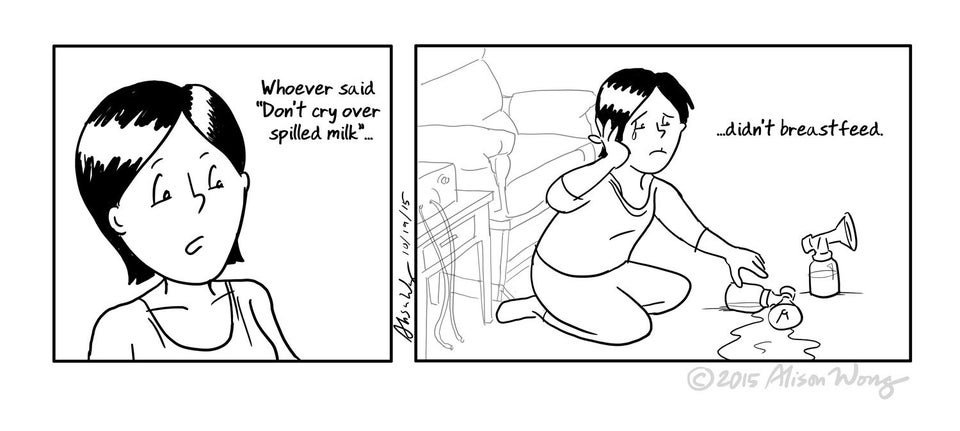 Comics That Sum Up Pumping