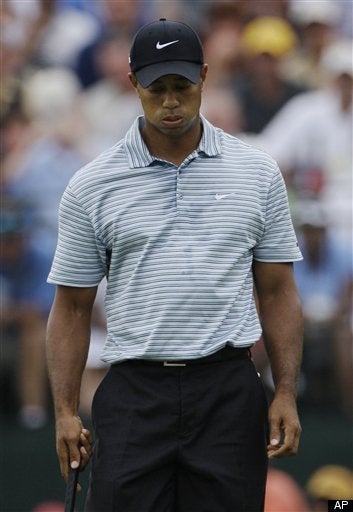 The continued revelations about Tiger Woods are crushing because his public persona was so perfectly manicured. We loved his goodness as a man as much as his perfect swing. Edwards, Letterman, even Madoff is one thing. But Tiger? The answer should cause us to look deeply in the mirror as men.
Guys we are at a crossroads. You can go back into the cave if you want to but it isn't going to do you, or your family, any good. The guys I know, from investment bankers to Marines, are asking themselves how they can possibly be good fathers, sons, husbands, and workers at the same time. In a way its what women have struggled with for decades but us guys are just facing into as the challenge of a "he-cession" at work and increased expectations at home have us reeling.
At its core is the problem is our caveman instinct to compartmentalize our lives. Many, many men have achieved great public success while failing miserably in their private lives.
I should know. Like Tiger I once had two baby children, a big house and the public spotlight. I was the 29 year-old wunderkind who led the unlikely IPO and, 90 days later, the $2 billion sale of a century old media empire. The same week I was on the front page of the Wall Street Journal my then wife kicked me out of the house for being a failure as a husband and father. That Saturday morning I found myself in a church parking lot trying to explain to my mother why I had nowhere to go. (Read my story HERE)
Tom Matlack addressing The Belmont Hill School where students asked questions like, "If I do something bad is it still possible for me to be a good man?"
From traveling the country talking to men of all walks of life the one theme that comes up over and over again is the importance of honesty--with ourselves as men and with our loved ones. A blogger on our website recently called it living a life of "congruence" meaning being the same man as a father and husband as you are a worker. And being willing to talk openly about the challenges of each.
There is no silver bullet for us guys these days. But silence sure as hell isn't the answer. We have to willing to open our mouths and tell the truth about our lives, our successes, and our failures if we are going to get anywhere.