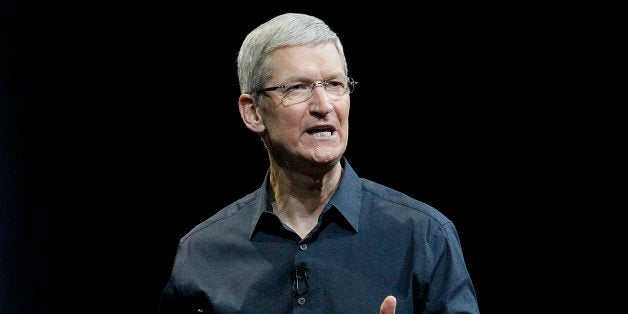 There's a full-blown emergency playing out in Texas. It's a gay civil rights emergency, and, if left unchecked, a disaster will occur that could affect the future of gay and transgender people there for some time to come. And yet, there's largely been dead silence from business leaders, public figures, much of the national media and pro-gay politicians. It's time now for those who wield great influence in the state -- like Apple's Tim Cook -- and for governors of states that support equality, public figures and celebrities to speak out loudly in the media before it's too late.
Gay activists in Texas are fighting against an unprecedented number of anti-gay bills being pushed by opponents of rights for gay, lesbian, bisexual and transgender people as the Texas legislative session comes to a close at the end of this month. Any of the more than 20 anti-LGBT bills that get out of committee in either legislative chamber -- and a few have -- will easily pass in the Republican-dominated conservative legislature and be signed into law by GOP Gov. Greg Abbott. Though bills originating in the House must be voted on by midnight Thursday, any of the anti-gay bills could be tacked on as amendments to other bills right up until the last day of the session at the end of the month.
It's all part of a Republican-led plan to stop or slow rights for gay and transgender people, anticipating a possible Supreme Court victory on marriage equality nationwide come June.
Already, the "Pastor Protection Act" passed the Senate. After a group of pastors came before legislators last week and unleashed defamatory rhetoric -- one feared being forced to officiate over the weddings of pedophiles while another ranted that he was afraid he'd have to marry people "to animals" -- GOP Sen. Craig Estes, chief sponsor of the bill, dropped compromise language to which the American Civil Liberties Union and others had agreed. Activists now fear the bill, if it becomes law, will allow an ordained clergy member who happens to also be employed in a civil job as a county clerk or justice of the peace to refuse to perform a marriage that "violates a sincerely held religious belief," even in his or her role as a public servant.
Among the bills that could get a vote in the House today or tomorrow is one that would bar state or local funds from being used to grant marriage licenses to gay or lesbian couples and, as its chief sponsor described it, would "protect state sovereignty," deeming Texas free from recognizing same-sex marriages from out of state, no matter what the Supreme Court rules.
Yet another bill in committee may be attached as an amendment to a bill today and would allow adoption agencies that receive state funding the right to discriminate against gay couples based on the agency's "sincerely held religious beliefs," and, activists fear, could allow for child welfare agencies to put kids in dangerous "ex-gay" programs.
Another bill that could be added as an amendment would subject transgender individuals to criminal charges if they don't use the "right" public restroom. Still another bill targeting transgender students would essentially put a bounty on their heads while forcing school districts to monitor bathrooms: As the bill is currently written, if a student can show that he or she experienced "mental anguish" upon seeing a transgender student in the bathroom, the school district must pay the student $2,000 in damages. Then there are two "religious liberty" constitutional amendments, and five differently-worded bills that would prevent enacting and enforcing local ordinances throughout the state banning discrimination against LGBT people.
Some of these bills, if they became law, would be unlikely to withstand court scrutiny, especially if the Supreme Court rules for marriage equality in June. But that's not the point. As Texas conservatives often have done with the passage of harsh anti-abortion laws, the effort is all about slowing progress by tying up the issue in the courts. It's similar to the tactic many Southern states employed during the segregation era as well. This is especially true of the bill that bans funds for marriage licenses. While the state's constitutional amendment defining marriage as between a man and a woman would be overturned, the law banning funding for licenses would likely have to be taken back up through state and federal courts to overturn.

"Legislators are trying to enact laws that subvert the courts and lock in discrimination for as long as possible," Dan Quinn of the Texas Freedom Network told me. "If they have their way, it might take months and even years to sort out. And if more litigation is necessary, it would impose real harm -- financial and otherwise -- on gay and lesbian families simply trying to exercise their constitutionally protected rights."

Weeks ago, business leaders and others waited until a "religious liberty" bill that passed in Indiana was signed by Governor Mike Pence before speaking out and successfully sending him (and governor Asa Hutchinson of Arkansas, who signed a similar bill) into retreat. But in Texas, with its much more powerful conservative base, an all-out war against bigotry needs to begin right away.
Politicians like Gov. Cuomo of New York and Gov. Inslee of Washington, who banned travel to Indiana, should threaten such action against Texas now. Rock bands that dropped their tours to Indiana, and celebrities like Rihanna who blasted the state, need to do the same now with regard to Texas. Apple has a major center of operations in Austin, and has been expanding, just finishing construction of a $300 million campus that is hiring thousands more Texans in coming months and years. The company's openly gay CEO, Tim Cook, who's been outspoken on gay rights, should threaten to pull out of the state if any of these bills moves further and certainly if the governor signs them.
Other progressive, gay-supportive high-tech companies with a major presence in the state include Dell, IBM, and Advanced Micro Devices. All of them must put their money where their mouths are: either Texas legislators drop these bills now or they jeopardize further business and expansion in the state.
These bills must not be allowed to become law. What we have in Texas is a five-alarm fire ready to engulf its LGBT citizens and threaten their rights for years to come. There's no time to wait.
Calling all HuffPost superfans!
Sign up for membership to become a founding member and help shape HuffPost's next chapter