It's the New Year and TIME still proves to not be my friend, but I'm working on our relationship. No, seriously I am! I made it through the chaos and overall exhaustion of the holiday season. I said I wasn't going to make it complicated. I didn't think I was making it complicated. Then all of a sudden, it became complicated. I managed, for the most part, to stay away from the crowded malls and shopping centers by doing on-line shopping. I said I wouldn't over do it or buy too much shit for my girls this past Christmas. After all, they are only 17 months and still have no idea what Christmas or Santa Claus is all about. I didn't even introduce them to the mystical guy. The TIME involved standing in long lines with other screaming kids to get a picture with some creepy old guy they didn't know, just didn't seem appealing. I'm sure this year I will cave and endure the torture. But as TIME slipped away this past holiday season, I frantically pulled off last minute holiday cards with two un-cooperating twins. I barely had TIME for my holiday cooking commitments. But outside of those couple days of baking, the remainder of this past holiday season I had big ideas for my free TIME. I was going to clean out closets and make my life leaner and meaner.

I just knew I would have plenty of TIME for this with my nearly 2 week hiatus from work. Hopefully no clients needed me and not only would I have TIME to clear out the clutter, but I might actually have some ME TIME. What a concept, right!? I might even have TIME to see some girlfriends I haven't seen in a while. Maybe a girls' night out?
Blahahahaha!!! It still amazes me that no matter how much TIME I think I have or how well I know how to manage TIME, that TIME simply does not like me. No, TIME, is NOT my friend. And in fact, I think TIME mocks and makes fun of me on a regular basis.

Jason and I had finally found a great sitter, but she had to go home for the holidays, and we were on parenting duty 24/7. With twins, that means no one gets to "tap out" of the parenting game. There's no down TIME. It's "one on one" defense. And at this age, their physical endurance has no limits. I try and remind them that mommy and daddy are old parents, and we can't keep up; but they seem to not care. In fact, the more worn out we appear, the wilder they get. I find myself staring at the clock, hoping the morning nap is soon. But then my trusty friend, TIME, slows the clock waaaaaay down. Minutes seem like hours.

Finally NAPTIME is here and the girls are down. Yay! I can clean out a closet right? Right? Ok, I'm just going to do some dishes first and straighten up some of the mess they created this morning, and then I'm going to conquer that closet like a line backer tackling a quarterback. (Wait did I just use a football reference? I hate football.) I have plenty of TIME because they usually sleep nearly two hours in the AM.
Wait what is that I hear? No. No. No No No! They're up? What TIME is it? Are you kidding me? Where did the TIME go? TIME you are NOT my friend!

The countdown to year's end had me in an absolute panic. I had gotten absolutely nothing done. TIME was slipping away. We had managed a couple of new play dates for the girls, which was nice. But again, that was for them, not for me. While Jason and I refereed multiple kids running around, I was dreaming of that slimmed down closet and half empty drawers you see in REAL SIMPLE magazine.
Out of shear desperation, I hired a couple of teenagers that I had babysat back in my youth. I figured these now teenagers could handle playing with my wild monkeys while I got to some of the closets and cabinets I needed to purge. Jason, on his end, was trying to do the same. But alas, there just simply wasn't enough TIME to get it all done.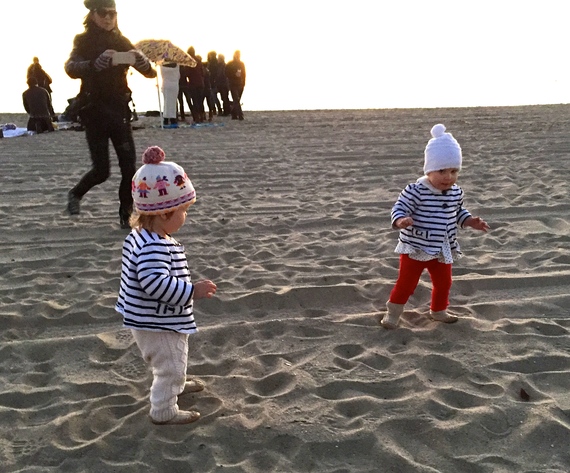 Photo: Shea Curry

While TIME didn't allow us to do all the projects we hoped over the break, we did manage to find TIME for 2 date nights. This was a first in nearly a year. We went to our first movie together in 2 years. It was Star Wars, of course. And we managed to have TIME for a lovely dinner together, where we tried not to talk about our daughters. We reminisced over the TIME we used to have for ourselves... a TIME where we could be spontaneous, a TIME when we had fewer responsibilities, a TIME when TIME wasn't an issue, a TIME when TIME was on our side.

I guess it's fair to say that TIME hasn't ALWAYS not been a friend. Maybe I haven't treated TIME fairly. Maybe, I've been putting too much pressure on TIME. Maybe if I stop stressing out over TIME, I might find a little extra TIME for TIME in my life. Maybe TIME will want to be my friend again.
I guess the point I'm trying to make is that we moms have got to give ourselves a break. We will never seem to have enough TIME for all the things we want and need to do. But eventually that little extra TIME will find its way into our lives to check off all the items on our "to do" list, like this blog I wanted to write 3 months ago. There just never seemed to be enough TIME to write it. But lo and behold, I found a little TIME today!