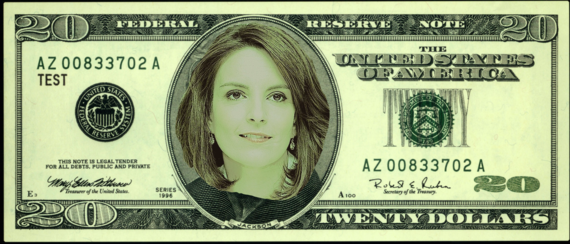 There are rumblings over Andrew Jackson's impending termination as the face of our twenty-dollar bill, and I don't blame America. I mean, as another Jackson so astutely questioned--what has he done for us lately (aside from having gloriously windblown hair and a forehead that goes on for days)? Since the Civil War, he's barely offered his two cents, never mind twenty big ones.
So as we ponder his replacement, and as we consider tossing his ass aside for a profile with a little less Adam's apple, let me state the obvious choice on all our minds.
Why Tina Fey for the twenty-dollar bill? Why not her? (Sit down, that was a rhetorical question.)
Tina is of Greek descent--born of the creators of mathematics and culture, and of a country whose economic state actually makes the United States look good. She is a native of Pennsylvania which, along with sounding like Dracula's stateside address, is also one of the original thirteen colonies. This paragraph is about Tina's patriotism.
As a renowned author, feminist, actress, producer, writer, award winner, philanthropist, and funny-bone tickler, she proves girls don't have to go wild to be wildly successful. She is a woman who isn't afraid of making strange sounds, or of wearing glasses even when contacts are a fairly easy alternative. She looks as stunning in a sequined gown as she does when proclaiming, "I can have it all," around a mouthful of sandwich. She is an inspiration; a bra-wearing leader of men and women alike.
Was Andrew Jackson the mother of two? Was he the three-time co-host of the Golden Globes, alongside gal-pal Amy Poehler? Did he conquer a male-dominated profession? Okay, maybe he did that last one, but did he do it while having a uterus?
I want to slap Tina Fey's face down on the counter the next time I purchase a tub of cheese puffs from that pimply judgmental kid behind the CVS counter. I want that coy smile tucked inside my purse the next time I interview for a position I wonder if I deserve. I want to see her image when my husband hands me a twenty from his wallet, because I didn't get the aforementioned job and I'm a little short on cash.
And, as a bonus, if we photograph Tina Fey in a suit jacket, half of the country will assume it's Sarah Palin and be happy. It's a win-win.
So if you watch(ed) SNL, 30 Rock, Unbreakable Kimmy Schmidt, Date Night, Megamind, or This Is Where I Leave You; if you read Bossypants; if you're a mother, a sister, or a friend; if you, too, are from Upper Darby, PA: Join me in a united, "Tina for the twenty!"
I suppose Harriet Tubman is a close second choice.
Related
Popular in the Community