With so much talk about cuts to the federal budget, you might not have heard of Title II funding. Most of the money that the federal government spends on education falls under Title I funding — money sent to schools, through states, to help ensure that schools that serve children from low-income families have additional resources. Title I monies are used for all kinds of purposes, from hiring additional teachers to buying textbooks and computers.
Title II is a much smaller chunk of federal funds designed to support states and districts in recruiting, preparing, training and developing teachers and school leaders. But it's no less important. "It's not like student populations are getting less diverse and less needy," says Kim LeBlanc-Esparza, superintendent in Newberg, Oregon. "That means that teachers' skill sets need to get deeper. The way we do that is with Title II money."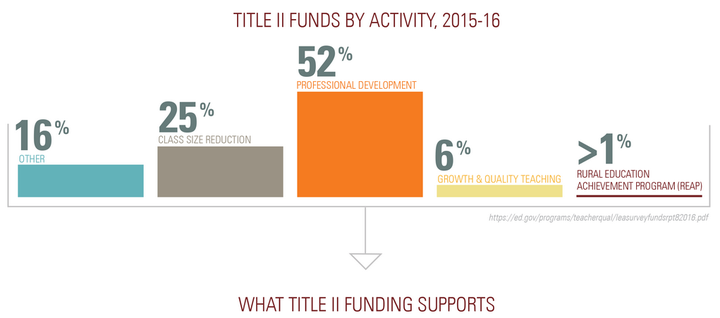 LeBlanc-Esparza's district of 5,500 students doesn't get much Title II funding — about $139,000 dollars — but she uses the money to give teachers time to collaborate and to provide direct training and coaching in how to use data to improve instruction, and to meet the needs of English language learners, and students with disabilities.
Unfortunately, the Trump administration and the House of Representatives proposed cutting all $2 billion of Title II funding for fiscal year 2018. After an outcry from educators, the bipartisan appropriations bill in the Senate maintained Title II. It is critical the final omnibus appropriations bill, which is to be decided on December 8, continue Title II funding.
The idea that Title II could be cut from the federal budget "scares the living daylights out of me," LeBlanc-Esparza says, worried that there will be no mechanism to help educators improve and develop their level of expertise.
Mary Sieu, superintendent of the ABC Unified District in Los Angeles County, says that the $600,000 in Title II dollars has benefited her district of 22,000 students enormously. For example, the funds helped her teachers and principals master the new California standards and new math curricula.
"We will have less trained teachers if Title II funds go away," Sieu says. "We don't want to go to doctors who don't have updated training. We view our professional teachers the same way. If things are changing at the state or national level, teachers need to keep current."
And teachers aren't the only ones who benefit from Title II. Principals — who hire, retain, and supervise teachers — do as well.
For years, assistant superintendent Tricia McManus has been involved in efforts to recruit and train principals to be prepared to improve schools in Hillsborough County, Florida, which includes the city of Tampa. She says she doesn't know what her district will do if Title II disappears. "Title II is key to developing the principals that Hillsborough County needs to improve schools and achievement for all children," McManus says.
The more we learn about schools and education, the more we realize how vital teachers' and principals' knowledge and skills are. After all, other professional fields, from medicine to engineering, ensure that their practitioners learn the latest, best research about how to improve their practice and provide them with time to practice and collaborate with colleagues. Teachers and principals should be afforded the same professional opportunities. That way, America's children can achieve at the highest levels. Right now, federal Title II dollars are the key to those opportunities.
Related
Popular in the Community