On the heels of Sundance's glittery 2011 Film Festival, an orgy of celebrity, celluloid, chalet styling, and (some) sport, I offer a first-timer's assessment of the scene. Depending on your priorities (and your tolerance), you can use the observations below to make your own decision on visiting Park City, Utah during this oh-so-illustrious annual event.
Disclaimer: Scouting for the dreamy Robert Redford on the slopes (white parka, black pants) might be worth the price of the trip, alone.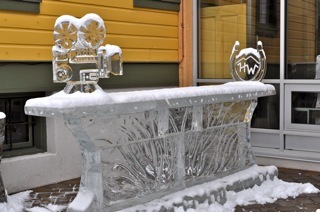 Empty Slopes
Skiers and snowboarders rejoice! The slopes at all three mountains -- Park City, Canyons, and Deer Valley -- are barren. No lines at the chair lifts, an endless supply of chili crocks and hot chocolate, undisturbed powder deposits, and room to breathe. This is what heaven's slopes look like (if there is a heaven). If you're the kind of skier that needs room to swoosh, crafting arcs from mountain edge to mountain edge, Sundance is for you. If you're prone to wipeouts, need practice time, and prefer nobody bear witness to your snowplows, Sundance is for you. If you merely love to ski without the masses disturbing your "ski experience," Sundance is for you.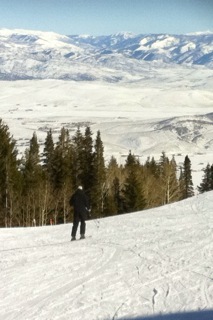 Great Movies
Are you a movie buff? Are you tired of armchair reading day after round-ups of Sundance favorites? Do you get frustrated searching for these small indie flicks at your local theater where blockbusters by Michael Bay and urban comedies starring Tyler Perry are the only offerings? Then, get off your ass and book a ticket to Park City. The amount of talented filmmakers showcasing shorts, documentaries, and features at Redford's marquee festival are overwhelming. In regards to quality, you usually can't miss. Plus, for $15 a screening, it's a pretty good deal.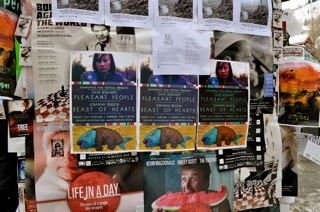 Celebrity Sightings
Do you think you were a paparazzi in your past life? Do you call in "sightings" to Page Six and US Weekly? Is TMZ one of your "likes" on Facebook? Do you follow @aplusk and @KimKardashian on Twitter like Kanye? If so, Sundance beckons you forth. Whether it's sharing bar space with a C-lister like Adam Braverman's new stoner boss on Parenthood, a handshake with a B-lister like President David Palmer from Season One of 24, a smile with an aged Michael Rapaport, or a whiff of the good life as Jeremy Piven (and his mom!) hit the red carpet, Sundance is awash in celebrity status. (My #1 sighting? Demi and Ashton staying at my hotel, the Waldorf-Astoria. And yes, she's stunning.)
Parties (Pro)
Make no mistake: Sundance brings the party to Park City. If you just can't leave your prime nightspots behind in New York or LA, don't fret; your favorite nightspots are coming west, too. There's Tao (in a makeshift parking garage), there's House of Blues at Star Bar, there's The Eldridge at TR Suites, there's a rotating promoter every night at Downstairs Bar, and there's Bing Bar in the Claim Jumper Restaurant -- the Chateau Marmont Lobby equivalent on Main Street. Each night, movie premieres, studio fetes, and private events take over each spot. Give your number to Adrien Grenier; rub shoulders with Liv Tyler. Hell, canoodle with an up and coming starlet for your own personal fifteen minutes. If you're a scenester with connections in your NY or LA hometown, you're likely on somebody's guest list, so hit the velvet ropes with confidence. (If not, see Arguments Against...)
Park City, Abuzz (Pro)
Do you like to travel during the high season? Experience a place at the most frenzied moment and feel the buzz of a city off the hook? Have you visited South Africa during World Cup, South Beach during Art Basel, New York during the Christmas season, New Orleans during Mardi Gras, China during the Olympics? If so, Park City tricked out for Sundance is the Park City you want to see. Businesses are open until 10 PM (or later), licensed establishments ignore the 1:30 closing, and revelers roam the streets at all hours of the day. Crowds are inescapable, (but heck, you love crowds), and the electricity of Sundance can't be muted. The Sundance Film Festival brings this kind of rock star energy to Park City, and for some, it's not-to-be-missed.
Traffic
If you live in LA, this argument might not pertain, but the unavoidable fact is that traffic in Park City during the Sundance Film Festival sucks. The trip from The Canyons to Main Street, normally a 10-minute ride, can take up for 30-minutes. Main Street itself sits at a standstill. Rubbernecking is at an all-time high. It's impossible to get a cab, and fees (there are no meters in Park City) are arbitrarily assigned depending on the driver's mood. Walking is highly suggested, but be careful of icy roads from all that snow.
Paparazzi Pile-Ups.
Don't the paparazzi get enough photos in Los Angeles? Do they have to come to little old Park City, too? Hordes of Canon and Nikon toting pests line the streets at all hours of the day during Sundance. You can't pass a store, restaurant, or screening location without a break in your stride to bypass the paparazzi. Then, curiosity gets the better of you, and you're waiting with the group, adding to the problem, and feeling bad about yourself in the process. All to glimpse a transgendered Chastity/Chaz Bono or Demi Moore's oversize fur hat duck into an Escalade. Ugh. Paparazzi.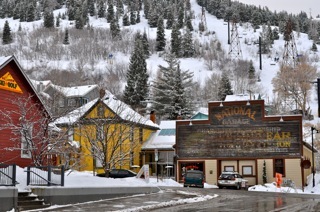 Parties (Con)
So, you never made the guest list? You're not adept at schmoozing doormen? You prefer not to stand in a crowd in frigid sub-zero weather as snow piles up around you, begging a juicehead bouncer in a mink jacket for a neon-colored bracelet? Wait, WHAT? You don't have industry contacts at CAA, William Morris, Endeavor, and Paramount? Uh-oh, my friend. Capital UH, Capital OH. If you're the type of person who doesn't have these deep-pocketed connections, can't stand the bull of the Hollywood business, and would rather spend time in Taos, New Mexico discovering culture rather than discovering vodka and Red Bull at Tao nightclub, the party scene at Sundance isn't for you. Period.
Restaurants and Reservations
Do you want to eat on your trip to Park City? If so, you might be out of luck. In this town, during this event, restaurants are "fully committed." Private parties have overtaken casual dining rooms, and restaurants have subleased their spaces to the studios for the week. 7-11's are overrun with hipsters scoring individual cereal containers and feeling lucky about the purchase. No, seriously. Plus, if you do get a reservation to a highly touted spot like High West or 350 Main, you're going to get hit with outrageously inflated menu prices. Yes, people; it's true. During Sundance all of the restaurants hike their prices. Those cute Sundance 2011 logos on all the "special" Sundance menus are just a gimmick. Don't be fooled! You're just getting ripped off. But then again, you have to eat so...
Park City, Abuzz (Con)
There's nothing like a Rocky Mountain ski town -- the smell of fires burning against the crisp mountain air, and the collective hum of regular people going about their daily business against a gorgeous natural backdrop. The charm of Park City, Utah is, as far as I can tell, is in it's simplicity. One main street, three mountains, a host of cozy bars and unassuming restaurants, and family owned boutiques. It's easy to identify these things in Park City at any time of year, but it's harder to cherish them during the chaos of Sundance.