On December 10, 2016, some college athlete will be crowned the next Heisman Trophy Winner, the award given to the most outstanding football player. While it will likely go to one of these five players, it should go to someone who wasn't invited, Florida State University Wide Receiver Travis Rudolph.
It's not that the finalists aren't deserving of the major award. The University of Louisville Quarterback Lamar Jackson threw for 30 touchdowns and ran for another 21, all while passing for 3,990 yards and running for 1,538 yards. Critics contend that he only completed 57.6 percent of his passes, and had horrible games against the University of Houston and the University of Kentucky.
Deshaun Watson, Clemson University's own quarterback, outdueled Jackson in a head-to-head matchup. He's taken his team to the College Football Playoff. He threw for 3,914 yards and 37 touchdowns, while rushing for another 5 scores (and 529 yards). But struggles against some weak competition make this repeat finalist less-than-a-sure-bet.
Jabrill Peppers, the linebacker from the University of Michigan, is an intriguing choice, with more than 71 tacks, 15 stops for a loss, while racking up a few touchdowns on offense, getting more than 750 yards. Punching an Ohio State University fan won't help his case, as well as that anemic loss Michigan had to Iowa.
Or could it be Baker Mayfield, the Oklahoma QB who completed an impressive 70% of his passes, tossed 38 touchdowns, and racked up 3,669 yards. He'll have to hope that Heisman voters weren't watching that game the Sooners played against Houston and Ohio State University.
Receiver Rudolph had a pretty decent junior season. He snagged 53 receptions for 807 yards, with seven touchdowns. That's not too bad for a receiver, right?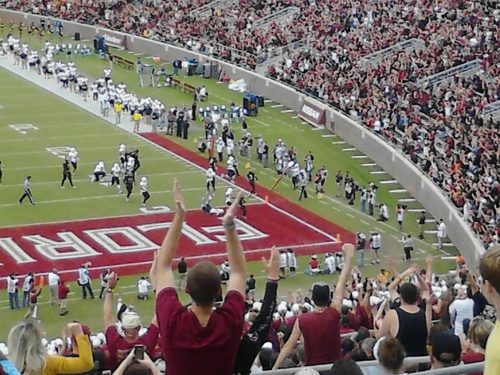 I know what you're thinking. Rudolph's good, but perhaps not the best collegiate wide receiver in the NCAA Division I. In fact, he may not be the best athlete on the Florida State University football team, as fellow Seminole Dalvin Cook, a running back, had a stellar season with 1,620 rushing yards, 426 receiving yards, and 19 total touchdowns against better competition than many other running backs. Though Cook was snubbed in the end, Kirk Herbstreit and Mel Kiper Jr. see him as a top running back.
But I don't think the award should be about the best statistics. In fact, Rudolph made one of the best plays of the college football seasons.
You see, while Rudolph and his teammates visited a Tallahassee school, the Seminole WR noticed 11-year-old Bo Paske, who has autism, sitting by himself. According to Huffington Post, Rudolph joined the boy as his stunned mother snapped the photo of the two animatedly chatting, moving her to tears. And yes, Rudolph is black while Paske is white.
The story went viral. In a sport where bad news leads and few good deeds gets coverage, Rudolph's gesture was huge for the NCAA. It didn't stop there, as Paske and his family got a chance to see a key early season game where FSU dueled Mississippi in Orlando, Florida, and a jersey with his name on it, and was featured on national television. Now all the kids at school think Paske's cool for being a celebrity.
Rudolph probably won't win. But the Heisman Trophy, created by the Downtown Athletic club, is supposed to go to "the outstanding college football player whose performance best exhibits the pursuit of excellence with integrity." Given that, maybe Rudolph should be at Times Square in Manhattan this weekend.

John A. Tures is a professor of political science at LaGrange College in LaGrange, Ga. He can be reached at jtures@lagrange.edu.
Popular in the Community