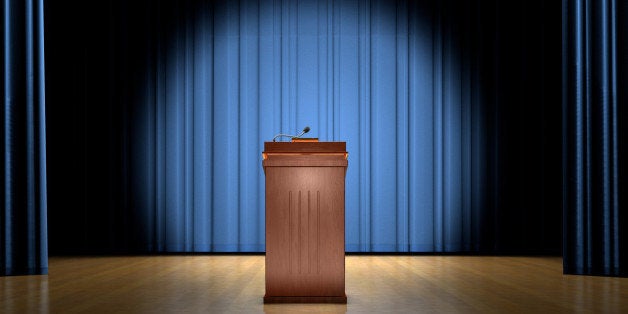 Donald Trump accused Hillary Clinton of trying to "rig the debates" by scheduling them against football games. Not only do the facts reject this argument, but Trump ignores his own double-standard, as he pulled the plug on several debates with Republican opponents in 2016.
In a tweet, Donald Trump blasted Hillary Clinton for "trying to rig the debates so 2 are up against major NFL games," he typed. "Same as last time w/ Bernie. Unacceptable!"
A quick fact-check of Trump's tweet shows that:
2. Football games were not held during the Spring 2016 debates. The February 4 and February 11 debates missed the Super Bowl. For that matter, the March 6 and 9 debates missed the NCAA College Basketball "March Madness" tournament.
3. Baseball playoff games were held during the October 14 debate, while the Saturday night debate occurred during a football game between the Pittsburgh Steelers and Denver Broncos. But as you can see below, it is nearly impossible to hold a debate when there is no sporting event.
"The Commission on Presidential Debates (CPD) started working more than 18 months ago to identify religious and federal holidays, baseball league playoff games, NFL games, and other events in order to select the best nights for the 2016 debates. It is impossible to avoid all sporting events, and there have been nights on which debates and games occurred in most election cycles. A debate has never been rescheduled as a result. As a point of reference, in a four-year period, there are four general election debates (three presidential and one vice presidential), and approximately 1,000 NFL games."
Hillary Clinton is not picking the debate times. Trump also lied about the NFL letter, and is using any excuse to claim a sporting event clashes with a debate. You would have to schedule a debate the day after Major League Baseball's All-Star Game to have a sports-free day.
Skipping the debate did cost him the Iowa Caucuses, as evidence from poll numbers showed. So Trump returned to the next debate. But after righting the ship, and after other key opponents like Jeb Bush and Marco Rubio dropped out, Trump announced he wouldn't have any more GOP debates with remaining opponents John Kasich and Ted Cruz, in March of 2016. Fox News Channel canceled the Salt Lake City debate, and the RNC pulled the plug on all remaining debates, denying Republican voters the chance to see the candidates on the issues.
Why did Trump duck those debates, and why is he using NFL games as an excuse? Debates served him well in a crowded GOP field, where zingers and insults could make him the center of attention. But as remaining candidates and moderators caught on to his act, they began to seize on his gaffes and factual errors. The insult act is wearing thin after more than a year of it. Getting 50 percent of the attention is good against a dozen opponents, but makes no difference against one opponent. So Trump is less eager to debate anymore, because debates aren't serving him in 2016 the way they made him a front-runner in 2015.
John A. Tures is a professor of political science at LaGrange College in LaGrange, Ga. He can be reached at jtures@lagrange.edu.
Calling all HuffPost superfans!
Sign up for membership to become a founding member and help shape HuffPost's next chapter