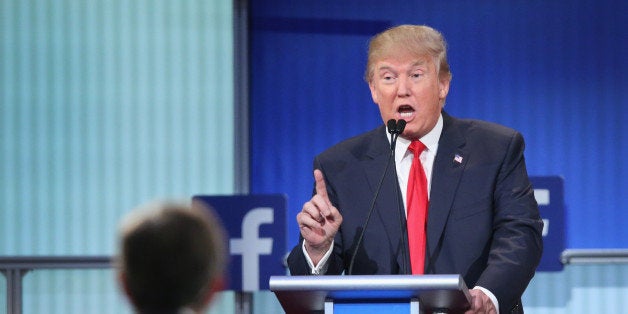 It seems that Donald Trump's reign of terror over the GOP (and the rest of us) is ending, in large part due to a stream of misogynistic comments he made towards Fox anchor Megyn Kelly. After the GOP debate last week in Cleveland, where Kelly confronted Trump on his past slurs against women including telling a former contestant of his reality TV show to drop "on your knees," it looked as though the property tycoon was going to -- bizarrely -- maintain his standing with Republican voters. But not so. After Trump's comments last Friday to CNN, where he referred to Kelly's questioning of him at the debates and said, "You can see there was blood coming out of her eyes, blood coming out of her wherever," the knives came out, and it's Trump who's got bloody in the fray.
Trump was stripped of an invitation to a big conservative event by right-wing king maker and notorious anti-woman bigot Erick Erickson (hypocrisy is alive and well in the far right), and even lost the backing of his longtime advisor. But before we give the GOP a pat on the back for pulling Trump down off his pedestal for implying some maniacal period rage was the reason for Kelly's nuanced, smart questioning -- let's take a minute to look at the Republican presidential candidates on the field throwing stones at the bombastic tycoon from their glass campaign houses.
Mike Huckabee, former Arkansas governor, is one of the GOP presidential candidates pouncing on Trump for his comments to Kelly, saying, "I would certainly never say anything about a person like that, and I hope he apologizes because I think that he should." Sure. Huckabee, would NEVER say anything remotely sexist like that. Except for the multiple times when he has. (There are too many to list here fully, but perhaps his most infamous comments are about women's rampant, unchecked libidos and our desire to hit up "Uncle Sugar" for birth control.)
Florida Senator Marco Rubio seemed to be taking the moral high-ground. Rubio was asked specifically about Trump's comments to Megyn Kelly and stood up for her saying she "can take anything that comes her way," but he refused to comment directly on whether Trump should apologize for his sexist remarks, for fear of his own message being eclipsed. Rubio's own message on women's rights, by the way, includes a message about abortion -- where, if elected to be President, he would push to make sure that not even in the instance of rape or incest should a woman be permitted access to safe and legal abortions.
Dean Obeidallah has it right when he tweets "Wish people were just as angry at Scott Walker+Marco Rubio for wanting to force women to carry a rapist's baby to term as they r with Trump."
Let's not forget Former Florida governor Jeb Bush, who hit out at Trump for his comments and seemed to for a minute get that pissing off women through misogyny wasn't the best way of garnering female votes, telling the audience at the RedState gathering that Trump had been disinvited to: "Come on -- give me a break. I mean, do we want to win? Do we want to insult 53% of all voters? What Donald Trump said is wrong." However, Bush has recently demonstrated his political chops and stance on women's issues, by saying just last month that he wasn't sure "we need a half a billion dollars for women's health issues."
Since 1988, Republican presidential candidates have failed to win a majority of female voters. Bush and his fellow GOP presidential candidates' comments and polities make it clear why. (For more examples of some of the outlandish, frankly batshit things the candidates have said? Take a look here, here and here.)
Let's be honest. The GOP was never going to let Donald Trump rule the roost unchallenged. Given his previous form attacking Senator John McCain's war record, and hitting out at Roger Ailes and the Fox News machine, Trump was never going to be long for this campaign season. What's interesting is to see the other Republican candidates seize the moment to pounce on Trump for his record attacking women, while ignoring their own records.
Yes, Donald Trump deserves to be vilified for his egregious, sexist comments (oh, and by the way, our periods are not something to be ashamed of, Mr. Trump). But it's not like this new commentary from the political right sets the GOP's own records straight. Let's not be too quick to gloss over the litany of GOP candidates who all have serious check marks against them when it comes to upholding and respecting women's rights.
Calling all HuffPost superfans!
Sign up for membership to become a founding member and help shape HuffPost's next chapter