Twiddle is a band that has been on my radar for years. I live in their home state of Vermont and they are the talk of the town. Many of my friends identify themselves as Twiddleheads and I didn't get it until I saw them do their thing live. It has been really interesting to watch them move up in the scene and to witness their growth and expansion as artists. It seems to me that all their hard work is finally paying off and people are starting to take notice. From sold out shows all over the country at famous venues like the Capitol Theater to playing Red Rocks in Colorado twice to having amazing artists like Matisyahu and Nahko Bear collaborating with them, there is no denying that Twiddle has arrived.
Mihali Savoulidis is Twiddle's extremely talented lead singer and guitarist. When presented with the opportunity to get to pick his brain a little bit about all the new and exciting stuff that has been happening to Twiddle, I jumped at the chance.
Taraleigh: You just announced the line-up for your Tumble Down Festival that's happening July 29-30 at the beautiful Burlington Waterfront Park. How did you choose the bands?
Mihali: When we were choosing the bands for the Tumble Down lineup we wanted to give our fans and people attending the event some variety in genre and style as well as killer performances. We know all these bands personally and have been playing with them for years now. I'm really happy they were all able to do it.

Taraleigh: The lineup is stacked with so many of my favorite bands. I'm looking forward to shaking my sweet ass all weekend long at one of the most beautiful venues in the world. I'm obviously excited that you chose Burlington, VT because there is nothing better than being able to ride your bike to a show, but why did you decide to do it there?
Mihali: Burlington is a very special place for our band. It's the home base for the Vermont music scene and a place that has helped us grow and become the band we are today. It's a magical city and the waterfront is one of the best and most beautiful places to see a concert hands down.
Taraleigh: One of my favorite things about Burlington Waterfront Park is that the band gets to face the lake and take in the magic when the sun is setting over the Adirondack Mountains. I have seen it totally change the direction of a show. Besides getting to play to an epic sunset, what are you most excited about for Tumble Down?
Mihali: The thing I'm most excited about for Tumble Down is definitely going to be the collaboration aspect of the whole event. We as a band love to play with as many people as possible. The bands we have chosen also have a passion for collaboration. With all the after parties we have scheduled, Burlington is going to be flooded with killer music and good people all weekend long.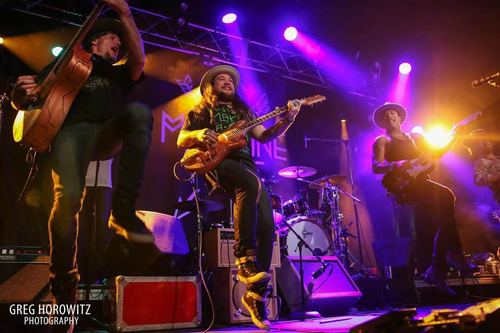 Photo Credit Greg Horowitz Photography
Taraleigh: I love to watch musicians who don't normally play together all of a sudden get to that place where their music becomes one. You recently got to sit in with Matisyahu and Nahko and the Medicine for the People at Higher Ground Ballroom in Burlington. How did that come about?
Mihali: I've been a huge fan of Matisyahu for years now and it was an honor to have him come play with us at The Capital Theatre and then I got to play with his band at Higher Ground. We met through a mutual friend Pete Spadero who is one of our lighting designers. Matisyahu is such an amazing guy and I'm very happy to say that we are working on a new project together called MihaliMatis. We will be releasing the first single this summer and I'm really excited about it. I also had the chance to play with Nahko and Medicine for the People as well. I have known those guys for awhile and have always wanted to sit in with them. It was very cool when they asked me to play both nights with them at Higher Ground. They are the nicest guys and amazing musicians. I am happy to call them my brothers.
Taraleigh: Matisyahu and Nahko and Medicine for the People are some of the best in the business. It seems like you are all getting so much out of your relationship together. Lately everyone has been talking about Twiddle and how they are the next big band to come out of Vermont. What are your feelings about that?
Mihali: We love Vermont! We have a ton of pride and love for our state so we just hope to represent it as best we can in the music scene. We owe all of our success to our fans. They have taken us out of the bars and into clubs and then out of the clubs and into theaters. They really are the best.

Taraleigh: I'm looking forward to seeing where the fans take you next. From my perception, Twiddle is a band that goes above and beyond for their fans. Why do you take the time from an already busy schedule to do special things for them?
Mihali: The fans come first. Like I was saying before, our fans are everything to us and they are the reason for our success. They always have our backs. We are constantly trying to figure out new cool things we can do for them. My manager Kevin Rondeau really prides himself and the band on our customer service. We want our fans to be happy because they have made our dreams come true time and time again.
Taraleigh: They made them come true by selling out The Capitol Theatre recently. What were your first thoughts when you found out that the shows had sold out?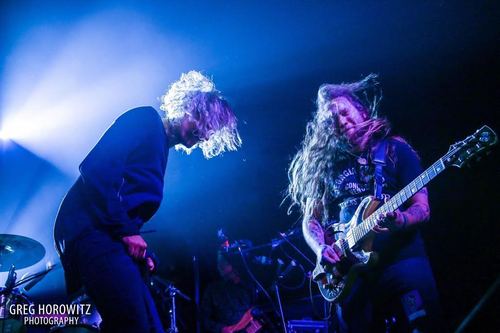 Photo Credit Greg Horowitz Photography

Mihali: When we first heard that The Cap had sold out, we were all together pre-show in the green room rehearsing our song King Without a Crown. We all stopped. With huge smiles on our faces we gave each other some hugs and high fives and then realized it was game time and got right back down to rehearsing. There was a nervous excited energy buzzing around that green room from that moment on for sure.

Taraleigh: I can only imagine what that was like for you guys. Can you describe how it felt after playing your first note to that sold out crowd?
Mihali: We opened the night with a new song Blunderbuss off of Plump Chapter Two. It felt so good to play in that room and even better to be playing a new song we all love.
Taraleigh: If your music was an Muppet, which Muppet would it be and why?
Mihali: Haha! I think it would be many different ones because we have many different styles and influences that go into our music. A little Kermit. Some Fozzy. Definitely Gonzo. Even Miss Piggy. They all have a place in our tunes.
Taraleigh: How would your grandma describe Twiddle?
Mihali:. My grandma (Grandma Fox RIP) would probably say something like "They are very talented, but it's a bit loud for my taste." (Said with a very proper British accent) I think my grandpa (Grandpa Fox RIP) would have really liked Twiddle. He had an amazing collection of music and also played mandolin and banjo. I have a very distinct memory of him listening to String Cheese Incident's version of Take Five. My brother Yianni and I had played for him and he loved it.

Taraleigh: What are you most excited about right now?
Mihali: Right now I am just excited about life in general. The music has been great and the band has been playing really well. We've been getting some amazing opportunities lately and the future is looking very bright. More than anything I am loving being a father. My daughter is the sweetest little girl ever and my wife is the strongest, greatest mother. They are everything to me and fill me with love and inspiration every single day. That's all I need to keep the creative juices flowing into the music. Life is really good right now and I've never been happier.

Taraleigh: It's all happening. Thank you for taking the time out of your busy schedule to share a little bit about yourself with me. See you at the Tumble Down if not sooner.
The awesome in me sees and bows to the awesome in you,
Music legend Oteil Burbridge and Taraleigh are hosting a retreat this fall that you can participate in from your own home. Mihali is one of our master teachers amongst many more amazing rock stars. Get on the VIP waitlist HERE to receive sweet bonuses, backstage exclusives, guaranteed seats to virtual house concerts this summer and early registration to the retreat.
Calling all HuffPost superfans!
Sign up for membership to become a founding member and help shape HuffPost's next chapter