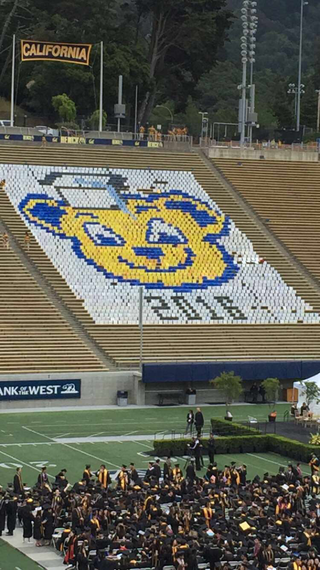 So many of us love the start of a new beginning. And so many more covet the end of a successful accomplishment.
And so it was this shining Saturday in May, the day of the UC Berkeley Commencement, both the start of a new beginning and the end of a successful journey. A throng of visitors had descended on the city booking up every hotel and airbnb accommodation in the vicinity. An entourage of cars, like a long winded train, slowly roamed every street, looking for a rare parking spot. The streets were full of pedestrians, students in black gowns, bedecked in garlands of purple orchids and family members dressed to celebrate, stopping to buy flowers and bouquets from street corner vendors. All roads led to the California Memorial Stadium for the commencement. There were grandmas and grandpas in wheelchairs and babies in strollers. And I walked among them, a proud mother of a class of 2016 Cal graduate.
The grandness and scale of the ceremony was striking. So was the depth and breadth of experience of its distinguished speakers.
The speakers paid service to the powerhouse of ideas, inspiration, and causes that Berkeley has always supported and come to represent. From being a trailblazer in the Free Speech Movement, to admitting 222 women in its first graduating class of 1873, the sense of history is remarkable and ground breaking. Sheryl Sandberg enumerated the list of Nobel Laureates, Turing Award Winners, and Olympic Gold Medalists produced by Berkeley and quipped - "And that's just the women!" She also spoke of her grandmother, Rosalind Nuss, who had dropped out of school to support her family, and later was offered a seat at Berkeley, going on to graduate and becoming a true inspiration.
Sir Colin Blakemore of Cambridge UK (the real Cambridge as he reminded the audience) spoke of his time in Berkeley in 1968, when he listened to fiery speeches in Sproul Hall, some great, many of them crazy.
Kavya Valiveti, a graduating math senior and University Medalist, gave an amazing speech, in which she remarked upon the feeling of so many girls and women that they don't belong in math and science.
Some speeches served to move and inspire, others urged you to think deep. They made you think that success is not that shining city on the hill, with a direct, bloodless path to it but more of an approximation of what you can achieve and how to get there. Of both the attainment of a hard won goal and the journey towards it. Of striving for Option A, and if that fails, having a pretty good fallback plan of Option B.
There were lighter moments when a graduating senior embarked on creating some magic with balloons and a pitchfork.
At the end of the day there were all elements of a good show - the peal of laughter, the sorrow of tears, and some uplifting magic.
So many nouns were shared with the graduating students to help them along and onward onto their journey. Gratitude, Personalization, Pervasiveness, and Permanence. Personally, I did like the mention of the fourth P - Cheeseboard Pizza.
But the most often repeated word was "Forever." The sentiment that the graduating class of 2016 would "Now and forever be Cal Alumni". And that was the essence of the magnificent ceremony - a beautiful encapsulation of letting you go, while making you belong. A sense of history entwined with a sense of the future. The sense of the present wrapped up in the sense of forever.
Calling all HuffPost superfans!
Sign up for membership to become a founding member and help shape HuffPost's next chapter