It has been six months since I came to the United States (US). Ever since, I have found quite a lot to admire in this country of Uncle Sam. People from various ethnicity and cultures blend in here, the 'world's largest melting pot,' adding a rich cultural diversity to the United States of America.
I admire the way US government has taken various measures to protect the rights of their people. From my personal experience, when I went for my visa interview at the Consulate of United States, Mumbai (India), the officer gave me a sheet where toll-free numbers of various women's rights commission and emergency help lines were given and she briefed me that if I will ever come across any violence or my security issues, I should immediately contact those concerns. I was overwhelmed by their gesture sincw I hadn't even stepped in US and they were concerned about my safety in their country.
There are countless things which has fascinated me about this country but the most surprising, thus far, was when I saw females driving heavy commercial vehicles on an Interstate. I never saw anything like this in my own country, India, before. I thought if a women can drive heavy commercial vehicles on an Interstate, then she can do anything in her life. But, suddenly a thought struck me. I have seen American women creating names in almost every sphere of life but then why has the United States never had a woman president?
A country where almost 51 percent of the population is female and with the presence of world's best universities like Harvard, Yale and Stanford, why there has never been a woman occupant in the Oval Office? Why has the world's greatest country, having the world's oldest democracy, never had a women holding the coveted position whereas various other countries like England, Germany, France, Ireland, Turkey, New Zealand, Sri Lanka, Pakistan, Bangladesh and Israel had already embraced women leaders as Prime Ministers or Presidents. Even back home in India, we had Indira Gandhi as our first woman Prime Minister & Pratibha Patil as our first woman President.
I wanted to find an answer. After watching the documentary America: The Story of Us, produced by Nutopia, I came across various facts related to American history. Democracy in the United States of America was adopted in 1788 when American constitution provided the world's first formal blueprint for a modern democracy. So it is almost 227 years of democracy and United States has never had a woman president. Surprising! I checked the eligibility criteria required for becoming the president of United States of America and came to know that an individual should be a citizen of United States by birth, should be above 35 years old and should be a resident of the United States for a period of no less than 14 years. There is no gender discrimination between men & women for becoming the president as per the American Constitution.
I also came to know about the fact that women were not allowed to vote in every state until 1920, when there had already been nearly 30 presidents. It is really very difficult to win an election when one particular gender is not enfranchised to vote. Since then, it has been a long way for women to reach the hallowed White House.
The first woman who stood for Presidential elections was Victoria Woodhull in 1872 from Equal Rights Party, followed by Belva Ann Lockwood in 1884 from National Equal Rights Party and many more afterwards. But no single woman has been able to make it to the White House.
While doing my research, I came across an article titled 'Women For President' by Erika Falk where she has analyzed the gender bias which media has demonstrated in covering women candidates since the first woman ran for America's highest office in 1872. She has examined the campaigns of nine women who ran for president through 2008: Victoria Woodhull, Belva Lockwood, Margaret Chase Smith, Shirley Chisholm, Patricia Schroeder, Lenora Fulani, Elizabeth Dole, Carol Moseley Braun, and Hillary Clinton, Erika found little progress in the fair treatment of women candidates. She says "the press portrays female candidates as unviable, unnatural, and incompetent, and often ignores or belittles women instead of reporting their ideas and intent. This thorough comparison of men's and women's campaigns reveals a worrisome trend of sexism in press coverage, a trend that still persists today."
It seems media was and is more interested in their physical appearances or their Fashion statement and gives them celebrity status rather than highlighting their credentials.
Another reason has been that most of the earlier elected Presidents came from the various high level offices like Vice-Presidents, Governors, Senators and Generals. Most of these positions were closed for women during the US history for a long time. Serving these positions adds a lot of value to the political mainstream profile of any Presidential candidate. In the past few years, the participation of women has increased. Though if we considered the figures, women today hold only 18.5 percent of congressional seats, and they comprise 20 percent of the U.S. senators. They hold only 24.2 percent of state legislature seats. Only 10 percent of the governors are women and only 12 percent of the mayors of the hundred largest American cities are women (Source : Center for American Progress).
So still a long way to go...!
I also came across an article by Ann-Marie Slaughter on "Why Women Still Can't Have It All" where she has mentioned the prevalence of gender bias in the American elite and some of its root causes. She has described how difficult it is for a modern woman to juggle between work and family. Being President demands high level of work commitment and be on one's toes throughout their tenure. For a woman having kids at times, it really becomes very difficult to maintain the work-life balance. It is hard to believe that the United States ranks 75th (Source: PewResearch) in the world in terms of women in national legislatures behind countries such as Rwanda, Cuba, Sweden and South Africa.
However since Hillary Clinton's 2008 Presidential campaign, there has been some progress for women in the US to celebrate. America witnessed the historic battle between a woman and an African American man. It was Hillary verses Obama. Hillary Clinton came second in the Democratic Party primaries, winning 1,726½ Delegate votes and more primaries than any other woman in history. She won 21 states, more than 18 million votes and the race between Clinton and Obama was among the closest in history with her winning 48.03% of the popular vote to his 47.43% between caucus and primary states (Source: Wikipedia). If United States hadn't elected their first African American president, then probably they might already have had their first woman president.
As the United States election campaign starts pacing, there is serendipity that this country could elect its first woman leader. If Hillary Clinton or Carly Fiorina win 2016 elections, they would end almost 227 years old legacy of men in the position and United States of America would join the league with other nations who have had embraced the women leadership.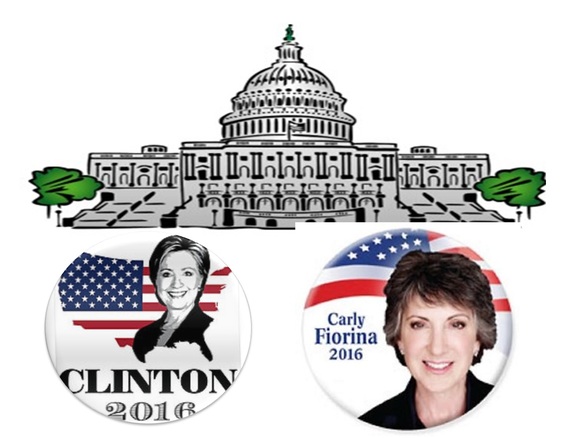 Popular in the Community