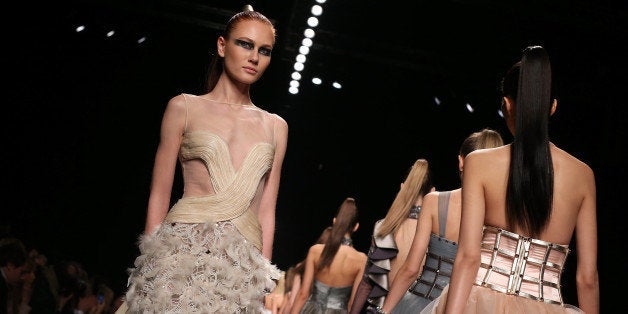 When you think of a fashion internship, what images come to mind? Interns working late hours? Young professional running across a busy street, multiple coffees in hand? Intimidation from editors à la The Devil Wears Prada?
What about doing all of the above for little to no pay? To this day, many interns in the fashion industry have to choose between unpaid internships, which they may spend every waking hour at, or face not getting into dream positions. However, apart from lack of engagement and lost productivity, why are unpaid internships no catwalk for the fashion industry?
The repercussions of unpaid internships are serious. Case in point: Last February, former Elite Model Management intern Dajia Davenport sued the modeling agency for $50 million, claiming that during her internship in the summer of 2010, Elite "deliberately misclassified its interns as exempt from wage requirements." This was in conjunction with interns working more than 40 hours per week.
A settlement was recently reached and the involved parties will be compensated. The District Court for the Southern District of New York approved a $450,000 class action settlement. This guaranteed former interns between $700 and $1,750.
While this may not seem like a lot of money, it's actually the largest settlement of an intern class action to date. Conde Nast recently shut down its internship program after losing a class-action lawsuit filed by two former interns claiming to have been paid less than $1 per hour. The Hearst Corporation was also slapped with a lawsuit last year, although class action was denied in May 2013.
Here's something you may not have thought about: Unpaid fashion internship deny diverse candidates who can only afford paid options. Data compiled by InternMatch shows that paid internships are attractive to those in debt, the large majority of which are African American and Latino.
It's been widely reported that there's a disconnect between the fashion industry and diverse workers, which includes those from different backgrounds and those who have varying educational experiences. In many cases, it all starts from the bottom -- if major fashion houses, publications and designers take on diverse interns and entry-level job seekers, the landscape of their teams will inevitably change. Diverse team members create better work environments, come up with different strategies, and offer unique perspectives. Offering paid internships will inevitably attract a varying workforce, which will lead to diverse entry-level hires, resulting in mixed teams and work processes in the future.
Here's the thing: These lawsuits or diversity issues won't put a huge smear to a company. Alone, they aren't enough to cause circulations to dwindle or items to stop selling. The reality actually remains the same. That is, many young professionals would "die" for an internship position at a fashion powerhouse, even if they are unpaid. And therein lies the problem.
Many interns don't see these unpaid internships as educational experiences. They accept that they will likely be running errands or grabbing coffee. To them, these "experiences" are justifiable enough to go without pay. Many don't see a problem with work that doesn't contribute to their careers because they are working for a household name. That is, image trumps experience.
However, according to the Department of Labor, giving unpaid interns work that doesn't provide an educational experience is illegal. Plus, these tasks don't do much to help interns grow or experience real work. If a fashion organization really can't afford at least federal minimum wage, they, by law, need to create educational experiences. The majority of tasks should not include picking up dry cleaning or getting lunch for the office.
The fashion industry needs an internship makeover. Paying interns is the first step to creating healthier workforces that produce better work and happier employees. Plus, with young professionals facing more debt and higher living expenses than ever before, it just makes sense. In the end, the notion that interns don't need to be compensated for their efforts is an outdated trend that needs to be booed off the runway.
What do you think about unpaid internships in the fashion industry?