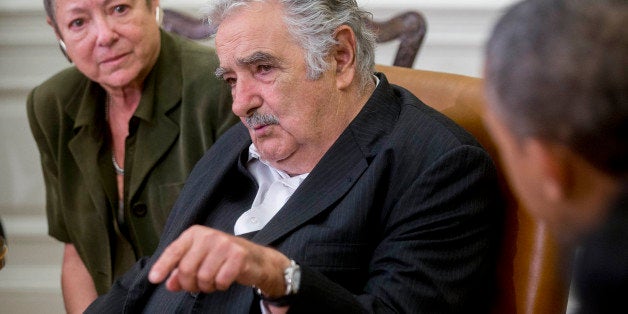 Our nation loves a good rags-to-riches story. And President Jose Mujica of Uruguay offers one of the most compelling narratives of our time. A former Marxist guerilla fighter that spent 14 years in prison, he has become at the ripe age of 79 a worldwide symbol of progressive and creative government. He has refused to live in the Presidential palace, choosing instead a humble farm near the outskirts of the capital, drives himself to work in a 1987 Beetle and always flies economy class. But do not let that modest façade fool you. In his four years in office, he has proven to be quite the revolutionary. Preaching wealth redistribution even before Piketty became famous, and legalizing both gay marriage and marijuana consumption, it is easy to understand why the Economist declared Uruguay "country of the year" in 2013.
During his six-day official visit to the U.S., Mujica fashioned himself as champion of the poor and the disenfranchised, while employing savvy political skills meant to seduce the Obama administration. How, you ask? By using simple tried-and-tested, interest-driven realpolitik instruments. In April, Uruguay announced its willingness to accept six Guantanamo Bay prisoners, a call he reinforced in the Oval Office last week. And all he asks in return is for Obama to support one of his causes.
Mujica's main qualm while in office has been solving a scathing trial with Philip Morris that, if lost, would cost the small nation $25 million. The tobacco titan is alleging that a 2009 anti-tobacco law violates its intellectual property rights. The law in question requires producers to post graphic images that cover 80% of the package and force brands to market their products under the same packaging. This means that sub-brands, such as Philip Morris' Marlboro Gold have to be abandoned and promoted only as Marlboro.
This wide-reaching lawsuit has been brought before the World Bank's International Center for Settlement of Investment Disputes (ICSID) and should act as a warning to other countries wishing to implement similar policies.
Uruguay expects the trial to last for another three years and has decided to change tactics in order to stave off an unfavorable decision. Mujica made no secret of his Philip Morris headache and asked Obama for help in stopping the tobacco company from annulling the legislation in question. He defended his crusade against smoking by saying that 8 million people die yearly due to tobacco-related illnesses and that "we must fight against very strong interests."
It seems horse-trading is alive and well in Latin America, even for a nation of three million that boasts a GDP just shy of $50 billion -- about the size of AT&T's deal with DirectTV. It is unclear what role Obama can play, especially since any move from the White House is sure to draw the wrath of Republicans everywhere, always ready to condemn the administration's "socialist policies."
Nevertheless, Mujica's calls for help signals a wider trend that can be found all across South America. Many countries feel threatened by the unprecedented wave of lawsuits brought by multinational companies against their governments. According to the Institute for Policy Studies, a Washington think tank, Latin American countries were the subject of half of worldwide investor-state lawsuits pending in March 2013 before the ICSID. The same study shows that the majority of trials involved mining and energy companies.
Much to the anger of South American countries, many of these lawsuits were not decided within their national judicial systems, but before international tribunals that have been repeatedly accused of being opaque and unrepresentative.
Ecuador is probably the best such example, with its protracted lawsuit(s) with Chevron/Texaco over the company's dumping of 18 billion gallons of waste in the Amazon jungle after operating there for 23 years. In a landmark decision from 2011, an Ecuadorian judge asked the company to pay a record $18 billion in damages, a figure later halved by the country's Supreme Court. Refusing to pay, Chevron deployed a massive lobbying and PR campaign meant to discredit Ecuador's justice system. The trial has subsequently moved away from the core issue of cleaning up the devastating damaged left behind to courtroom acrobatics.
Interestingly still, the piling up of lawsuits across the region has led to a boomerang effect of sorts, as 12 countries decided last year to take collective action and started working on establishing a regional organism for settling investment disputes, with the help of UNASUR.
It is in this wider regional context that President Mujica's efforts have to be understood: of countries that feel wronged by the way transnational corporations conduct their affairs in Latin America. I am reminded of the mildly successful 2000s movie Lucky Number Slevin and one of its most pungent quotes, which sums up the mood of many across the Continent:
"The first time someone calls you a horse you punch him on the nose, the second time someone calls you a horse you call him a jerk but the third time someone calls you a horse, well then perhaps it's time to go shopping for a saddle."
Maybe U.S. multinationals should rethink their ways in Latin America -- and go shopping for a saddle.
Popular in the Community