On Wednesday, April 21, the World Health Organization (WHO) released their annual report on sanitation and drinking water. The assessment: sanitation and water must no longer play second fiddle to other priorities.
"Unsafe water, inadequate sanitation and the lack of hygiene claim the lives of an estimated 2.2 million children under the age of five every year," said Dr. Maria Neria, WHO Director of Public Health and the Environment. "The impact of diarrheal diseases [alone] in children under 15 is greater than the combined impact of HIV/AIDS, malaria, and tuberculosis."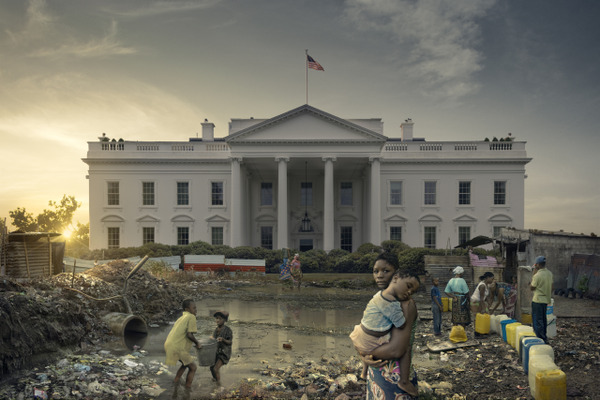 The White House, after a shocking makeover by international charity WaterAid and global campaign group End Water Poverty (Montage created by Saddington & Baynes for WaterAid and End Water Poverty).
The report also outlines how significantly off-target the distribution is for water and sanitation aid specifically. For example, over the past three years only 42% of aid for water and sanitation has been targeted at least developed and low-income countries where the need is the greatest. And only 37% of that aid is targeted at sanitation, making the Millennium Development Goal for sanitation (MDG 7) off track and almost unattainable for many of the poorest countries.
Perhaps the most important aspects of the GLAAS report are the identified current gaps in aid for sanitation and water and what this means for donors, including US philanthropists. This is interesting because the majority of US philanthropists have yet to find a major role in addressing water and sanitation challenges compared to other global health and development issues.
Thankfully the GLAAS observations provide a roadmap for leaders, decision-makers and philanthropists to engage in solving the sanitation and water challenge. For example, according to the report, 12 of the developing countries who responded still lack a sanitation policy covering both urban and rural areas. A donor or a foundation with interest in urban development could ensure that these policies are put in place in partnership with those developing countries.
The lack of reliable data, especially at the local level, was cited as the most common reason for failure to implement investment plans. This kind of capacity building seems like the perfect match with the private sector. Using their expertise, through philanthropy, the private sector could build local and national capacity for water and sanitation in the developing world.
Another area of incredible need is human resource development. Astonishingly 24 out of 29 responding countries indicated a great need for in-country education and training. This could be a tremendous opportunity for philanthropy channeled through the education sector.
"The GLAAS report shows donors that there are ways to contribute that are more than just building infrastructure," said Clarissa Brocklehurst, Chief of Water, Sanitation and Hygiene at UNICEF. "It shows how important it is for there to be increased investment in capacity building, which will result in good plans, people trained and institutions created to address the water and sanitation challenge."
The GLAAS report provides an initial framework for targeting strategic investments (related to both infrastructure and capacity building) to trigger more action around water and sanitation. It's an important step towards looking at the water and sanitation problem at scale and can serve as a valuable tool for US philanthropists looking to increase their commitment to the sector.
The findings from the GLAAS report are being presented at the first annual High Level Meeting of Sanitation and Water for All hosted by UNICEF on April 23 in Washington DC. The High Level Meeting provides a forum for Ministers of Finance from developing countries, accompanied by Ministers responsible for sanitation and water, and representatives from donor countries (including the US) to gain a greater understanding of the linkages between water, sanitation and economic growth, in order to commit the appropriate resources as well as to promote a culture of effectively managed, targeted and sustainable aid for sanitation and water.
For further information, please visit: