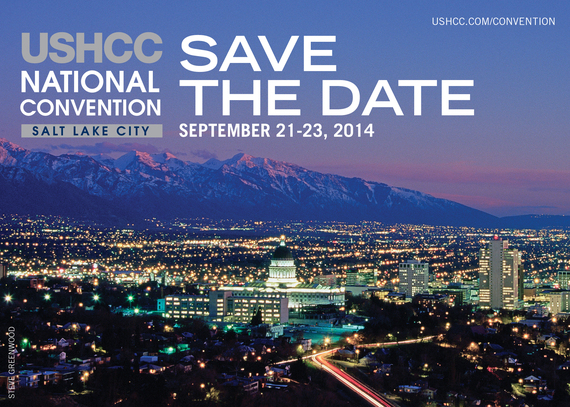 In 1847, Salt Lake City's founder - Brigham Young - saw the city and was immediately stricken by its natural beauty; the fortress of high mountains, the bright white snow, green hills, clear rapid waters, and a cool breeze that carried the majesty of all creation. Brigham Young saw that valley, and famously declared, "this is the place."
Brigham Young was right. And today, 167 years later, the United States Hispanic Chamber of Commerce (USHCC) will make history again: Utah is the place for our 2014 National Convention.
As the nation's largest business association of its kind, the USHCC represents America's 3.2 million Hispanic-owned companies, which together contribute more than $468 billion to our economy, each year. We also advocate on behalf of 230 major U.S. companies, and we do our work through a network of over 200 local chambers and business associations nationwide.
From Dallas to Miami, Los Angeles to Chicago, we've brought our National Convention to metropolitan areas that are renowned for their economic power, pro-business climate, and welcoming embrace of those who want to work, engage, and contribute. That same spirit takes us to Salt Lake City on September 21-23, 2014 where we will once again convene the largest gathering of Hispanic business leaders, major corporate executives, and government officials in America.
While many might think bringing our national convention to Utah is counterintuitive, the USHCC has always done the unexpected, blazed its own trail, charted its own course, and embarked on its own discoveries. That's what sets us apart from others -- and similarly -- what sets Utah apart. And we're not alone on this journey, joining us this year are prominent national figures including House Democratic Leader Nancy Pelosi, Secretary Julian Castro, and SBA Administrator Maria Contreras-Sweet.

What makes Utah so attractive to these individuals? For years, unbeknownst to many, this destination has been renowned for its strong economy and embrace of diversity. Today, Utah is ranked the number one pro-business state by the Wall Street Journal, which called Utah "the brightest star on the American flag," and was also named the 'Best State for Business and Careers' by Forbes for three years in a row. Indeed, Utah is at the confluence of commerce and culture, arts and athletics, fun and faith.

Additionally, small businesses and entrepreneurs have made Utah one of the fastest-growing economies in the country. Over 57,000 small businesses call Utah home, employing over 500,000 people. This open and accepting culture of the American West has been particularly welcoming to the Hispanic community, which is why today Hispanics comprise 15 percent of the state's total population. In fact, Utah's Hispanic population has grown by 80 percent in the last decade alone and today, more than 10,000 Hispanic-owned firms contribute billions to the state's economy, every year.

The evidence is clear: we are on the brink of a new age of growth, progress, collaboration and prosperity in America - and Utah is on the frontier of this rising tide.
To learn more about the USHCC National Convention, visit www.ushccconvention.com.
Popular in the Community